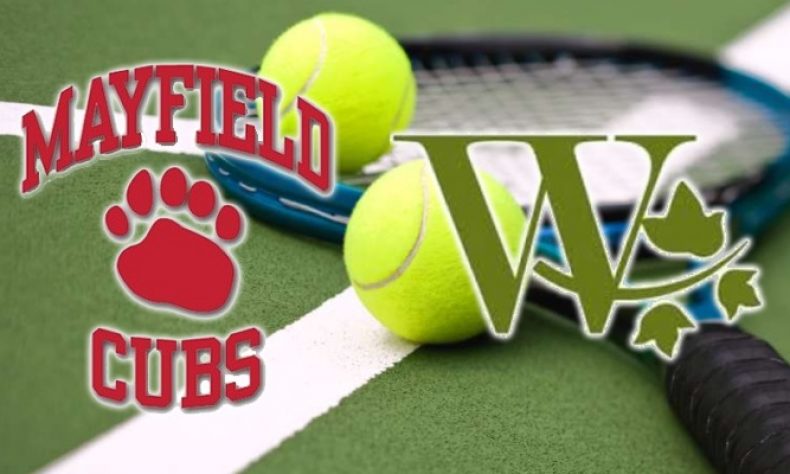 From STAFF REPORTS The Mayfield and Westridge tennis teams slugged it out for 18 matches on Thursday. The Cubs saw their doubles teams win seven of nine matches. The Tigers' singles players, however, earned victories in six of their nine matches. In the end, though, Mayfield defeated Westridge, 10-8, in a Prep League classic. Mayfield's […]
From STAFF REPORTS
The Mayfield and Westridge tennis teams slugged it out for 18 matches on Thursday.
The Cubs saw their doubles teams win seven of nine matches.
The Tigers' singles players, however, earned victories in six of their nine matches.
In the end, though, Mayfield defeated Westridge, 10-8, in a Prep League classic.
Mayfield's Lauren Panajotovic won all three of her matches at No. 1, including a 7-5 victory over Westridge No. 1 player Caroline Lopez.
But Westridge's Katrina Weng, Emily Hsieh and Lopez went a combined 6-3 against the Cubs' singles players.
Lopez defeated Sofia Mireles and Sammi Kennedy, 6-1 and 6-0, respectively.
It was the Mayfield doubles that saved the day for the Cubs, winning those seven matches that ended up being the difference.
The No. 1 team of Ashlinn Kingston and Elise Kingston won by scores of 7-6, 6-3 and 6-2.
And Alexia Saigh and Rebecca Leiva went 3-0, and did so, 6-2, 6-3 and 6-3.
Mayfield (3-1 overall, 1-0 in league) will host FSHA next Tuesday at the Arroyo Seco Racquet Center.
Westridge (1-2, 0-1) won't play again until September 25, when they host Chadwick in another Prep League match.