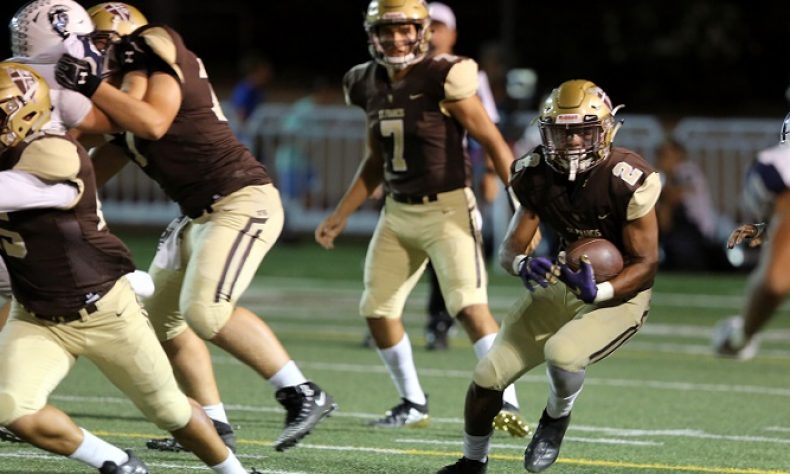 Top: Max Garrison From STAFF REPORTS | Photography by Ryan Tomey There was no way a Jim Bonds coached team was going to have a lackluster effort on special teams for two consecutive weeks. The Golden Knights needed to make a vast improvement if they were going to defeat the previously unbeaten visitors from Saugus […]
Top: Max Garrison
From STAFF REPORTS | Photography by Ryan Tomey
There was no way a Jim Bonds coached team was going to have a lackluster effort on special teams for two consecutive weeks.
The Golden Knights needed to make a vast improvement if they were going to defeat the previously unbeaten visitors from Saugus on Friday night.
But who would make the big play?
Well, his name is Max Garrison, and he's just a freshman.
Garrison rushed for one score and ran the second half kickoff back over 90 yards to give St. Francis a 17-7 lead.
The Golden Knights would hold on to defeat Saugus, 17-13, and Garrison was the guy Bonds was most proud of.
Garrison also intercepted Saugus in the first half, and Jake Smith turned it into 3 points when he was good from nearly 40 yards out.
The Saugus defense held the area's best returning quarterback, Darius Perrantes, without a score and picked off the star senior once.
St. Francis will travel next Friday to Harvard-Westlake for a nonleague game.
The Wolverines (3-2) moved to the Del Rey League this season and are coming off a 49-25 victory over Salesian on Friday.
Quotable:
St. Francis coach Jim Bonds: "It was a huge win for our young team! Freshman Max Garrison returned the opening kick of the 2nd half 90 yards for a TD to make it 17-7. Our defense played great again this week and it's great to even up our record."
Box Score:
Saugus: 7-0-0-6-(13)
St. Francis: 0-10-7-0-(17)
Angelus League Scores:
Bishop Amat 42, Cathedral 21
Harvard-Westlake 49, Salesian 25
St. Francis 17, Saugus 13
** Crespi had their bye week
Angelus League Standings Through September 14:
Cathedral (4-1)
Crespi (3-2)
St. Francis (2-2)
Salesian (1-4)