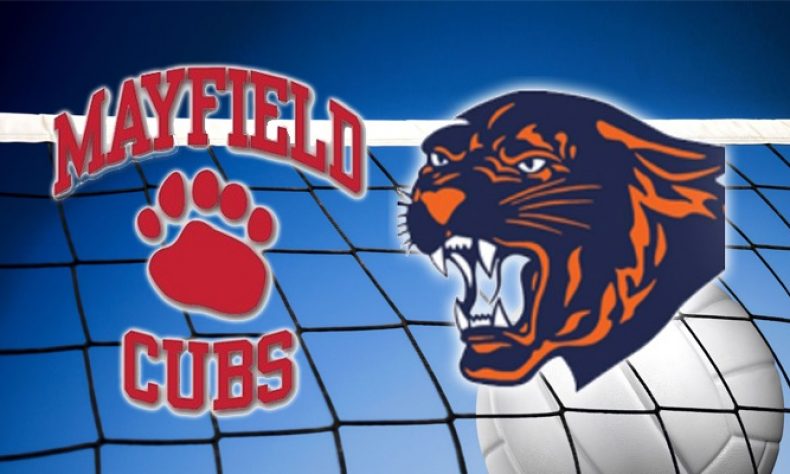 From STAFF REPORTS With just a few weeks to go, the Prep League title is still up for grabs. Mayfield was unbeaten in league play, including an August 28 sweep of visiting Poly. And last week, the Cubs took a one-game lead and had a 20-10 advtantage in game two at Poly, but the Panthers […]
From STAFF REPORTS
With just a few weeks to go, the Prep League title is still up for grabs.
Mayfield was unbeaten in league play, including an August 28 sweep of visiting Poly.
And last week, the Cubs took a one-game lead and had a 20-10 advtantage in game two at Poly, but the Panthers rallied for a four-set win.
The Cubs and Panthers are not only tied for first place atop the Prep League standings, they are also tied at No. 6 in the latest CIF-SS Division 4 Poll (see below).
Mayfield has five Prep League matches remaining (Chadwick, Providence, Flintridge Prep, Rio Hondo Prep and Westridge), while Poly has three left (Chadwick, Flintridge Prep and Providence).
Westridge has scratched and clawed up the standings and currently sit in third place.
The Tigers have just three league matches remaining.
They will host Rio Hondo Prep and Mayfield and close out their regular-season schedule October 10 at Chadwick.
Flintridge Prep sits in fifth place, but they have nine total matches left, including six Prep League contests, so the Rebels could make up some ground and fight for a potential playoff bid.
They will host Poly, Rio Hondo Prep and Chadwick and will travel to Mayfield, Providence and Chadwick.
Prep League Standings:
Poly (12-4 overall, 8-1 in league)
Mayfield (10-4, 6-1)
Westridge (5-7, 5-4)
Chadwick (4-4, 3-3)
Flintridge Prep (6-4, 2-4)
Providence (14-7, 2-6)
Rio Hondo Prep (10-14, 0-7)
This Week's Prep League Schedule:
Tuesday: Chadwick at Mayfield
Tuesday: Flintridge Prep at Providence
Tuesday: Rio Hondo Prep at Westridge
Thursday:: Mayfield at Providence
Friday: Mayfield vs Burbank at Crescenta Valley Tournament
Friday: Flintridge Prep at Chadwick
Friday: Chatsworth vs Westridge at Crescenta Valley Tournament
** Poly is off this week (Next matches: Oct. 4 at Chadwick, Oct. 5 at Flintridge Prep)
CIF-SS Girls Volleyball Poll, Through September 24:
Division 1 & 2:
1- Redondo Union
2- Marymount
3- Mater Dei
4- Mira Costa
5- Santa Margarita
6- Sierra Canyon
7- San Juan Hills
8- Lakewood
9- Rancho Cucamonga
10- Temecula Valley
11- Vista Murrieta
12- Great Oak
13- Long Beach Poly
14- Foothill
15- Aliso Niguel
16- Harvard-Westlake
Division 3:
1- Village Christian
2- Hart
3- Upland
4- Brea-Olinda
5- Culver City
6- St. Paul
7- Laguna Beach
8- Thousand Oaks
9- Citrus Valley
10- Murrieta Mesa
Division 4:
1- Quartz Hill
2- St. Margaret's
3- Bishop Montgomery
4- Xavier Prep
5- Oak Park
6- Pasadena Poly
6- Mayfield
8- Moorpark
9- San Marino
10- Monrovia
Division 5:
1- Ontario Christian
2- Hemet
3- Aquinas
4- Paloma Valley
5- Woodcrest Christian
6- Oak Hills
7- Cerritos
8- St. Anthony
9- Gabrielino
10- Palm Springs
Division 6:
1- Grace Brethren
2- The Archer School
3- Buckley
4- Beaumont
5- Walnut
6- Duarte
7- Summit
8- Gladstone
9- Heritage
10- Yucca Valley
Division 7:
1- Linfield Christian
2- San Dimas
3- St. Bonaventure
4- Ocean View
5- Nordhoff
6- Providence Burbank
7- West Valley
8- Lancaster
9- Cate
10- Rolling Hills Prep
Division 8:
1- Faith Baptist
2- Rancho Christian
3- Southlands Christian
4- Santa Clarita Christian
5- Santa Rosa Academy
6- Trinity Classical Academy
7- Coachella Valley
8- Calvary Murrieta
9- Villanova Prep
10- Bishop Diego
Division 9:
1- Orange Vista
2- Sierra Vista
3- Pacifica
4- Nuview Bridge
5- Thacher
6- Santa Clara
7- Fillmore
8- Palmdale Aerospace
9- La Puente
10- Desert Christian