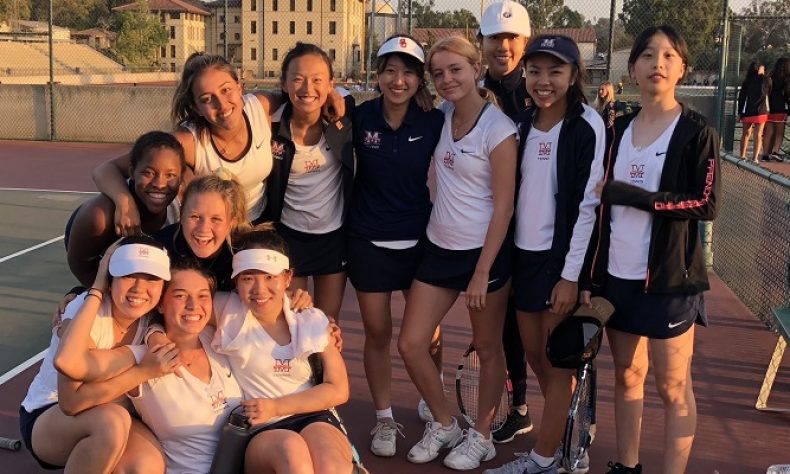 By ARTHUR HSIEH Breaking into the top 10 in the polls for the first time this season, Maranatha was looking to show that they deserve their #6 ranking. In their season home opener, the Lady Minutemen played perhaps their most complete match of the season yet, playing energetic unrelenting tennis against an improved Whittier Christian […]
By ARTHUR HSIEH
Breaking into the top 10 in the polls for the first time this season, Maranatha was looking to show that they deserve their #6 ranking.
In their season home opener, the Lady Minutemen played perhaps their most complete match of the season yet, playing energetic unrelenting tennis against an improved Whittier Christian squad. After 6 consecutive road matches, the Lady Minutemen enjoyed the taste of "home cooking" and the support of family and friends that included the AD's, the Head of School, the Principal, and a beloved teacher.
Maranatha swept the first two rounds of play in convincing fashion, with no close sets. With the score 16-0, the Heralds top doubles team defeated MHS's #3 doubles team, 6-3, to get on the scoreboard. All eyes turned to MHS's new #3 singles player, Stella Wang, who was in a dog fight against WC's top player, Hawoo Shim. With long rallies of 20 – 30 strokes the norm, this match kept everyone on their seats. At the end, Wang outlasted Shim, 6-4, causing Wang's teammates to rush the court. Both girls showed focus, grit, and toughness that will serve them well the rest of the season.
With Wang's victory, singles recorded a perfect sweep, as #1 Madison Kane recorded her 5th consecutive "triple bagel" (6-0, 6-0, 6-0). #2 Malena Smith wasn't far behind, posting an impressive 6-1, 6-2, 6-0 score line. Wang finished the day 6-1, 6-3, 6-4.
Doubles #1's, Michael Wilkins and Aria Haver-Hill continued their dominance this season, remaining undefeated, going a strong 6-2, 6-1, 6-0. #2's Georgia Wilder and Amanda Yee continued to build their camaraderie and teamwork, going 6-1, 6-3, 6-0 in only their second match together. In their first match together, #3's Rose Zhang and Shuhan Yang won their first two sets 6-1, 6-0 before bowing to WC's #1's, 3-6.
Next up for Maranatha will be their toughest league opponent to date, the Lady Defenders of Valley Christian, who defeated Heritage Christian, 16-2 , yesterday. One of the teams will experience their first league loss of the season as both are undefeated in league play. It is an away match at 3:15 p.m. at Valley Christian HS in Cerritos.