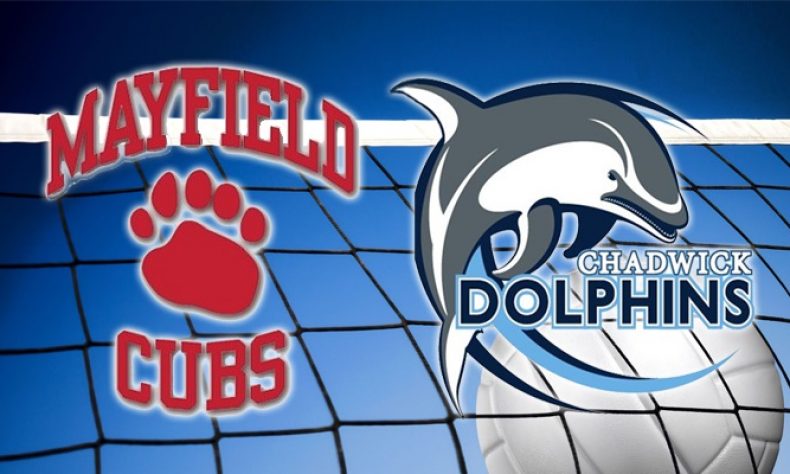 From STAFF REPORTS If Mayfield doesn't win the Prep League championship or at least a share of the title, they will look back on Tuesday night as the gut-wrenching moment it was lost. Mayfield took a commanding two games to none lead over visiting and fourth-place Chadwick. And then the Dolphins put up quite a […]
From STAFF REPORTS
If Mayfield doesn't win the Prep League championship or at least a share of the title, they will look back on Tuesday night as the gut-wrenching moment it was lost.
Mayfield took a commanding two games to none lead over visiting and fourth-place Chadwick.
And then the Dolphins put up quite a rally to stun Mayfield by defeating the first-place Cubs in five games.
Chadwick earned the victory by scores of 13-25, 23-25, 27-25, 27-25 and 15-11.
Maeve Davitt added 44 digs and Caroline Ivankovich had 47 assists for Mayfield.
Sarah Tupy contributed 6 blocks for the Cubs.
Poly (12-4 overall, 8-1 in league), who is on a week off from competition, now stands alone atop the Prep League standings and one-game ahead of Mayfield.
The Cubs have seven matches left, but more importantly, four of those seven are league matches.
Mayfield has road tilts at Providence and Westridge, and then home bouts with Flintridge Prep and Rio Hondo Prep.
Poly has just three matches left and all are Prep League contests.
When they come back from their break, the Panthers will travel to Chadwick on October 4, they'll host Flintridge Prep the next night and finish out their regular season slate with a home match against Providence on October 8.
Mayfield will look to regroup this Thursday when they travel to Burbank at 5:30 to take on Providence in another Prep League match.
Records: Mayfield (10-5 overall, 6-2 in league); Chadwick (5-4, 4-3)