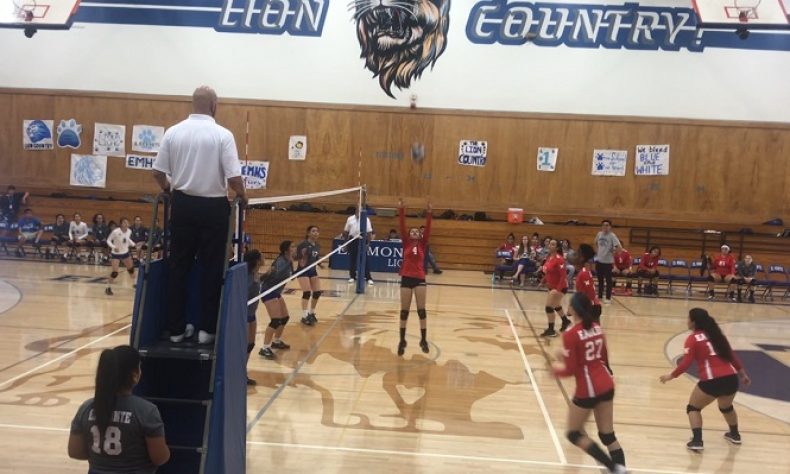 From STAFF REPORTS They didn't play their best volleyball and their competition has yet to win a match in all of 2018. But what it all comes down to is that Marshall swept El Monte, kept the Lions winless and won their fourth Mission Valley League match of the season. The significance being that Marshall […]
From STAFF REPORTS
They didn't play their best volleyball and their competition has yet to win a match in all of 2018.
But what it all comes down to is that Marshall swept El Monte, kept the Lions winless and won their fourth Mission Valley League match of the season.
The significance being that Marshall went 1-11 just a season ago, and has made positive strides in coach Sang Lee's second year at the helm of the Eagles' program.
Sophomore setter Malia Wilson finished with 14 assists, 5 digs and 2 aces.
Freshman middle blocker Kelaiyah Johnston had a team-high 9 kills.
Senior outside hitter Risejah Velasco added 8 kills and 10 digs and sophomore setter Bora Lim contributed 11 assists and 10 digs.
Junior middle blocker Samia Dinniene had 7 kills.
Junior outside hitter Lilah Fontenot finished with 5 kills and senior libero North Steinbacher added 5 digs.
One area Lee and his players will look to fix is the 15 service errors the Eagles tallied on Wednesday.
Marshall will host Gabrielino at 3:15 on Wednesday in another Mission Valley League match.
Quotable:
Marshall junior outside hitter Lilah Fontenot: "Our energy was low in the beginning, but then it picked up and our confidence started to go up. We started to ease into the match and got into a groove. Our goal is to make it into the playoffs."
Marshall sophomore setter Bora Lim: "We were a little shaky in the beginning, but then we started to pick it up. In the huddles, we tried to figure out what to fix and that motivated us to push for the win. We have to practice our serving, get the ball off the net, and setters have to adjust to the hitters' preferences."
Records: Marshall (9-12 overall, 4-5 in league); El Monte (0-13, 0-6)