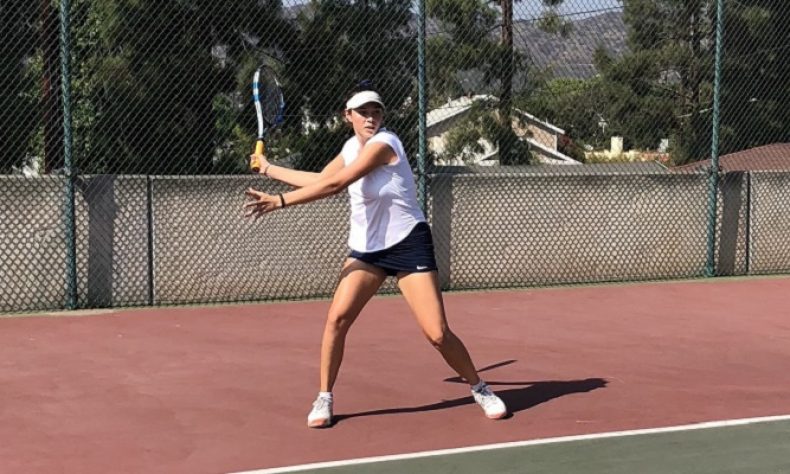 By ARTHUR HSIEH It was a showdown between the only two undefeated-in-league teams left in Olympic league play, #6 ranked Maranatha vs. Valley Christian, the top two teams in the league last season. The Lady Defenders came into the season improved, returning virtually their entire starting line-up, while the Lady Minutemen are still adjusting to […]
By ARTHUR HSIEH
It was a showdown between the only two undefeated-in-league teams left in Olympic league play, #6 ranked Maranatha vs. Valley Christian, the top two teams in the league last season. The Lady Defenders came into the season improved, returning virtually their entire starting line-up, while the Lady Minutemen are still adjusting to the graduation of 4 starters (2 MVP's – Angela Hsieh in singles and Maddie Hernandez in doubles, and 2 1st-Team All-League doubles players – Reagan Atallah and Hellen Hong). That transition has been made smoother by the addition of Madison Kane, Georgia Wilder, and Amanda Yee, as well as the improvement of the returners.
Slowly but surely, the Lady Minutemen are starting to see glimpses of their potential, as the team is getting closer to gelling as the season progresses. A lot of improvement still needs to be made if they are to make a deep run into the CIF playoffs, but the potential is there.
The anticipated dog fight between the two teams never materialized, with MHS storming out of the gates, winning 5 of 6 sets in the first round. That would be the scoreline in each round, with #3 doubles coming up short each round.
The singles unit of Madison Kane, Malena Smith, and Stella Wang swept, 9-0, with Kane recording her 6th consecutive "triple bagel," (6-0, 6-0, 6-0). Smith and Wang went 6-1, 6-0, 6-0 and 6-3, 6-0, 6-0) They are all 9-0 in league play thus far.
Doubles #1 and #2, Michael Wilkins/Aria Haver-Hill and Georgia Wilder/Amanda Yee are also 9-0 in league play, each sweeping today as well (6-2, 6-0, 6-1 and 6-3, 6-1,6-1).
#3 Rose Zhang/Shuhan Yang had a rougher day, losing 0-6, 3-6 before being subbed for Molly Mittelberg/Fay Sheng, who lost 1-6 to the #2 team. It was the MHS debut for Sheng
The second round of league play begins next Tuesday with a 3 p.m. home match at Occidental College vs. last place Heritage Christian, which is still winless on the season.