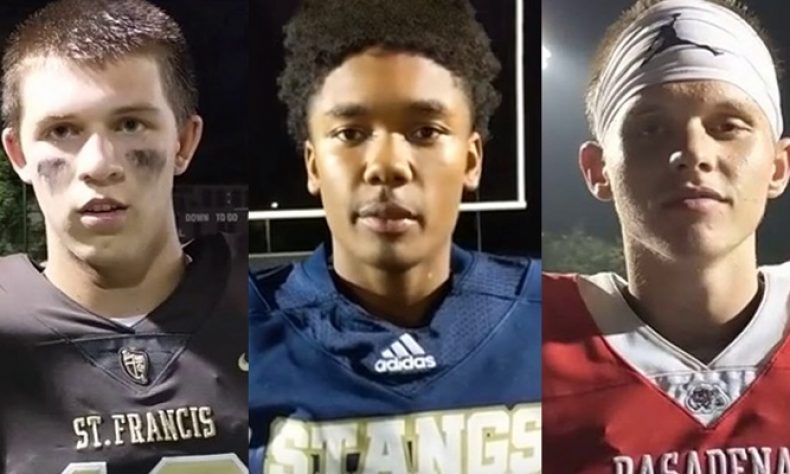 L-R: Tanner Tomko, Brian Love, Andreas Solling By BRIAN REED-BAIOTTO, Sports Editor In 'week six' of the 2018 football season, Pasadena area programs like PHS, Muir and La Salle will compete in league games. It will be the third Pacific League games for both the Bulldogs and Mustangs and the first Del Rey League contest […]
L-R: Tanner Tomko, Brian Love, Andreas Solling
By BRIAN REED-BAIOTTO, Sports Editor
In 'week six' of the 2018 football season, Pasadena area programs like PHS, Muir and La Salle will compete in league games.
It will be the third Pacific League games for both the Bulldogs and Mustangs and the first Del Rey League contest for the Lancers.
St. Francis has a fourth road game already, and this one won't be easy either.
The Golden Knights travel to La Mirada High School to take on Mayfair in a nonleague game.
St Francis (3-2) heads to La Mirada on a two-game win streak after last Friday's impressive 21-point victory at Harvard-Westlake.
If was their first road win in three tries and tonight's (Friday) game vs Mayfair will be the Golden Knights fourth road game in the first six games of 2018.
St. Francis got an outstanding effort last week from quarterback Darius Perrantes, including three passing TDs and just under 300 yards through the air.
Max Garrison had five scores at Harvard-Westlake, and did so against a former Angelus League foe.
In games Perrantes picks apart an opponent's defense, it seems Tanner Tomko is his big-play target.
Tomko already has a pair of two-TD games as a Golden Knights' receiver.
Mayfair (5-1) is ranked No. 5 in the latest CIF-SS Division 6 poll, and they are coming off consecutive victories over Warren and Gahr.
In both wins, the Monsoons scored exactly 35 points.
Justen Walker and Tstrong Mataele have combined for 700 yards and 11 of Mayfair's 12 rushing touchdowns.
Pasadena (3-2 overall, 1-1- in league) is hosting Burbank, in a game that, hyperbole-free, will either give the Bulldogs a leg-up in their quest for an automatic CIF-SS playoff berth or if they'll have to count on other teams to help them out along the way.
PHS coaches and players know, with a win Friday, they can very much control their own destiny, as they sit in a four-way tie for third place with Burbank, Burroughs and their crosstown rivals at Muir.
On top of that, Muir will certainly move to 2-1 tonight when they handle their business at Glendale against a Nitros team that PHS trounced, 48-7, two weeks ago.
Pasadena is coming off a disappointing 19-point setback against first-place Crescenta Valley.
But the Bulldogs did see its quarterback, Andreas Solling, throw for nearly 260 yards and three scores.
Better yet, freshman Mekhi Fox, continued to assert himself as one of, if not the most explosive talent in the area with his two receiving and single punt return for TD's.
Burbank defeated Hoover by 18 points two weeks ago and then fell to Arcadia, 45-28, last week in their second week of Pacific League play.
Muir (4-1 overall, 1-1 in league) will, without question, leave Glendale with a sizeable victory and improve to 2-1 in Pacific League play.
After a first-week (in league) disappointment versus Crescenta Valley, the Mustangs destroyed Hoover 67-7 last week.
They saw eight separate players score touchdowns.
Muir got big-play scores from the usual suspects.
Brian Love and Amaris Harrison both used their arms on TD passes.
Aryonis Harrison and Caleb Snowden showed off their speed and skills at receiver, including Snowden's multi-TD effort against Hoover.
Jahlique Stephens and several others created havoc as they lead the Mustangs' rushing attack.
Glendale (1-4 overall, 0-2 in league) has dropped consecutive league games to PHS and Burroughs by a combined score of 93-13.
La Salle (0-6) opens the Del Rey League section of their schedule in yet another tough, uphill climb.
The Lancers travel to Sante Fe Springs to take on St. Paul (4-1).
Paraclete handed the Swordsmen their first loss of the season last weekend by a score of 34-27.
CJ Rettig threw for two scores and ran for another last week in an 18-point loss against Cerritos Valley Christian.
It was the first time the Lancers had scored more than one TD all season.
St. Paul has outscored its opponents by a margin of 158-79 and La Salle has been outscored in six games, 291-33.
Friday's Schedule:
St. Francis vs Mayfair at La Mirada HS at 7
Burbank at Pasadena at 7
Muir at Glendale at 7
La Salle at St. Paul at 7
Blair at the California School for the Deaf at 4
** Poly & Maranatha are on their bye week.