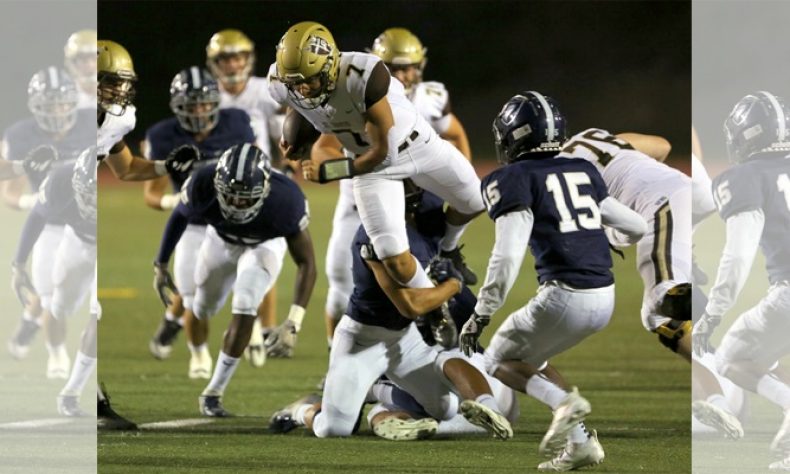 Darius Perrantes vs Mayfair By BRIAN REED BAIOTTO, Sports Editor | Photos by Ryan Tomey It took every fourth-down conversion, it took a fake punt that narrowly moved the sticks and 51 points for St. Francis to escape Friday with a huge nonleague victory. St. Francis could not stop the University of Texas-bound receiver, Chris […]
Darius Perrantes vs Mayfair
By BRIAN REED BAIOTTO, Sports Editor | Photos by Ryan Tomey
It took every fourth-down conversion, it took a fake punt that narrowly moved the sticks and 51 points for St. Francis to escape Friday with a huge nonleague victory.
St. Francis could not stop the University of Texas-bound receiver, Chris Adimora.
The Mayfair senior had nine catches for 312 yards and three scores, and quarterback Josh Calvin torched the Golden Knights secondary for north of 400 yards through the air.
So, leading 44-41, St. Francis ran the clock down to 13 seconds and were facing a fourth-down scenario deep in Mayfair territory.
Instead of taking any chances of a field-goal attempt being blocked or there being any time for the Monsoons to make one final heave, St. Francis coach Jim Bonds proved again Friday night at La Mirada High School why he's one of the elite coaches in the entire southern section.
Bonds had his star quarterback, Darius Perrantes roll out to his right for what many thought was a ploy to burn some time before heaving it down field in an attempt to bleed the clock dry.
But it was a plan all along, as Perrantes put the game on ice with an 18-yard TD pass to sophomore Bryson Reeves.
It was Reeves' fourth catch, his second TD and he led the SF receiving corps with 140 yards on Friday.
Perrantes threw two scores as mentioned to Reeves and one each to Tanner Tomko (on a successful fourth-down play), Kevin Armstead and Jacob Buntich.
Perrantes had six TD's in all, including a jog into the east end zone to keep the Golden Knights in position to win.
He did throw two interceptions, but Perrantes finished with 320 yards of total offense.
The uplifting news for the Golden Knights was getting their workhorse back from injury.
Junior running back Kevin Armstead missed consecutive games in week four and five, and in his absence, an incredible freshman named Max Garrison stepped up big time with seven touchdowns over the past two weeks.
But Armstead was dying to get on the field and help his boys.
On his very first run from scrimmage, Armstead put his helmet down, dropped a shoulder and ran over a few Mayfair defenders.
On his second carry, Armstead scored on a 16-yard TD to give SF an early 10-0 lead,
The Monsoons, on the opening drive of the game was set to punt from their own 5-yard line, but the snap went over the punter's head for a safety.
After Mayfair jumped off sides on the PAT, Bonds sent his offense out to go for the 2-point conversion and Max Garrison rumbled his way into the end zone.
There isn't any question as to what Bonds' and his staff will focus on before they host Paraclete next week.
The Golden Knights tackling was, as their coaches and players would admit, atrocious.
In one play, and as skilled as Adimora is, the Mayfair stud was surrounded by several Golden Knights' defenders, and they had him close to the south sideline.
But to his credit, Arimora shook each SF defender and took it 80 yards for a score, and it cut the Golden Knights lead to 44-34.
St. Francis, however, did everything they needed to do so they could leave La Mirada with a 10-point nonleague victory against the No. 5 ranked team in the CIF-SS Division 6 poll.
After meeting up with Paraclete next Friday, St. Francis will open Angelus League play against last-place Salesian on October 12.
Another quick fact that is worth mentioning is that after a 1-2 start, SF has won three games in a row, and have already played all but one of their road games.
Box Score:
St. Francis: 10-21-7-13-(51)
Mayfair: 14-13-0-14-(41)
Angelus League Scores:
Sierra Canyon 60, Crespi 13
Cathedral 42, La Mirada 10
Salesian 43, Cantwell-Sacred Heart 0
St. Francis 51, Mayfair 41
Angelus League Standings:
Cathedral (5-2)
St. Francis (4-2)
Crespi (3-3)
Salesian (2-4)