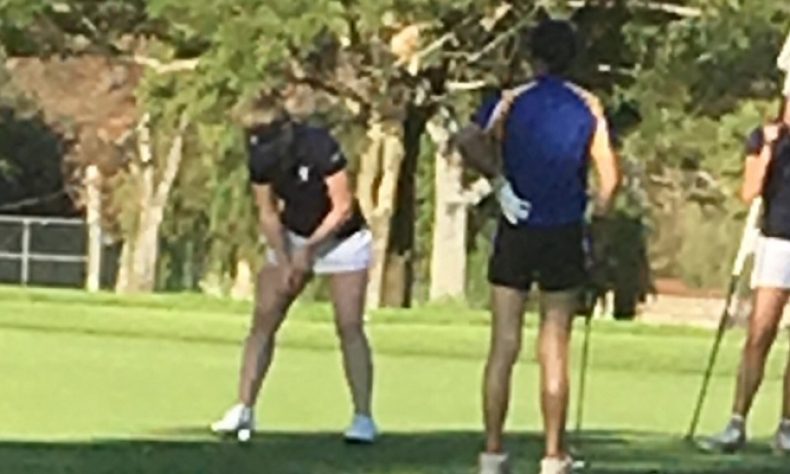 Makenna Hicks putting vs Bishop Amat From STAFF REPORTS The La Salle girls golf program has been a work in progress over the last few years. They've been young and inexperienced, and in many cases, inconsistent. The Lancers have shown signs they were taking the program to the next level and then had setbacks. They've […]
Makenna Hicks putting vs Bishop Amat
From STAFF REPORTS
The La Salle girls golf program has been a work in progress over the last few years.
They've been young and inexperienced, and in many cases, inconsistent.
The Lancers have shown signs they were taking the program to the next level and then had setbacks.
They've won consecutive matches, but when it came to taking on the upper echelon of area programs, more times than not, they fell short.
And often times, in those moments of falling short, it was by a large margin to league or power programs.
But that all changed Monday.
For the first time in three years (as league foes), Makenna Hicks and La Salle defeated Bishop Amat.
And La Salle didn't just knock off the three-time champs to gain a share of the top spot in the Del Rey League, they did it soundly.
La Salle earned a 17-stroke victory, 269-286, Monday at Brookside.
Hicks shot her typical 45, and as usual, she had a significant differential in score than the next closest Lancers' player.
But here too is another change for the better that took place Monday.
Instead of being 13-16 strokes back, Ahtziri Rios-Aguirre finished with a 53, which was five to six shots lower than La Salle typically expects from her.
Vicky Wang (56), Josephine Lo (57) and Kayla Mena (58) rounded out the top five for La Salle.
On top of everything else, Hicks felt pride, excitement and most of all, relief.
In the first of two matches against Amat in 2018, Hicks had a terrible migraine headache and couldn't compete.
In that match, her teammates played very well and stayed in it to the end, but Amat persevered.
With her back, though, La Salle not only won, they won convincingly.
The Lancers still have three Del Rey League matches to play, but this is easily the program's signature victory in 2018, let alone recent memory.
Quotable:
La Salle coach Steve Haderlein: "To beat Bishop Amat means something. They have been league champs the last three years. It means that a lot of girls needed to work hard for a long time to catch up to Amat. Congrats to all our girls for achieving this."
La Salle senior Makenna Hicks: "I am so proud of my teammates and the entire program. This is easily our biggest win since I've been here and none of this could have been accomplished without all the hard work of my teammates and coaches. I knew after the second group of players finished, we had a real shot of winning and excitement really grew. When we won, I wasn't just happy, I was incredibly proud of each player for stepping up in the biggest match we've had all year. We still have more work to do, but this is a very good night for us, for the program and our school."