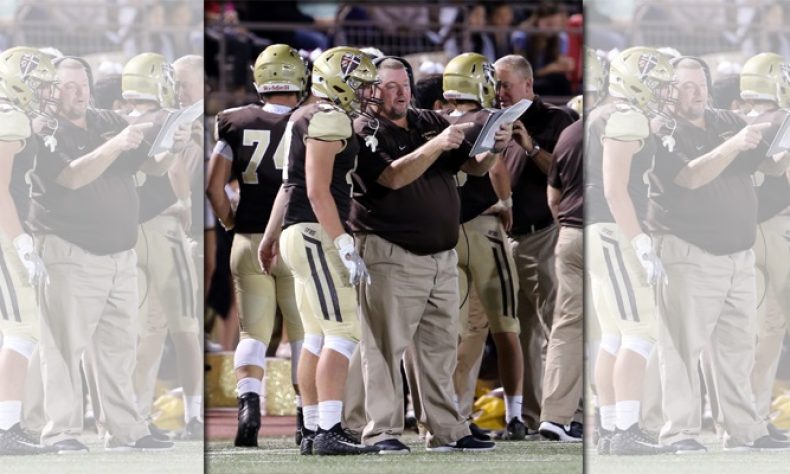 Jim Bonds draws up a play By BRIAN REED-BAIOTTO, Sports Editor/Photos by Ryan Tomey If a poll was to be conducted among prep football coaches in the area, Jim Bonds would be at the top of any list in terms of accomplishments and the respect he's garnered. Bonds has been at the helm of the […]
Jim Bonds draws up a play
By BRIAN REED-BAIOTTO, Sports Editor/Photos by Ryan Tomey
If a poll was to be conducted among prep football coaches in the area, Jim Bonds would be at the top of any list in terms of accomplishments and the respect he's garnered.
Bonds has been at the helm of the St. Francis football program for the past 19 years.
Our reigning two-time Pasadena Sports Now Football Coach of the Year is a master with X's and O's, and his team is almost always the most disciplined and prepared unit each time they take the field.
Unlike some schools throughout the southern section, Bonds and his staff will never put up with trash talk or disrespecting an opponent.
They don't taunt or make excuses, and they sure as heck don't pull out the victim card when things or calls don't go their way.
He preaches respect for the game, St. Francis opponents, and to let their play do the talking.
It's very much in the mode of a Tim Duncan, Larry Fitzgerald, Derek Jeter or Andrew Luck type of guys.
Even rivals who want to see St. Francis lose every Friday night would be the first to tell you the respect they have for Bonds and his program, and that the enormous respect he's been given has been earned.
Last season, Bonds led St. Francis to their first CIF-SS Division 3 title game since 1964, and while they fell just short in a heartbreaking loss to Rancho Verde, Bonds was already thinking about 2018 the next day.
He knew it would take time to find and train a set of receivers that needed to fill an enormous and gaping hole among the Golden Knights receiving corps.
Not one receiver that started the 2018 season at St. Francis had scored a receiving TD last year.
The reason being, the Golden Knights lost a quartet of receivers that could and did take over games.
The graduation of Greg Dulcich, Blake Howard, Isaac Cordova and Andrew Monarrez, who combined for for 2,700 yards and 26 touchdowns, was going to be arguably the program's most pressing issue or challenge heading into their first game of the season back on August 24.
Bonds knew he needed to prepare his team for fights against Mira Costa, Damien, Westlake, Saugus, Harvard-Westlake, Mayfair, Paraclete, Salesian, Cathedral and Crespi.
The 49-year old, however, couldn't have possibly anticipated that his biggest fight of 2018 would come against cancer.
It's the unknown and something you can't psychologically prepare for.
St. Francis put out a tweet over the summer announcing their leader was to undergo treatment and that his doctors liked his chances of defeating yet another opponent.
Part of that optimism comes from Bonds' tenacity, his will, and a toughness and refusal to give in.
Another encouraging reason to believe this is a winnable battle, and that Bonds himself would stay positive psychologically through the worst of times is because he has the support and love of literally hundreds and hundreds of players past and present, their parents, the teachers and administrators on campus, and most importantly his family.
His wife Tricia is his rock, and his two children, Katie and James, are what the former UCLA quarterback considers his crown jewels.
After going 21-4 the last two years, St. Francis started the season 1-2 thanks to road losses at both Mira Costa and Westlake, and in games they fell 18 and 21 points behind, respectively.
The Golden Knights rallied to take a lead late in the contest at Mira Costa and got within striking distance at Westlake, but in both of those games, St. Francis gave up big plays late to fall just short.
The comebacks are a staple of the St. Francis football program, the giving up multiple scores in the special teams department, however, is not.
The Golden Knights knocked off an undefeated Saugus program, 17-14, thanks to a pair of TD's and a pick on defense from freshman phenom Max Garrison.
Garrison filled in for star running back Kevin Armstead in week's four and five and totaled seven TD's in place of the injured St. Francis junior.
Last Week, Garrison had five scores and Darius Perrantes threw for three TD's in a 21-point road victory at Harvard-Westlake.
That led up to Friday night, where the Golden Knights would face off with a Mayfair team that is ranked No. 5 in the most recent CIF-SS Division 6 poll, and a program that had lost just one game all season.
They also were going to have to find a way to defend a receiver that turned down offers from Boise State and USC so he could play his college ball at the University of Texas.
And while Chris Adimora could make SF players look bad from time to time with his 9 receptions for 312 yards and three scores, this young Golden Knights program, thanks to the ingenuity of their leader and the heart of their players, found a way to outlast Mayfair, 51-41, and improved to 4-2.
It's significant and encouraging for a number of reasons, including the fact that St. Francis has now played four of their five regular season scheduled road games, which means three of the final four will be at home.
And it doesn't take a brain surgeon or someone with a long memory to know the recent history of success the Golden Knights have on their own field.
Back to Friday night's 51-41 victory over Mayfair in a shootout.
To win that game, especially against a team that had a decided advantage in raw talent, Bonds made a number of (courageous) decisions that paid off big time.
Over our three years as a site, he is easily the most unpredictable coach, and just when an opponent thinks they know the answer to St. Francis, Bonds changes the question.
St. Francis scored a pair of TD's (Perrantes to Bryson Reeves and Tanner Tomko) on plays Bonds decided to gamble or at least become creative in fourth down scenarios.
He also called for a fake punt late, where his up man, Bradley Pierce, took the snap and just barely got enough yardage to move the sticks.
Initially it looked like Pierce might have been shy of the first down, especially through the eyes on the Mayfair sideline.
The Monsoons' head coach had a heated discussion with multiple refs about what he considered a bad spot and it ended in a 15-yard penalty against the Monsoons for Unsportsmanlike conduct.
That call and the execution of said call allowed St. Francis to bleed the clock to just seconds left in the game.
And with just 18 seconds or so to play and a 44-41 lead, the Golden Knights had yet another fourth-down decision to make.
Would they take a chance on an approximate 35-yard field goal in a game that saw SF miss an extra point?
Some may have thought that was the right or safe call, especially considering how little time was left and having the small lead.
But Bonds wants to win or lose games on their terms and not allowing an opponent to dictate a game's narrative.
So, he sent his star quarterback a play where he would scramble to eat up as much time as possible and throw it towards the end zone, and in the hopes that even had it failed, Mayfair would have time for just one play, some 80-plus yards away from pay dirt.
Perrantes did take his time scrambling, but instead of conceding the play, the star senior hit Bryson Reeves on an 18-yard score, which literally couldn't have been a more perfect pass, because a Monsoons' defender appeared to have Reeves blanketed as the two athletes entered the west end zone as a spiral was headed their way.
It was equally typical of the type of play Bonds would call in the most tense of situations, as it is a reflection of how much trust he has in his players to execute in the most challenging or nerve-wracking of times.
For those that might of wondered over the summer if Bonds, who is more than halfway done with his six chemotherapy sessions, would be on the field, there was no way he wouldn't be.
Some pondered whether Bonds would have the patience, strength, desire and fire to be who he's been all along, which has led him to almost unparalleled success in the area.
Would he, though, be able to muster every ounce of courage and strength to continue doing what he loves most and for a school that means everything to him?
We can answer that question definitively and in an affirmative tone.
All one needed to come to that conclusion was seeing Bonds on the field for the Mayfair game.
Regardless if you were on the field, in the stands or even in the parking lot at La Mirada High School Friday night, you could easily and clearly hear Bonds screaming at his players and the refs, and with a passion and volume he has not lost.
Bonds said a few days before the season that being around his players helped take his mind off of dark thoughts.
But it was his players that are the most inspired, and it's because they saw their head coach fight his (butt) off to be around them.
To a player, they'll tell you that Bonds doesn't just make them better football players, he helps their evolution in going from boys to young men, and he fosters a brotherhood and family atmosphere for anyone in or around the program.
And in simplest terms, his players just flat out love the man.
The best news of all, though, is that the positive impact of his treatments have his doctors, family, friends, his fellow coaches, his players and his school thrilled and optimistic.
In a season that St. Francis won't overwhelm any opponent with a host of Division 1-caliber athletes, his game plans, his ability to rely on his talented and dedicated assistant coaches, his willingness to roll the dice from time to time to be unpredictable, and the fact that his players will leave everything out on the field, win or lose, gives St. Francis a chance every Friday night, including games where the Golden Knights look overmatched.
His example isn't specifically about St. Francis or even football for that matter, this is just a story about a fellow human fighting against the scare of a lifetime, and coming out on top.
And while Jim Bonds will continue to fight harder against this opponent than any he's ever faced, he is content, strengthened and humbled by all the prayers and genuine love that have been directed at both Bonds himself, but also his family and program.