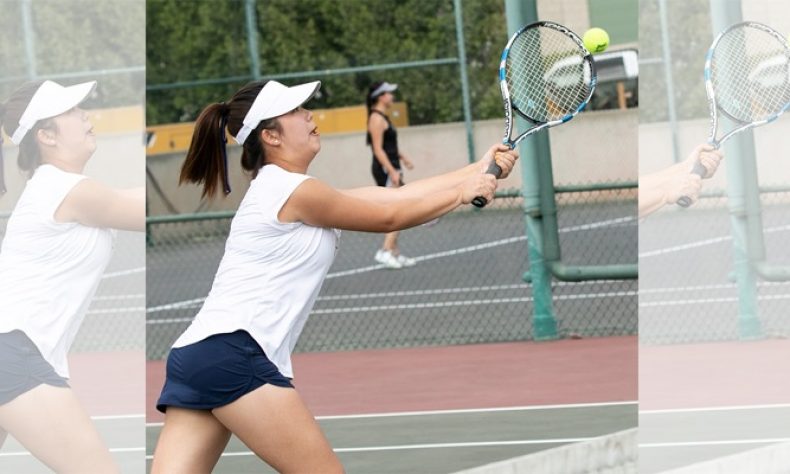 By ARTHUR HSIEH Today's match marked the beginning of round 2 of Olympic League play. The last time these teams played, Maranatha prevailed, 17-1. In an effort to put more points on the score sheet, the Warriors adjusted their line-up by inserting two of their singles players into their doubles line-up. While that strategy didn't […]
By ARTHUR HSIEH
Today's match marked the beginning of round 2 of Olympic League play. The last time these teams played, Maranatha prevailed, 17-1. In an effort to put more points on the score sheet, the Warriors adjusted their line-up by inserting two of their singles players into their doubles line-up. While that strategy didn't work for them, they did pick up another point straight up, as their #1 doubles upset MHS's #2 doubles team of Georgia Wilder and Amanda Yee, 6-4, reversing the score of their first match against one another.
It was Wilder's/Yee's first league loss, pulling them from the rank of the unbeaten and leaving #1 doubles, Michael Wilkins/Aria Haver-Hill, as the only unbeaten doubles team in the league. Wilkins/Haver-Hill handily swept today's matches. #3 doubles, Rose Zhang/Shuhan Yang won 2 sets before also bowing to the Warriors' #1 tandem, 3-6, in their final set. Molly Mittelberg subbed in for Wilder in the final set, pairing with Yee for a 6-0 victory against #3.
The singles squad crushed their opponents yet again, losing only two total games on their way to a 9-0 sweep. That makes singles 36-0 in league play thus far, with Madison Kane, Malena Smith, and Stella Wang as the top 3 singles players in the league, each with a 12-0 record. Kane recorded her 7th consecutive "triple bagel" score line, while Smith and Wang each lost only one game in 3 sets.
The Lady Minutemen entered the week as the #5 ranked team in CIF-SS Division 5 and will be looking to solidify that ranking on Thursday, as they travel to La Mirada to take on the Heralds of Whittier Christian at 3 p.m.