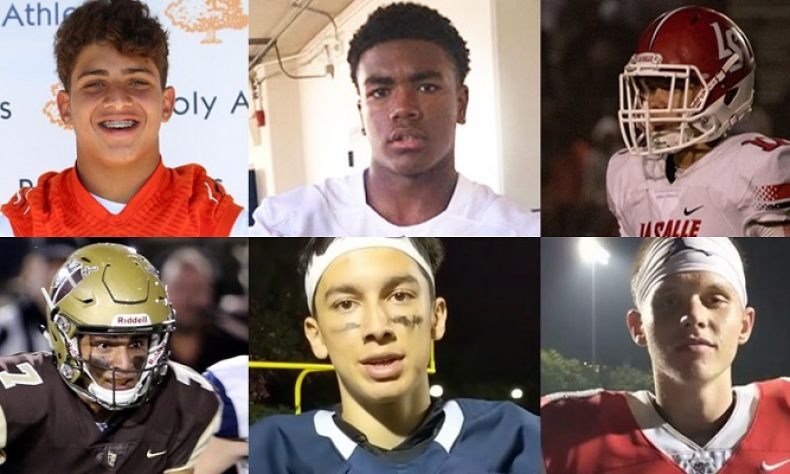 From Top clockwise: Jackson Treister, Chuck Shull, CJ Rettig, Andreas Solling, Enrique Garza, Darius Perrantes. By BRIAN REED-BAIOTTO, Sports Editor Week seven of the 2018 football season saw Muir, Maranatha and PHS all pick up league wins. It didn't take much effort for Pasadena, as the Bulldogs were handed a 2-0 victory via forfeit because […]
From Top clockwise: Jackson Treister, Chuck Shull, CJ Rettig, Andreas Solling, Enrique Garza, Darius Perrantes.
By BRIAN REED-BAIOTTO, Sports Editor
Week seven of the 2018 football season saw Muir, Maranatha and PHS all pick up league wins.
It didn't take much effort for Pasadena, as the Bulldogs were handed a 2-0 victory via forfeit because of a brawl earlier in the week at Hoover High School in Glendale.
Muir shut out Burroughs and Maranatha did the same to Valley Christian.
Poly went on the road and scored 53 points on Viewpoint in a victory.
St. Francis gave up 56 points and still had a chance late Friday night.
And La Salle scored a season-high 31 points and unfortunately, the Lancers are still winless in 2018.
Muir (6-1 overall, 3-1 in league) continued to pace the Pasadena area with their sixth win of 2018.
The Mustangs hammered visiting Burroughs, 38-0, which improved the Mustangs to 3-1 and in a second-place tie with Crescenta Valley in the Pacific League standings.
Aryonis Harrison showed off his amazing speed again Friday.
The Mustangs' senior had a 50-yard scoop-and-score.
Jahlique Stephens and Aulonzo Bailey had rushing TD's.
Chuck Shull intercepted Burroughs and ran it back for the Pick-6 score.
Muir has a chance to make a giant statement this coming Friday.
They enter week seven in a three-way tie with CV and Burbank.
The Mustangs will welcome Burbank Friday night and head into the game with momentum.
The Bulldogs are coming off a 45-23 victory over previously undefeated Crescenta Valley.
Maranatha (4-3, 1-0) stepped on the figurative throats of Cerritos Valley Christian early and the Defenders never once mounted any sort of rally or challenge.
The Minutemen got two touchdowns each from both Zack McClendon and Sabien Rivera and it led to a comfortable 36-0 Olympic League opening victory.
McClendon's second TD came just after his 35-yard scoring run.
On the next drive, the second of the game for CVC, McClendon picked off the Defenders' quarterback and ran it back 25 yards for the Pick-6, and it extended the lead to 14-0.
Rivera had 11 and 1 yard TD runs and he sacked the opposing quarterback in the end zone for a safety.
Jacob Moreno had a rushing TD (11 yards), he recovered a fumble and had a sack.
Luis Saenz had two picks for Maranatha.
Maranatha quarterback Enrique Garza is quietly coming into his own.
The junior replaced the graduating and four-year starter Kwon Peterson and needed time to grow.
His coaches and teammates are very pleased with Garza's evolution at the position and is someone they consider bright and coachable.
While he wasn't called on much to throw the ball (7 of 10 for 105 yards) in Friday's victory, he competently kept the Minutemen offense rolling throughout.
Isaac Fields, Jack Goodman, Isaac Fields, Zack McClendon and Luis Saenz all had receptions, including a highlight-reel, diving catch by Saenz.
The Minutemen will host Village Christian (5-3, 1-1).
First place and undefeated Heritage Christian dominated Village Christian Saturday night, and Maranatha hopes to hand the Crusaders its second consecutive Olympic League loss on Friday.
St. Francis (4-3) has seen its defense surrender a combined 97 points over the last two weeks and yet the Golden Knights were one possession shy from potentially going 2-0 over that stretch.
One week after outlasting Mayfair, 51-41, the Golden Knights staged a furious 14-point comeback late in the fourth quarter to catch visiting Paraclete.
But the Spirits quarterback, Marshall Saul, threw a TD pass to Henry Ikahihifo with less than 10 second to play to lift Paraclete to the 56-49 nonleague victory.
St. Francis quarterback Darius Perrantes threw for five more TD passes and north of 400 yards, but it still wasn't enough to overcome a 56-point effort by Paraclete.
Bryson Reeves had two receiving TD's, and Kevin Armstead, Will Stewart and Carson Okland each caught one on Friday night.
Armstead had both a rushing and receiving TD and had six catches for 106 yards.
It was the first home loss of 2018 for the Golden Knights.
St. Francis will open Angelus League play Friday, and the Golden Knights will host Salesian (2-5) at 7.
The Mustangs fell Friday night, 33-21, at Rancho Christian in a nonleague game.
Poly (5-1) coach Chris Schmoke texted us Friday night and said the Panthers game at Viewpoint was 'an ugly' one.
It might not have been as smooth and crisp and Schmoke would have liked, but the Panthers will certainly take the 53-34 victory over the Patriots.
JacksonTreister had the game of his life.
Treister rushed for 359 yards on 26 caries and he scored six touchdowns.
Henry Dean had a team-high 11 tackles and William McConnell finished with 9 tackles.
Franco Alonso had two catches for 41 yards, but he was far from done with his contributions.
The Panthers' senior scored on punt returns of 85 and 46 yards.
And Alonso picked off a pass and brought it back 80 yards to set up another score.
Robbie Wilson struggled throughout, completing just 6 of 18 passes for 72 yards.
The Panthers QB was picked three times.
But Wilson did his share in guiding the offense all nigNext week, Poly will travel to Santa Clarita Christian in the Prep League opener for both teams.
The Cardinals (4-2) were defeated by Rancho Christian, 41-35, Friday night.
Pasadena (4-3, 2-2) got its easiest victory of the year after Hoover administrators let their counterparts at PHS know they would not be competing against the Bulldogs Friday night.
In reports, it was noted that a brawl broke out on the Hoover campus earlier this week and the administrators took a firm stand on the incident.
In reality, Pasadena players weren't happy getting the victory via forfeit, because each Friday sees 10 percent of your season move into the rear-view mirror.
And while PHS would have blown out the Tornadoes, it would have served as a dress rehearsal before this coming week's showdown with first-place Arcadia.
La Salle (0-8, 0-2) had its best offensive game by far.
The Lancers put up 31 points, which was 11 more than its next closest offensive output.
But thanks to a 21-0 hole it dug for itself, St. Anthony won its first Del Rey League game of the season, 53-31.
CJ Rettig had an estimated seven drops from his receivers and the senior still found a way to throw over 300 yards for the first time in his varsity career.
Rettig also threw four TD passes, one each to Marcus Powe, Gio Butteri, Van Haslett and Isaac Mora.
La Salle will have this coming week off and then the Lancers host St. Genevieve on October 19.
Pasadena Area Football:
Week 7 Scores:
Muir 38, Burroughs 0
Maranatha 36, Valley Christian 0
Poly 53, Viewpoint 34
Paraclete 56, St. Francis 49
St. Anthony 56, La Salle 31
Pasadena 2, Hoover 0 (Forfeit)
Week 8 Schedule:
Friday: Salesian at St. Francis
Friday: Village Christian at Maranatha
Friday: Arcadia at PHS
Friday: Burbank at Muir
Saturday: Poly at Santa Clarita Christian
** La Salle has their bye week.
Football Standings Through October 6:
Angelus League:
Cathedral (5-2)
St. Francis (4-3)
Crespi (3-4)
Salesian (2-5)
Del Rey League:
Harvard-Westlake (5-3 overall, 2-0 in league)
St. Paul (6-1, 1-0)
St. Genevieve (4-3, 0-1)
St. Anthony (2-6, 1-1)
La Salle (0-8, 0-2)
Olympic League:
Heritage Christian (8-0 overall, 2-0 in league)
Maranatha (4-3, 1-0)
Village Christian (5-3, 1-1)
Valley Christian (2-6, 0-2)
Whittier Christian (0-7, 0-1)
Pacific League:
Arcadia (5-2 overall, 4-0 in league)
Crescenta Valley (6-1, 3-1)
Muir (6-1, 3-1)
Burbank (4-3, 3-1)
Pasadena (4-3, 2-2)
Burroughs (1-6, 1-3)
Glendale (1-6, 0-4)
Hoover (1-6, 0-4)
Prep League:
Poly (5-1)
Rio Hondo Prep (4-2)
Santa Clarita Christian (4-2)
Vasquez (1-6)