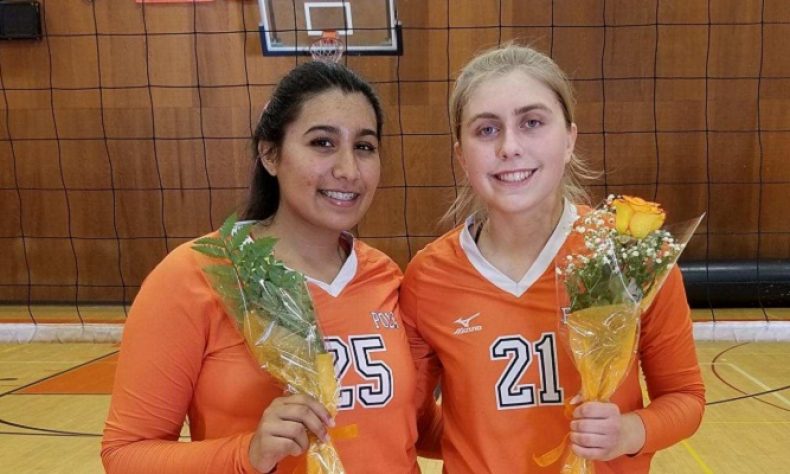 Alexis Pappachan (l) and Olive O'Beirne (r) From STAFF REPORTS At the very worst, Poly will be the 2018 Prep League co-champions. The Panthers earned that right Monday afternoon with a straight set victory over visiting Providence. Poly earned the sweep via scores of 25-23, 25-19 and 25-8. Now all eyes shift to Westridge on […]
Alexis Pappachan (l) and Olive O'Beirne (r)
From STAFF REPORTS
At the very worst, Poly will be the 2018 Prep League co-champions.
The Panthers earned that right Monday afternoon with a straight set victory over visiting Providence.
Poly earned the sweep via scores of 25-23, 25-19 and 25-8.
Now all eyes shift to Westridge on Tuesday evening.
The Tigers will not win their third consecutive Prep League championship, but they will have a say in who does.
Westridge hosts Mayfield at 5:15, and the Cubs, with a victory, would join the Panthers as co-champions.
But back to senior night at Poly.
Alexis Pappachan had a solid final home match of the regular season.
The senior finished with 8 kills and 2 digs.
Her only other fellow senior is Olive O'Beirne, and she added 2 kills and 2 blocks in the victory.
Ella Mao finished with a team-high 9 kills, 3 digs and a pair of aces.
Her twin sister, Zoey Mao, finished with 23 assists, 7 digs, 5 aces and 2 kills.
Lauren Kidman had a team-high 29 assists and Debbie Hong contributed 16 digs, 4 assists, an ace and one kill.
CIF will release the CIF-SS girls volleyball playoff pairings on Saturday afternoon at 1.
Records: Poly (14-5 overall, 10-2 in league); Providence (16-12, 2-9)