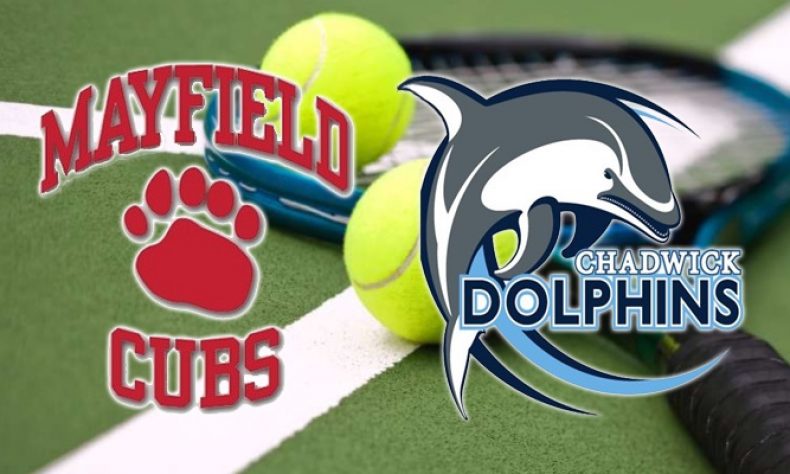 From STAFF REPORTS If the Mayfield tennis team never saw Cassie Wooten again, it would be too soon. The Chadwick star defeated Sofia Mireles, Lauren Panajotovic and Sammi Kennedy by scores of 6-0, 6-0 and 6-0. And for the second time in two Prep League matches, Chadwick and Mayfield won 9 matches apiece. Unfortunately for […]
From STAFF REPORTS
If the Mayfield tennis team never saw Cassie Wooten again, it would be too soon.
The Chadwick star defeated Sofia Mireles, Lauren Panajotovic and Sammi Kennedy by scores of 6-0, 6-0 and 6-0.
And for the second time in two Prep League matches, Chadwick and Mayfield won 9 matches apiece.
Unfortunately for the Cubs, they lost a second consecutive match via 2 points (66-64) in the tiebreaker to these same Dolphins.
The difference in defeat for the second time was again the fact that Wooten earned Chadwick 18 games and didn't surrender a single game in any of her three matches.
Aside from their matches with Wooten, the Mayfield singles players went 5-1 the rest of the way.
Alexia Saigh and her partner, Rebecca Leiva, and Ashlinn and Elise Kingston each went 2-1 in their three matches as the Cubs' No. 1 and No. 2 doubles teams on Tuesday.
Mayfield will host Flintridge Prep on Thursday at 3:30 at the Arroyo Seco Racquet Club in a Prep League showdown.
Records: Mayfield (5-4 overall, 2-3 in league); Chadwick (5-3, 4-1)