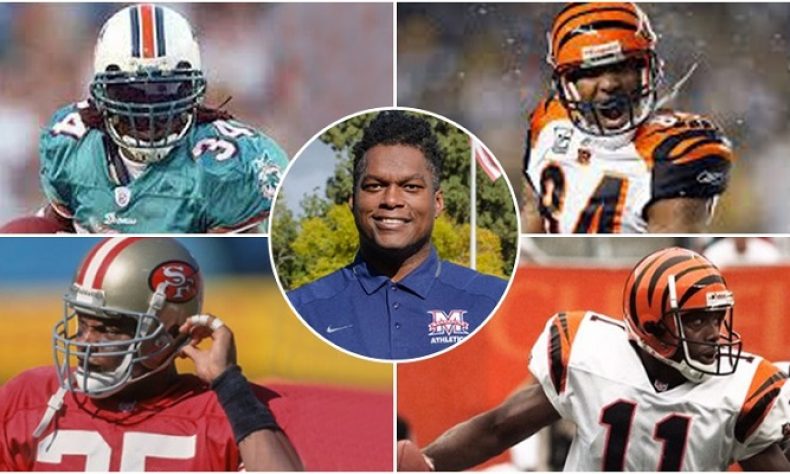 Article and Photos courtesy of MARANATHA HIGH SCHOOL Coach LaVar Arrington and Maranatha High School, along with four former NFL greats, will be hosting a free football camp on October 21. Middle school aged students are invited to an afternoon of coaching and training from NFL stars Eric Davis, T. J. Houshmandzadeh, Akili Smith, and […]
Article and Photos courtesy of MARANATHA HIGH SCHOOL
Coach LaVar Arrington and Maranatha High School, along with four former NFL greats, will be hosting a free football camp on October 21. Middle school aged students are invited to an afternoon of coaching and training from NFL stars Eric Davis, T. J. Houshmandzadeh, Akili Smith, and Ricky Williams.
This camp is open to all 6th, 7th, and 8th grade football players but will be limited to the first 60 registrants per grade level. This event is also associated with the A11 Stars Bowl at Penn State University, and invitations may be given out to attendees that are selected by the staff. More information and registration may be found online at www.ProspectsOnly.com.
The event will be held on the Keith Family Field on the Maranatha campus from 3:00 – 7:00 p.m. Check in begins at 2:00 p.m. and parents are encouraged to attend with their child. For questions, contact LaVar Arrington at l_arrington@mhs-hs.org. Follow the event on Instagram at LaVar Arrington (king_of_the_mammals) and on Twitter at @WeAreMaranatha.
Maranatha High School, 169 S. St. John Avenue, Pasadena, (626) 817-4000 or visit www.maranatha-hs.org.