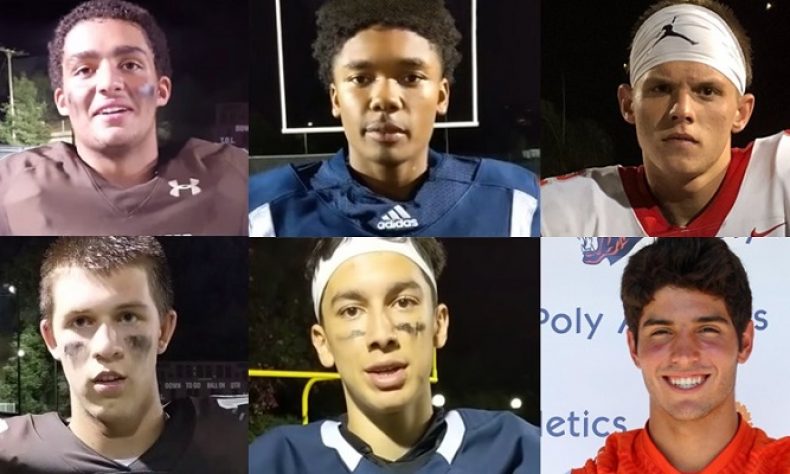 From Top clockwise: Darius Perrantes, Brian Love, Andreas Solling, Franco Alonso, Enrique Garza, Tanner Tomko By BRIAN REED-BAIOTTO, Sports Editor It took us all the way until week eight of the 2018 football season before each and every Pasadena area program is competing in league play. For those who pay attention to the area's football […]
From Top clockwise: Darius Perrantes, Brian Love, Andreas Solling, Franco Alonso, Enrique Garza, Tanner Tomko
By BRIAN REED-BAIOTTO, Sports Editor
It took us all the way until week eight of the 2018 football season before each and every Pasadena area program is competing in league play.
For those who pay attention to the area's football scene in a more cursory manner, it's where a program finishes in league play that determines whether that team will earn a spot in the CIF-Southern Section playoffs.
La Salle, Pasadena, Muir and Maranatha had already begun the league portion of their schedules.
St. Francis will open Angelus League play tonight (Friday) and Poly travels to Santa Clarita Christian on Saturday to begin Prep League competition.
Muir (6-1 overall, 3-1 in league) will host a Burbank team (4-3, 3-1) on the rise.
The Mustangs are facing off with a Bulldogs team that just handed Crescenta Valley its first loss of the season last Friday.
Burbank defeated CV by a score of 45-23.
Muir has already matched their win total of a season ago and they are currently riding a three-game win streak (Hoover, Glendale, Burroughs).
This is a huge statement game for the Mustangs.
If they want to sniff an opportunity at a Pacific League title, they will without doubt need victories tonight over Burbank and next week against first-place Arcadia.
Muir currently sits in a three-way tie with CV and Burbank for second place, but it's important to keep in mind that the Falcons defeated the Mustangs, 31-7, back on September 14, so there is very little room for error for coach Antyone Sims' squad when it comes to a high seeding in the playoffs.
As always, the Muir ship will either sink or swim based on the production they get from a number of talented stars.
Brian Love has been solid throughout 2018 at quarterback and when Love needs a rest or the Mustangs want to give the opponent a different look, Amaris Harrison comes on for a series or two and uses his speed to create havoc for opposing defenses.
Caleb Snowden and Aryonis Harrison pace the receiving corps and Jahlique Stephens and Chuck Shull are just a couple of the many reliable running backs for the Mustangs.
Burbank's Matthew Porras has thrown for over 1,400 yards and 19 TD's, but he's also been picked off 9 times.
The Bulldogs rushing attack averages nearly 200 yards per game, including a team-high 6 TD's from Isaac Glover.
Chad Vang, Erik Harutyunyan and Duncan Smith have combined for 16 of the 19 Burbank TD's through the air.
Pasadena (4-3, 2-2) has a chance to put themselves right back in the mix for an automatic playoff bid if the Bulldogs can knock off first-place Arcadia.
PHS got a win via forfeit last week over Hoover, which essentially served as a second bye week.
The chances of PHS pulling off the upset will rely heavily on whether the offensive lineman can give quarterback Andreas Solling enough time to find Mekhi Fox and Jeremiah Hutchins down field.
Both Fox and Hutchins are big-play guys and they're able to change the direction of a contest with their speed.
It's also imperative that the Bulldogs establish a ground game.
Arcadia (5-2, 4-0) is currently riding a four-game win streak and over that period of time, the Apaches have scored 45, 45, 47 and 63 points in wins over Burroughs, Burbank, Hoover and Glendale, respectively.
Dylan Guerra has thrown for 1,600 yards and 19 touchdowns.
Arcadia's rushing game averages 150 yards and they boast 8 different players that have scored TD's on the ground.
Rolandiss Whitener, Jabari Kindle, Frankie Contreras and Ahmad Lipscomb have combined for 1,430 receiving yards and 16 TD's.
St. Francis (4-3) will host Salesian (2-5) in their Angelus League opener.
The Golden Knights are coming off a 56-49 setback to Paraclete last week.
SF has surrendered 97 points in the past two weeks combined.
Darius Perrantes looks very much like the same quarterback that led the Golden Knights to their first CIF-SS title game last year since 1964.
He's accounted for 11 TD's in the last two weeks alone.
Kevin Armstead has been solid and versatile since returning from a two-game absence due to injury.
Last week, Armstead had six catches for over 100 yards and a touchdown.
On the season, the junior has 5 rushing and a pair of receiving TD's.
Tanner Tomko and Bryson Reeves pace the St. Francis receiving crew.
Tomko has team highs in catches (30) and yards (547), and his 5 TD's are just one back of Reeves.
Reeves has had a pair of TD catches in each of the past two games, and he's now caught 21 passes for 442 yards, and the sophomore boasts a team-best 6 TD's.
Salesian has used two quarterbacks all season, and they have very similar numbers.
Jaycionn White and Fabian Maciel have combined for 48 completions for 695 yards.
The Salesian duo has thrown for 6 TD's and they've been picked 6 times as well.
Soloman Harris averages 84 yards rushing per game and has a pair of TD runs.
Sean Aldana leads the Mustangs' receivers with 29 catches for 458 yards and 5 TD's.
Maranatha (4-3, 1-0) is coming off a 36-6, Olympic-League opening victory over Cerritos Valley Christian.
The Minutemen dominated from the start and never allowed the Defenders to form any kind of a comeback.
Enrique Garza continues to evolve at quarterback and is doing so at a pace his coaches and teammates are happy with.
The skinny junior is just growing into his body, and he'll certainly only get stronger.
Garza has thrown for over 1,200 yards, and he has 17 TD passes to just 2 picks all season.
Zack McClendon and Sabien Rivera lead the MHS ground game.
McClendon has a team-best 360 yards rushing and he's scored two rushing TD's, and Rivera has two TD's himself.
McClendon and Isaac Fields have a combined 596 yards receiving and 11 TD's.
The Minutemen will face off against Village Christian at Burbank High School just six days after the Crusaders fell to first-place Heritage Christian, 30-7.
Sam Faulkner has thrown for 1,375 yards and 17 TD's.
Kyler Konjoyan, Jordan Johnson and Armando Aragon have combined for 980 yards rushing and 12 TD's.
Poly (5-1) will open Prep League competition on Saturday night.
They have not lost a league contest since November 6 of 2015.
It was a 35-21 home loss to Rio Hondo Prep.
Poly heads into Saturday's opener as the reigning two-time Prep League champions.
They'll take a near 40-mile bus ride to face off with Santa Clarita Christian (5-2) at 7.
The Cardinals and Panthers have one opponent in common and they both earned 16-point victories.
Poly defeated Temple City, 28-12, on September 14.
And Santa Clarita Christian downed the Rams by a score of 35-19 last week.
It's no secret what Poly's (defensive) focus will be.
SCC quarterback Blake Kirshner has thrown for over 2,000 yards and 29 touchdowns.
Kirshner averages just under 300 yards passing per game and has only been intercepted four times in 2018.
Lucas Pettee leads the Cardinals ground attack with 700 yards rushing and 7 TD's.
Kirshner's four rushing TD's, along with Pettee's 7 account for all 11 SCC rushing TD's.
John Keane, Ethan Schwesinger, Kade Kalinske, Carson Schwesinger and Lucas Pettee have combined for 122 receptions for north of 2,000 yards and 28 TD's.
Poly hopes to see quarterback Robbie Wilson bounce back from a zero TD, three interception performance last week in a win at Viewpoint.
Jackson Treister and Franco Alonso will continue to pound opposing defenses on the ground .
And Thomas McConnell and Henry Dean have paced the Panthers' defense in tackles.
Pasadena area football programs league standings before week eight games:
Angelus League:
Cathedral (5-2)
St. Francis (4-3)
Crespi (3-4)
Salesian (2-5)
Del Rey League:
Harvard-Westlake (5-3 overall, 2-0 in league)
St. Paul (6-1, 1-0)
St. Genevieve (4-3, 0-1)
St. Anthony (2-6, 1-1)
La Salle (0-8, 0-2)
Olympic League:
Heritage Christian (8-0 overall, 2-0 in league)
Maranatha (4-3, 1-0)
Village Christian (5-3, 1-1)
Valley Christian (2-6, 0-2)
Whittier Christian (0-7, 0-1)
Pacific League:
Arcadia (5-2 overall, 4-0 in league)
Crescenta Valley (6-1, 3-1)
Muir (6-1, 3-1)
Burbank (4-3, 3-1)
Pasadena (4-3, 2-2)
Burroughs (1-6, 1-3)
Glendale (1-6, 0-4)
Hoover (1-6, 0-4)
Prep League:
Poly (5-1)
Rio Hondo Prep (4-2)
Santa Clarita Christian (4-2)
Vasquez (1-6)