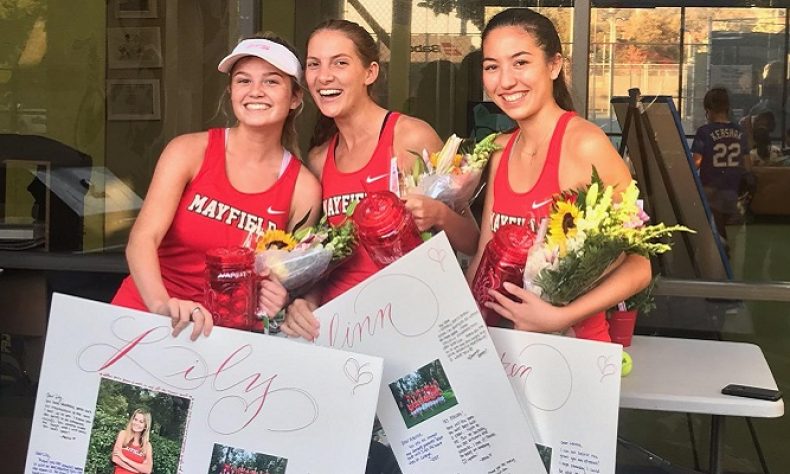 From STAFF REPORTS Mayfield sent its three seniors out in style. The Cubs celebrated the contributions of Lauren Panajotovic, Ashlinn Kingston and Lily Brogdon on Thursday afternoon. And along the way, Mayfield easily dispatched of Flintridge Prep, 16-2, in a league match. The Mayfield singles, paced by their No. 1 player, Lauren Panajotovic, won 8 […]
From STAFF REPORTS
Mayfield sent its three seniors out in style.
The Cubs celebrated the contributions of Lauren Panajotovic, Ashlinn Kingston and Lily Brogdon on Thursday afternoon.
And along the way, Mayfield easily dispatched of Flintridge Prep, 16-2, in a league match.
The Mayfield singles, paced by their No. 1 player, Lauren Panajotovic, won 8 of 9 matches Thursday.
Panajotovic earned victories of 6-0, 6-1 and 6-0.
Sofia Mireles went 3-0 at No. 2 for Mayfield and did so by scores of 6-4, 6-2 and 6-4.
Sammi Kennedy won two of her three matches at No. 3.
Ashlinn and Elise Kingston led the Cubs' doubles teams to an 8-1 mark versus the Rebels.
After the Kingston sisters earned a first-round, 6-1 victory over Prep's No. 1 doubles team, senior Lily Brogdon teamed with Elise Kingston and went 2-0 by scores of 6-2 and 6-0.
Alexia Saigh and Rebecca Leiva, who play No. 2 for coach Silvana Stans, won each of their three matches by identical scores of 6-1.
The two victories on the afternoon for Prep included No. 1 singles player Maya Khurana defeating Sammi Kennedy 6-0, and the doubles tandem of Jackie Hsu and Audrey Ouh, earning a 7-5 triumph against the Cubs' No. 3 team.
Flintridge Prep will host Westridge next Wednesday in a Prep League battle.
And one day later, Mayfield will face off with that same Tigers' program.
Records: Flintridge Prep (3-8 overall, 0-5 in league); Mayfield (6-4, 3-3)