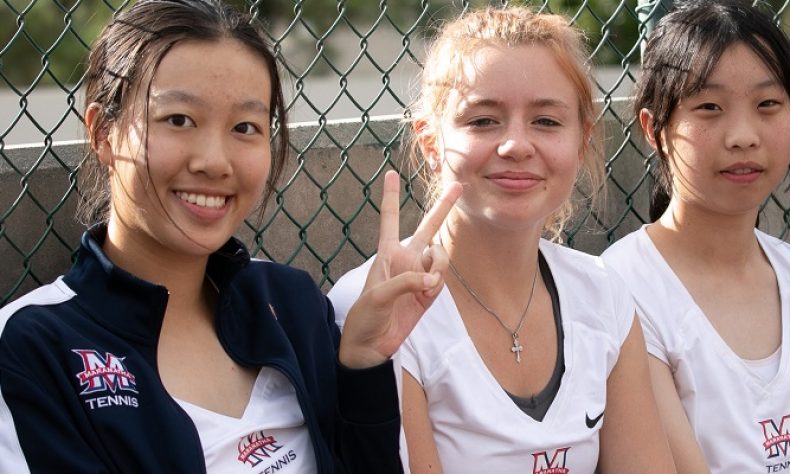 By ARTHUR HSIEH This match marked the first match of final round of Olympic League play. With today's victory, the Lady Minutemen locked up at least a tie for the league championship, their 6th in 7 season. One more victory and they win the title outright. Playing their third match in three days, the Lady […]
By ARTHUR HSIEH
This match marked the first match of final round of Olympic League play. With today's victory, the Lady Minutemen locked up at least a tie for the league championship, their 6th in 7 season. One more victory and they win the title outright.
Playing their third match in three days, the Lady Minutemen were mentally and physically tired, and it showed, especially in the final two sets of the day, as #2 doubles, Georgia Wilder/Amanda Yee were upset by the Warriors' #2 squad, 4-6, after winning their first two sets, 6-0, 6-1.
Wilder/Yee were behind, 1-4, before trying to turn on the switch and mount a comeback, which fell short. #3 doubles, Rose Zhang/Shuhan Yang had the inverse experience with the same results, jumping out to a 3-0 and 4-1 lead before getting tentative in their play and losing the final 5 games. They won their first two sets, 6-1, 6-2. Time will tell if both these teams can make the necessary mental adjustments to their games in time for the upcoming CIF playoffs.
The highlight of the day for the team was the debut of doubles team, Jasmine Chiu and Fay Sheng, who have been learning the game and watching from the bench all season. This was Chiu's first action this season (it was Sheng's third). Both coaches agreed to play their alternates against one another. With their teammates enthusiastically cheering them on, Chiu/Sheng prevailed, 6-0.
Singles continued their league dominance, winning all 63 sets played thus far in league. #1 Madison Kane recorded her 7th consecutive league "triple bagel" (6-0, 6-0, 6-0). Kane is one "triple bagel away from tying the league record (set by Whittier Christian's Christie Wan in 2014) and two away from setting the new mark.
#2 Malena Smith recorded her second straight "triple bagel" while #3 Stella Wang swept, 6-0, 6-3, 6-1.
#1 Michael Wilkins/Aria Haver-Hill continued their league unbeaten streak, winning, 6-3, 6-1 before subbing out for Chiu/Sheng.
Next week is the final week of the regular season, beginning with Senior Day vs. Whittier Christian on Tuesday at 2:50 p.m. at Occidental College. Thursday is the final league match at Valley Christian, while Friday officially closes the season against mighty Mayfield, who the Lady Minutemen have only defeated once since 2012. That was in 2014, when they went on to win the CIF-SS D5 Championship.