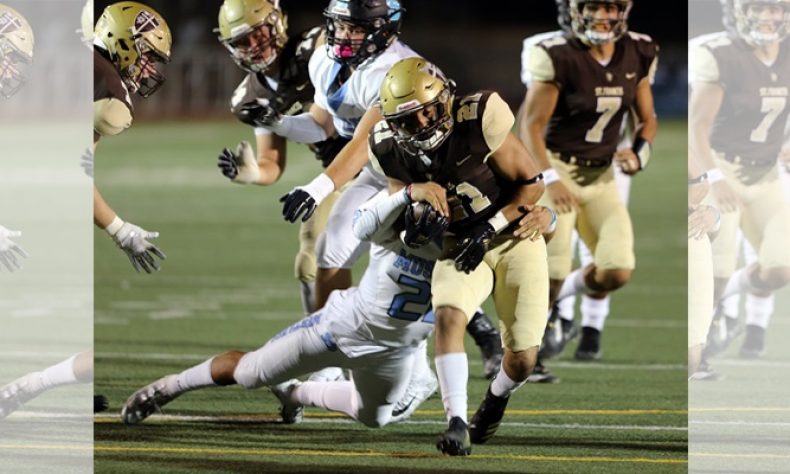 By BRIAN REED-BAIOTTO, Sports Editor | Photos by Ryan Tomey There wasn't a scheduled AC/DC concert Friday night at Friedman Field. But Salesian got 'Thunderstruck' by both the sky and the St. Francis offense. The Golden Knights got three passing touchdowns from Darius Perrantes and three more on the ground from Kevin Armstead.  And […]
By BRIAN REED-BAIOTTO, Sports Editor | Photos by Ryan Tomey
There wasn't a scheduled AC/DC concert Friday night at Friedman Field.
But Salesian got 'Thunderstruck' by both the sky and the St. Francis offense.
The Golden Knights got three passing touchdowns from Darius Perrantes and three more on the ground from Kevin Armstead.
And St. Francis blew out the visiting Mustangs, 41-0, despite the game being just two quarters long.
Just as the homecoming court was leaving the field and both teams began to make their way out for the second half, the referees called for a 30-minute weather delay because of thunder, which was accompanied by light and then moderate rain.
But because it wasn't getting any better, the athletic directors and coaches from both sides agreed that they were both better off calling it a night and it goes into the record books as an Angelus League opening victory for St. Francis.
The fans of both sides were asked to find cover and most were following the Dodgers-Brewers playoff game on their phones, and while waiting for a final decision to be made.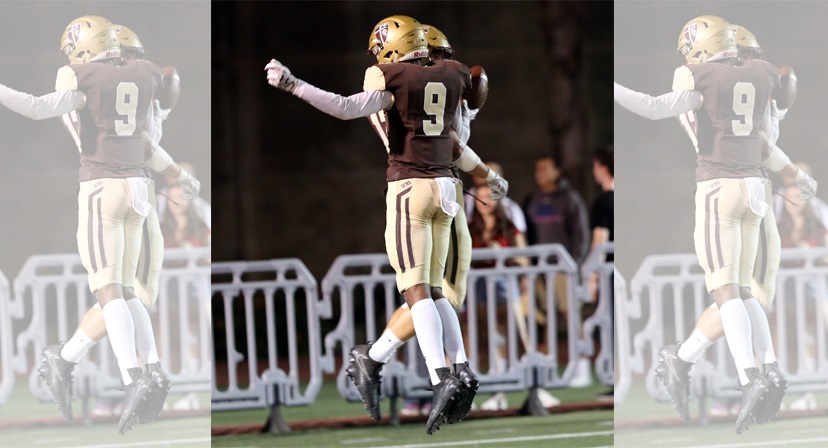 But from the very first offensive play of the game, in which Perrantes hit Tanner Tomko on a 56-yard score, it was all St. Francis.
The confidence level on the Salesian side waned so much that a running clock was installed in the very first quarter on Friday night.
Perrantes finished the game 5 of 6 for 198 yards.
His 56-yard score to Tomko started the night and then he hit Bryson Reeves on a 35-yard scoring strike.
His final of the short night came on a 67-yard pass to Tomko, who shook off a Salesian would-be tackler and the junior jogged into the north end zone.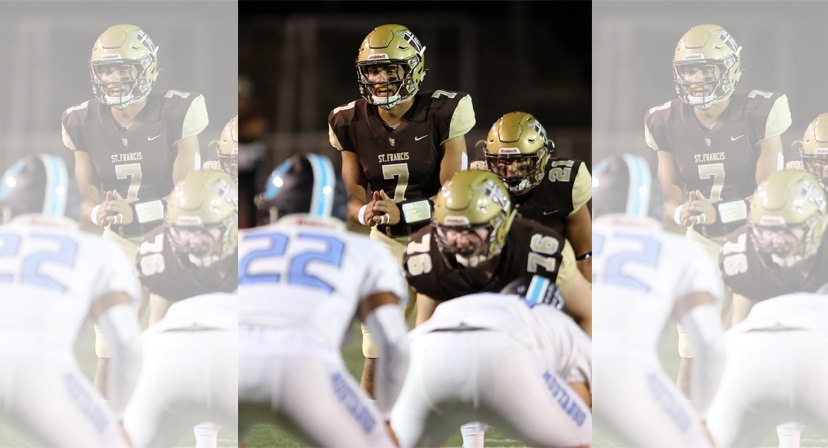 In all, Tomko had a pair of receptions for 123 yards, and Reeves caught three passes for 75 yards.
Tomko and Reeves now have 7 TD receptions apiece in 2018.
Armstead carried the ball just 8 times for 84 yards.
The junior star had TD runs of 1, 43 and 16 yards.
St. Francis' kicking game is still somewhat in limbo.
The Golden Knights have tried a couple different kickers, and on Friday, they missed an extra-point and medium-range field goal attempt.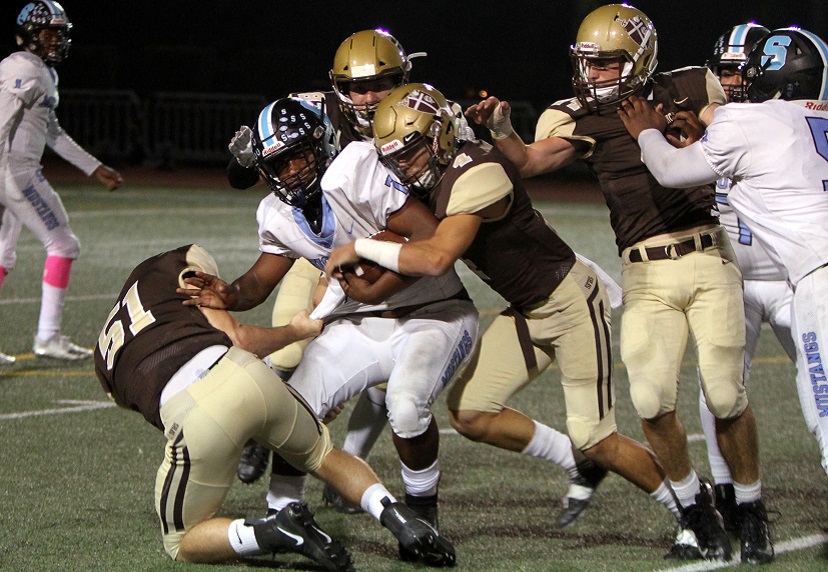 But as luck had it, Salesian committed a penalty on the missed field-goal attempt, and St. Francis turned it into 7 more points.
Salesian quarterback Jaycionn White completed 7 of 13 passes for 42 yards, and he also led the Mustangs' rushing attack with 16 yards on 7 carries.
Sean Aldana had 5 of the Mustangs' 7 catches and totaled 32 yards receiving.
Afterwards, St. Francis coach Jim Bonds felt bad for the second string players who were going to play most, if not all of the second half in front of the home crowd.
The Golden Knights will now have a week to get ready for the defending Angelus League champs.
St. Francis will travel to Los Angeles on Friday to take on Cathedral.
The Phantoms had a 7-0 lead over Crespi in their Angelus League opener Friday night, and that game will be restarted on Monday at 6 p.m.
Quotable:
SF coach Jim Bonds: "We had a weather delay when we played West Ranch in 2010 at Valencia High School and we lost in quadruple overtime. (If the game was closer) we would have waited it out. I was happy with the quick start. We've had some slow starts and we decided to receive the ball when we won the toss instead of defer. We wanted to be aggressive."
Scoring:
SF: Tanner Tomko 56 pass from Darius Perrantes
SF: Kevin Armstead 1 run
SF: Kevin Armstead 43 run
SF: Bryson Reeves 35 pass from Darius Perrantes
SF: Kevin Armstead 16 run
SF: Tanner Tomko 67 pass from Darius Perrantes
Box Score:
Salesian: 0-0-(0)
St. Francis: 27-14-(41)
Records: St. Francis (5-3 overall, 1-0 in league); Salesian (2-6, 0-1)
Angelus League Scores:
Cathedral 7, Crespi 0 (through 1 quarter)
St. Francis 41, Salesian 0 FINAL (2 quarters)
Next Week's Schedule:
Friday: St. Francis at Cathedral
Friday: Salesian at Crespi