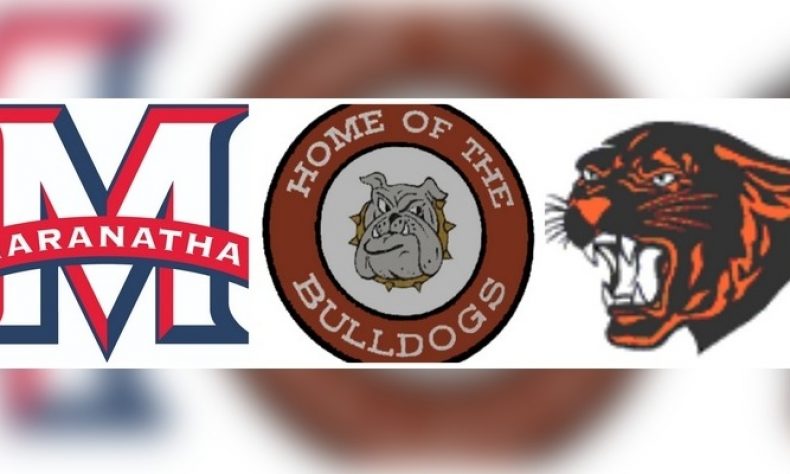 By Brian Reed-Baiotto, Sports Editor The ninth week of the 2018 prep football season just concluded over the weekend. And with just one more regular season game to go, there wasn't much drama, nor were there any upsets for Pasadena area football programs. Cathedral claimed a fourth consecutive Angelus League championship by defeating visiting St. […]
By Brian Reed-Baiotto, Sports Editor
The ninth week of the 2018 prep football season just concluded over the weekend.
And with just one more regular season game to go, there wasn't much drama, nor were there any upsets for Pasadena area football programs.
Cathedral claimed a fourth consecutive Angelus League championship by defeating visiting St. Francis on Saturday night.
Pasadena outlasted a Burroughs team they felt they should have blown out.
Maranatha did what they were supposed to do against winless Whittier Christian and Poly cruised by an outmatched Vasquez program.
Muir headed to first-place Arcadia and never got closer than 13 points after surrendering an early lead.
La Salle fell for the ninth consecutive week, but they had their best start of the season at St. Genevieve.
St. Francis (5-4 overall, 1-1 in league) took an early lead Saturday night in Los Angeles.
But Cathedral outscored the Golden Knights by 11 points in the second half and earned the 31-17 victory.
The game was moved to Saturday, because the Phantoms had to finish their week eight game against Crespi on Monday night.
They were one of the many football programs that were impacted by thunder last Friday.
Cathedral has now won four consecutive Angelus League championships and third outright.
In 2015, Harvard-Westlake shared the title with the Phantoms.
SF quarterback Darius Perrantes scored on a 17-yard TD run in the first quarter to give the Golden Knights a 7-0 lead.
In the second quarter, Kevin Armstead found the end zone, and the Golden Knights' lone score of the second half was a field goal by Jake Smith.
St. Francis will finish off their regular season slate Friday when they host last-place Crespi, and do so with the likelihood of earning second place and an automatic CIF-SS playoff berth.
Salesian, a team that St. Francis hammered 41-0, in a two-quarter game, defeated Crespi, 24-21, on Saturday night to drop the Celts to 0-2 in Angelus League play.
Muir (6-3, 3-3) felt resigned after Friday's 41-14 loss at Arcadia that a playoff berth was not going to be a likely scenario for their program in 2018.
It wasn't the loss to the first-place Apaches that has them believing Saturday morning's Turkey Tussle with Pasadena will be their final game this year.
It's the fact that they can no longer finish higher than fourth place in the Pacific League and that their schedule wouldn't be seen by CIF as particularly challenging.
In six Muir victories, their opponents have a combined record of 13-37.
Conversely, in three defeats (CV, Burbank and Arcadia), the Mustangs' opponents have a combined record of 21-6.
In Friday's loss, Muir got a pair of short TD runs by both Jahlique Stephens and Aulonzo Bailey.
One positive for the Mustangs,' even in defeat, was their defense getting picks from Tyron Clark, Calen Bullock and John Humphrey.
The score Friday might be a little misleading, and this isn't a way to excuse away another loss to quality programs, but this Muir team had several drives in the red zone, and with a chance to tighten the score.
But in most of the scenarios, the Arcadia defense was able to bend, but not break.
Pasadena (5-4, 3-3), as mentioned, voiced their displeasure with the three-point win.
It was no disrespect to Burroughs in the 35-32, Pacific League victory.
It was just the fact that they feel strongly their talent was enough of a mismatch to earn a bigger margin in victory.
But as hard as they might want to be with themselves, a league victory is a league victory.
PHS' Malachi Langley had 26 carries for just north of 220 yards rushing and a pair of TD runs.
The second of which, a 70-plus yard score turned out to be the game winner.
Mekhi Fox contributed to his incredible resume over this, his freshman year for the Bulldogs.
Fox had a 75-yard kickoff return for a score.
Andreas Solling, the PHS quarterback, who threw for one TD wasn't overly happy with the Bulldogs play.
But he was relieved with the outcome .
And far more exciting than anything that happened on the field for Solling, was having his mother, Birgitte, in town from Saudi Arabia to see her son play football for the first time in the U.S.
PHS, in victory, set themselves up for Saturday's Turkey Tussle at the Rose Bowl.
The winner will secure fourth place in the Pacific League and the loser will be one-game back in fifth place.
Poly (5-2, 1-1) wasn't challenged Friday afternoon.
But after opening Prep League play with a rare league loss to Santa Clarita Christian, the Panthers bounced back.
They claimed a 41-10 victory over a Vasquez program that fell to 1-8 this season.
None of the individual stats were eye popping, but that's because Chris Schmoke wanted to get as many players some game experience as he could in the blowout.
Connor Boyle only had two yards gained on a pair of carries, but he scored Poly's lone rushing TD on Friday.
Jackson Treister led the ground game with 71 yards on 5 carries.
Poly rushed for 116 yards on 13 carries.
Franco Alonso, Connor Henderson, Thibeaux Hirsh and Trent Steele had receiving TD's.
They combined for five catches for 107 yards.
Robbie Wilson completed 5 of 11 passes for 107 yards and the four scores.
Thomas McConnell led the defense with a team-high 11 tackles.
Sheldon Williams (9 tackles) and Henry Dean (7) combined for 16 tackles.
Poly heads into its final regular season contest one-game back of Rio Hondo Prep, and they travel to Arcadia to take on the first-place Kares on Friday.
RHP earned a 36-21 victory over Santa Clarita Christian on Saturday evening.
Maranatha (6-3, 3-0) knew they had everything to lose and nothing to gain when they traveled to Whittier College to battle last-place and winless Whittier Christian on Friday.
To their credit, though, the Minutemen were determined not to have a let down or lack of focus, and they hammered the Heralds 38-0.
The win also sets up the regular season finale with visiting Heritage Christian for the Olympic League championship on Friday.
The Warriors enter the showdown at Maranatha 9-0 overall, and they had a week nine bye.
La Salle (0-9, 0-3) welcomes second-place Harvard-Westlake in the season finale for the Lancers.
La Salle fell at St. Genevieve, 35-13, on Friday night.
It would be a shock to many if the Lancers upset the Wolverines, but no one could ever question the time, preparation and effort this program puts in each week.
CJ Rettig threw TD's to both Gio Butteri and Warren Fowler.
Fowler took a Rettig pass 50 yards for the score.
Harvard-Westlake (5-4, 2-1) is coming off a week nine bye.
Entering the tenth and final week, Maranatha, St. Francis and Poly are the three likely programs to earn postseason appearances.
Muir and PHS would have to hope for what they consider, an unlikely proposition, where CIF awarded them an at-large bid.
Week 9 Scores:
Pasadena 35, Burroughs 32
Arcadia 41, Muir 14
St. Genevieve 35, La Salle 13
Poly 41, Vasquez 10
Maranatha 38, Whittier Christian 0
Cathedral 31, St. Francis 17
Week 10 Schedule:
Friday: Crespi at St. Francis
Friday: Heritage Christian at Maranatha
Friday: Harvard-Westlake at La Salle
Friday: Poly at Rio Hondo Prep
Saturday: Pasadena vs Muir at Rose Bowl at 11 a.m.
Football Standings Through October 20:
Angelus League:
Cathedral (7-2, 2-0)
St. Francis (5-4, 1-1)
Salesian (3-6, 1-1)
Crespi (3-6, 0-2)
Del Rey League:
St. Paul (8-1 overall, 3-0 in league)
Harvard-Westlake (5-4, 2-1)
St. Anthony (3-7, 2-2)
St. Genevieve (5-4, 1-2)
La Salle (0-9, 0-3)
Olympic League:
Heritage Christian (9-0 overall, 3-0 in league)
Maranatha (6-3, 3-0)
Village Christian (6-4, 2-2)
Valley Christian (2-7, 0-3)
Whittier Christian (0-9, 0-3)
Pacific League:
Arcadia (7-2 overall, 6-0 in league)
Crescenta Valley (8-1, 5-1)
Burbank (6-3, 5-1)
Muir (6-3, 3-3)
Pasadena (5-4, 3-3)
Burroughs (2-7, 2-4)
Glendale (1-8, 0-6)
Hoover (1-8, 0-6)
Prep League:
Rio Hondo Prep (6-2 overall, 2-0 in league)
Santa Clarita Christian (6-3, 1-1)
Poly (5-2, 1-1)
Vasquez (1-8, 0-2)