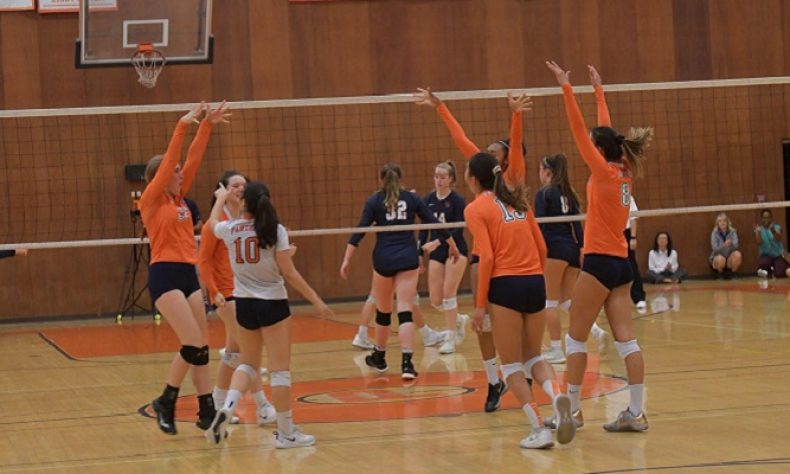 From STAFF REPORTS, Photo credit: Jennifer Godwin-Minto All season, many throughout the Pasadena area prep volleyball community expected Poly to, at some point, pull away from the pack. It was based on the return and evolution as players of Ella and Zoey Mao, Alexis Pappachan, Kate Salembier, Debbie Hong and many others in the Panthers' program. When […]
From STAFF REPORTS, Photo credit: Jennifer Godwin-Minto
All season, many throughout the Pasadena area prep volleyball community expected Poly to, at some point, pull away from the pack.
It was based on the return and evolution as players of Ella and Zoey Mao, Alexis Pappachan, Kate Salembier, Debbie Hong and many others in the Panthers' program.
When the CIF-SS playoff brackets were released nearly two weeks ago, there were six area programs that earned either automatic or at-large bids, including the Prep League co-champions at both Poly and Mayfield.
After the first round, just Flintridge Sacred Heart and Poly were standing as our representatives.
Now, just two wins from a potential CIF championship, it's Poly who stands tall in the Division 4 playoffs.
The Panthers earned that semifinal spot with their four-set victory over St. Margaret's.
Poly claimed a 25-19, 18-25, 25-21 and 25-22 victory on their home floor.
Poly will host Bishop Montgomery (22-12) on Saturday.
The time of the match has yet to be decided.
The Knights knocked off the visitors from Alta Loma on Wednesday night in 5 games, and did so by scores of 25-19, 21-25, 19-25, 25-19 and 15-8.
For Poly, Ella Mao and Kate Salembier led the offense with 10 kills apiece.
Zoey Mao and Alexis Pappachan added 6 kills each.
Lauren Kidman had a team-high 45 assists and Zoey Mao was right behind her with 41 assists.
Quotable:
Poly coach Katrina Damasco: "These girls never cease to amaze me. They played really well tonight. St. Margaret's is an excellent team. They played well and had great weapons on the pins. But the girls stayed cool and made adjustments, playing really good defense. What really stood out tonight is our blocking. We've really been honing in on that in practice and it paid off. Their grit and determination earned us tonight's win."
Records: St. Margaret's (18-11); Poly (18-5)