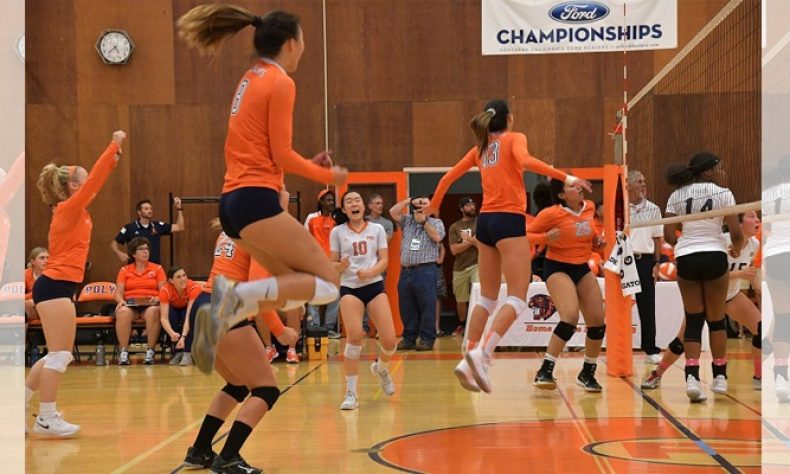 From STAFF REPORTS | Photo Courtesy of Jennifer Godwin-Minto Poly's girls volleyball program has done something that every high school team hopes to do, and regardless of gender or sport. And that's peaking at playoff time. The Panthers, in back to back matches, have beaten No. 2 ranked St. Margaret's and third-seeded Bishop Montgomery in […]
From STAFF REPORTS | Photo Courtesy of Jennifer Godwin-Minto
Poly's girls volleyball program has done something that every high school team hopes to do, and regardless of gender or sport.
And that's peaking at playoff time.
The Panthers, in back to back matches, have beaten No. 2 ranked St. Margaret's and third-seeded Bishop Montgomery in the quarterfinals of the CIF-SS Division 4 playoffs.
Poly earned its spot in the D4 finals thanks to a 25-14, 15-25, 26-24 and 25-20 victory Saturday night over the visitors from Bishop Montgomery.
Ella Mao had 21 kills and 7 digs, and her twin sister, Zoey, added 39 assists, 8 kills and 3 aces.
Debbie Hong contributed 15 digs, Lauren Kidman had 29 assists and 3 digs and Kate Salembier finished with 8 kills.
Alexis Pappachan had 17 kills and a pair of blocks.
Poly will make a 75-mile journey to Lancaster on Saturday evening at 7.
The Panthers will face top-seeded Quartz Hill.
In their four playoff victories, the Rebels have won 12 games and surrendered just one.
For its part, Poly has won 12 of the 14 games its played in the postseason.
Quotable:
Poly coach Katrina Damasco: "After setting the tone and winning the first set, we came out flat in the second. However, the pivotal win of the third set gave the momentum to push through the fourth. These girls showed their fight and determination. And they truly have earned their spot in the finals."
Poly junior Zoey Mao: "Everyone has been playing so well and our defense has been very good. We've always believed that if everyone contributes their part, we can be a very good team. We got off to a slow start and we haven't played as many matches as some of the other teams, but I've always believed that when we hit our stride, we can compete with anyone."
Poly junior Ella Mao: "I'm super excited to make it to the finals, and while I thought we had a chance against every team, it took some time to figure out our team. We won (Saturday) because everyone is contributing and Alexis, our senior balled out."
Records: Bishop Montgomery (22-13); Poly (19-5)