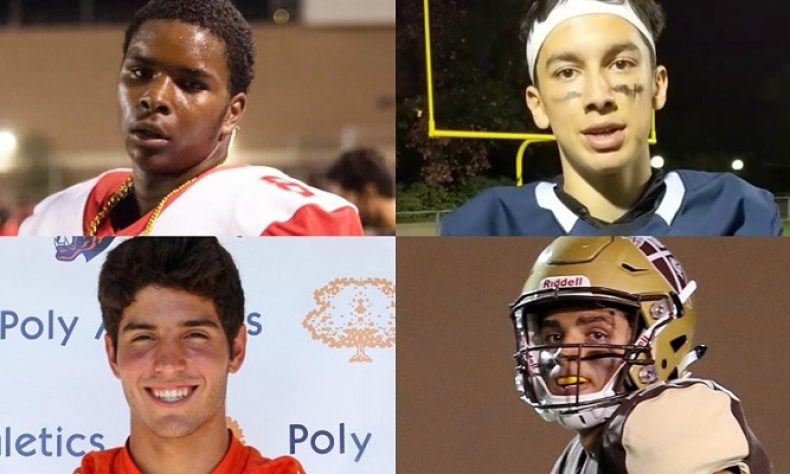 From Top Clockwise: Mekhi Fox, Enrique Garza, Darius Perrantes, Franco Alonso By BRIAN REED-BAIOTTO, Sports Editor Four Pasadena area programs found out Sunday morning they had earned postseason bids when CIF released the playoff brackets. Poly earned a share of the Prep League championship, while both Maranatha and St. Francis finished second in the Olympic […]
From Top Clockwise: Mekhi Fox, Enrique Garza, Darius Perrantes, Franco Alonso
By BRIAN REED-BAIOTTO, Sports Editor
Four Pasadena area programs found out Sunday morning they had earned postseason bids when CIF released the playoff brackets.
Poly earned a share of the Prep League championship, while both Maranatha and St. Francis finished second in the Olympic and Angelus leagues, respectively.
Pasadena was able to get an at-large bid despite a fifth-place effort in the Pacific League.
Poly and Maranatha will host first-round games Friday night, and Pasadena and St. Francis were handed road games, and against a pair of teams that have a combined record of 17-3.
St. Francis (6-4) clinched the No. 2 seed among the Angelus League field with a 2-1 mark.
The Golden Knights will travel to Calabasas to face a Coyotes team that is ranked No. 12 in the state by MaxPreps.
Their only two losses came in Week One to JSerra (8-2) and a Week 9 setback to Oaks Christian (10-0).
Oaks Christian is ranked sixth and JSerra No. 3 in the state by MaxPreps. respectively.
The Coyotes offense is led by junior quarterback Jaden Casey.
Casey has completed 179 of 282 attempts (64-percent completion ratio) for 2,405 yards and 30 TD's. He's been picked 7 times and averages just south of 250 yards per game.
Calabasas' rushing game isn't as imposing, at least not statistically.
They average 87 yards per game on the ground and are led by Johnny Williams and Julien Stokes, who have combined for nearly 700 yards and 8 TD's.
Jermaine Burton, Johnny Wilson and Mycah Pittman have teamed for 1,500 yards receiving and 27 TD's.
St. Francis is and has been led over the past two years by senior quarterback Darius Perrantes.
Perrantes surpassed the 2,000 yards mark for the second consecutive year, and he's thrown 20 TD's as compared to 8 interceptions.
When needed, Perrantes can also do damage with his legs, and has gained 335 yards, along with 4 rushing touchdowns.
Kevin Armstead is back to being Kevin Armstead.
The star junior is healthy and has rushed for 101 yards per game.
For the season, he has 917 yards rushing and 11 TD's, and Armstead has also caught 24 passes and scored twice.
Bryson Reeves (33 receptions, 682 yards, 8 TD's) and Tanner Tomko (37 catches, 748 yards, 7 TD's) have been Perrantes' top two go-to guys all season.
Poly (7-2) will host Knight (8-2) at South Pasadena High School.
The Panthers are coming off a huge 28-7 victory over their rivals at Rio Hondo Prep last weekend.
The victory over the Kares secured Poly a share of the Prep League championship.
Knight finished second in the Golden League standings and the Hawks offense averages 31 points per game.
Demetrius Freeman leads the Knight offense at quarterback.
The Hawks' senior has 2,200 yards passing and 28 TD's, but he's also been picked 12 times.
Freeman is also their leading rusher, with 648 yards on the ground, and he's scored 9 of Knight's 14 rushing TD's.
Christian Roland-Wallace has 64 catches for 1,079 yards and 12 TD's, all of which lead the Hawks statistically.
Unfortunately, Poly will not have their leading rusher.
Jackson Treister, the Panthers' star junior left late in Saturday's victory at Rio Hondo Prep after scoring a pair of TD's.
He suffered a knee injury that has devastated his teammates and coaches.
They are forced to go on without him, and won't use the absence as an excuse, but make no mistake about it, Jackson Treister contributed as much to his program's success in 2018 as any star player in the area.
Franco Alonso has and can do anything on a football field and he'll come in from receiver and likely get the bulk of the Panthers' carries.
Robbie Wilson will have to play his best football at quarterback and minimize or eliminate turnovers if Poly wants to earn a first-round victory.
Look for Thomas McConnell and Sheldon Williams to continue to pace and dominate for the Panthers' defense.
Maranatha (6-4) got a pretty decent draw, which mostly means they got a first-round home game on Friday after a second-place showing in the Olympic League.
The Minutemen are heading into the postseason on a sour note, after a 48-13 thumping from the visitors of Heritage Christian last Friday in the league championship.
But almost all season, Maranatha has rebounded from each of their losses well, and have usually done so with some zest.
Jurupa Hills (7-3) finished third in the San Andreas League and their offense averages nearly 30 points per week.
Zane Scarbrough has thrown for just under 1,500 yards, including 15 TD's and 4 interceptions.
Scarbrough also leads the rushing game with 509 yards on the ground and he's scored 9 of the 20 rushing TD's for the Spartans.
The Spartans have four different receivers with 3 TD's apiece.
Maranatha has to hope quarterback Enrique Garza battles back from a three-interception game last week in the 35-point setback.
His season stats, though, are solid.
Garza has thrown for nearly 1,900 yards, and has 20 TD passes, while throwing 6 picks.
Zack McClendon hasn't gotten the level of praise we think he deserves for a solid senior season.
McClendon's 680 rushing yards is some 500 more than the next closest running back for the Minutemen.
He's scored 6 TD's on the ground and has 31 receptions for 500 yards and 6 receiving TD's.
Isaac Fields is the Maranatha big-game receiver.
The 6-foot-3 junior has a team-best 656 yards receiving and 7 TD's, and his 32 receptions are second best to Jack Goodman's 39.
Goodman has compiled nearly 400 yards receiving and 3 TD's.
Pasadena (5-5) was awarded an at-large bid after finishing fifth in the Pacific League.
The Bulldogs have won more games in 2018 than they did in 2016 and 2017 combined.
PHS will head to Santa Paula (9-1) six days after getting outscored 21-0 in the fourth quarter in a 34-13 loss to Muir in the Turkey Tussle.
Santa Paula (9-1) earned a share of the Citrus Coast League title with Nordhoff.
The Cardinals' offense averages 30 points per game, while PHS scores approximately 21 points each Friday night.
Jacob Munoz has thrown for nearly 2,000 yards and 19 TD's. He averages just under 200 yards per game and has been picked 6 times.
Tim Luna anchors the Cardinals' rushing game with 1,081 yards on the ground, and he's scored 12 of Santa Paula's 18 TD's.
Victor Duran has a team-best 41 receptions for 1,002 yards and 11 TD's.
Pasadena fans are anxious to see if PHS' offensive game plan will allow quarterback Andreas Solling to stretch the field, and present a more balanced attack than the Bulldogs displayed in the Turkey Tussle.
The PHS quarterback averages about 200 yards passing per game.
Mekhi Fox, an incredible freshman, and Malachi Langley, one of the Bulldogs' captains have paced the PHS ground game all season, and can make a play from anywhere on the field.
Jeremiah Hutchins and Fox have produced big at receiver for PHS, and the Bulldogs know they'll need their best game of the season if they're to head back home as victors.
While we don't predict the outcome of games, a site called "CalPreps" does, and here are their predictions for each of the four Pasadena area playoff games this Friday.
CalPreps Predictions:
Knight 35, Poly 17
Calabasas 48, St. Francis 14
Santa Paula 28, Pasadena 21
Jurupa Hills 26, Maranatha 13
While CalPreps projects that all four Pasadena area programs will see their season's end in the first round, it is a fact that no one sitting behind a computer screen has ever decided a game's outcome.
It's the athletes on both sides that do.
And here's to hoping they are wrong.
Friday's Pasadena Area CIF-SS First Round Playoff Schedule:
Division 2: St. Francis (6-4) at Calabasas (8-2)
Division 10: Knight (8-2) vs Poly (7-2) at South Pasadena HS
Division 11: Jurupa Hills (7-3) at Maranatha (6-4)
Division 11: Pasadena (5-5) at Santa Paula (9-1)