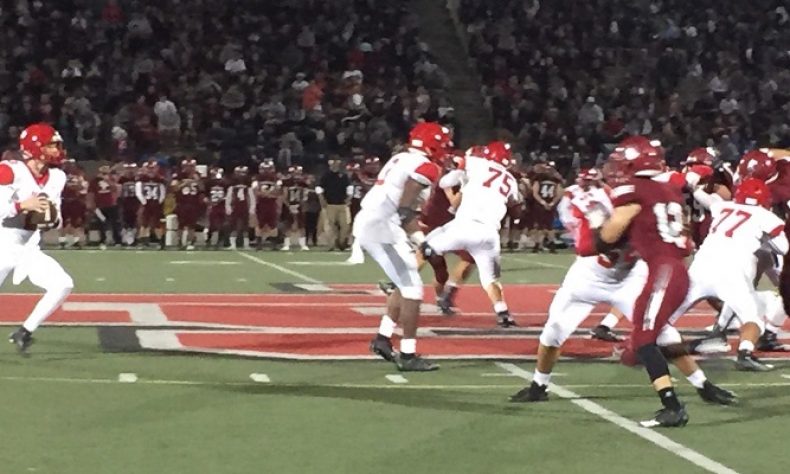 Pasadena vs Santa Paula From STAFF REPORTS Pasadena has ridden a roller coaster this football season that is worthy of Magic Mountain. They won more regular season games in 2018 (5) than they did in 2016 and 2017 combined. PHS, though, has also fallen short in games they felt they had chances to compete, let […]
Pasadena vs Santa Paula
From STAFF REPORTS
Pasadena has ridden a roller coaster this football season that is worthy of Magic Mountain.
They won more regular season games in 2018 (5) than they did in 2016 and 2017 combined.
PHS, though, has also fallen short in games they felt they had chances to compete, let alone win, including last week's Turkey Tussle.
But all that's in the past, and they're getting the last laugh.
PHS is not only the last Pasadena area football program alive after the first round of the CIF playoffs, the Bulldogs earned their first postseason victory since November 18 of 2011, when they defeated California by two touchdowns.
Pasadena got three rushing TD's and some 250 rushing yards from senior captain Malachi Langley.
They got another TD on the ground from freshman Mekhi Fox and a pair of field goals by Fernando Simental to defeat Santa Paula, 33-22, in the Division 11 playoffs.
PHS' 70-mile bus ride home will be the most pleasant trip they've made all season, after not only extending their season, but also defeating a Cardinals' team that entered the game with a record of 9-1.
Santa Paula was also ranked 129 programs ahead of Pasadena, according to MaxPreps.
Pasadena will travel to Beaumont (7-4) next Friday night in the second round of the CIF-SS Division 11 playoffs, and the Bulldogs will take on a Cougars team that destroyed Twentynine Palms, 62-14, in their first-round contest.
St. Francis finished its season 6-5 after a first-round blowout in the CIF-SS Division 2 playoffs at Calabasas.
In an unusual scenario for the program, Calabasas cruised to a 49-7 victory in which the Golden Knights were on the wrong end of a running clock.
The Golden Knights didn't score until late in the fourth quarter.
Bradley Pierce scored on a 5-yard TD run with 24 seconds left in the game for the Golden Knights' lone score on Friday.
Darius Perrantes did not throw a TD pass and was picked off three times to end his prep career at St. Francis.
Poly knew it was going to be an uphill climb without star running back Jackson Treister.
The junior injured his knee late in last week's game at Rio Hondo Prep in the Panthers' Prep League and reason season finale.
With the win, Poly earned a share of the league title and a home game, but visiting Knight was too much to handle at South Pasadena High School.
Poly scored the first TD of the game on a 10-yard TD pass from Robbie Wilson to Franco Alonso.
But Knight scored the next five scores and earned the 35-7 victory in the CIF-SS Division 10 playoffs.
Maranatha was under-manned and they weren't healthy.
And both of those factors made it pretty simple for visiting Jurupa Hills to earn a 55-15 victory in the CIF-SS Division 11 playoffs.
Isaac Fields was the Minutemen offense on Friday.
The Maranatha junior caught a 78-yard TD pass from Enrique Garza.
Fields also had a pick-6 that he brought back for the score and converted on a 2-point conversion.
But the Maranatha defense could not stop the Jurupa Hills offense.
Records: Pasadena (6-5); Poly (7-3); St. Francis (6-5); Maranatha (6-5)