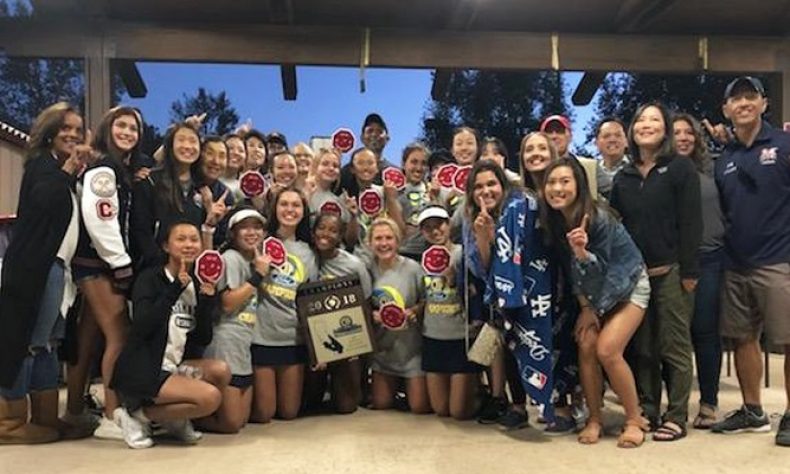 Maranatha Girls Tennis Wins CIF Championship By BRIAN REED-BAIOTTO, Sports Editor Imagine the nerves going through Maranatha girls tennis coach Arthur Hsieh on Friday afternoon at the Claremont Tennis Club. His Minutemen won a CIF title back in 2014, but had lost tiebreakers in the semifinal rounds in both 2015 and 2017. Maranatha was also […]
Maranatha Girls Tennis Wins CIF Championship
By BRIAN REED-BAIOTTO, Sports Editor
Imagine the nerves going through Maranatha girls tennis coach Arthur Hsieh on Friday afternoon at the Claremont Tennis Club.
His Minutemen won a CIF title back in 2014, but had lost tiebreakers in the semifinal rounds in both 2015 and 2017.
Maranatha was also facing off with a Woodcrest Christian program that was not only the No. 1 seed, the Royals had defeated their postseason opponents by a combined margin of 54-18.
And in the first round (six total matches, three singles & three doubles) of Friday's title showdown, the No. 2 seed were trailing in four of the six matches.
The Minutemen, though, rallied and finished the first round of matches, 5-1, which meant the program was already halfway home to a second title.
Included in the first-round comeback were all three doubles teams.
Thankfully, for the nerves of all involved, the Maranatha girls took control and earned the CIF-SS Division 5 championship by a comfortable margin of 12-6.
No. 1 singles player Maddie Kane went 3-0, and steamrolled her Royals' opponents by scores of 6-0, 6-0 and 6-1.
But it was her third of three victories on Friday afternoon that fittingly and officially clinched the CIF championship for the school.
As much credit as Kane deserves, which is a lot, there has to be a ton of praise heaped towards the Maranatha doubles teams, which combined to go 7-2 on Friday.
Michael Wilkins and partner Aria Haver-Hill, playing No. 1 doubles, went 3-0, and won by scores of 6-2, 6-4 and 6-1.
Georgia Wilder and Amanda Yee teamed up to win each of their three contests as well, and did so 6-3, 7-5 and 6-1.
Rose Zhang and Shuhan Yang earnd a point with a 6-3, second-round doubles victory.
Malena Smith and Stella Wang, playing the roles of No. 2 and No. 3 singles, respectively, each earned one point for the Minutemen with third-round victories apiece.
Quotable:
Maranatha coach Arthur Hsieh: "We knew virtually nothing about Woodcrest Christian, other than them having two good singles players. We pulled out three of four matches in the first round that we were down, and it was then that I started counting. Once we got our fifth win, I knew we'd get two more wins from Maddie and only needed three more. I told the girls that champions are that way from the inside and that they could be that if they played their best tennis of the season. They gave their best effort and performed at their best, which is the mark of a champion. All nine girls contributed at least one point (in the victory). It's special that every player was part of this. It was a magical end to a magical season that could only be counted as a gift of grace
Maranatha No. 1 singles player Madison Kane: "Honestly, I was so pumped to play the No. 1 seed (Woodcrest Christian). I could not wait for the finals to come around so I could play my matches. To prepare for the finals, we wanted to play our very best and leave it all out on the court. Our coach always told us to trust the Lord and to always play for an audience of one, Him. So, we prepared harder than we ever had, and the results showed. We made sure we always were pumping each other up and we had each other's backs, on and off the court. We united well as a team, because we love each other so much. I couldn't have done this without my teammates and coaches, and I give them all of the credit for this. They supported me throughout and allowed me to prepare to the best of my ability, and I thank them so much for that."
Records: Maranatha (18-2); Woodcrest Christian (16-4)