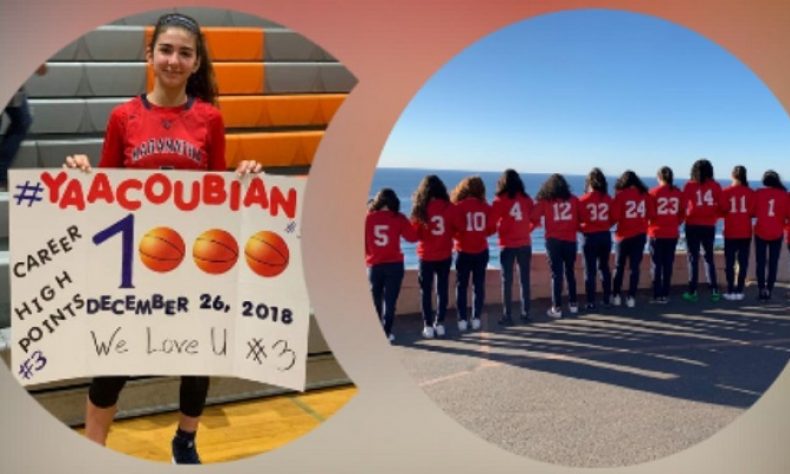 By GAMAL SMALLEY For the second consecutive year the Lady Minutemen of Maranatha High captured the Championship of the SoCal Holiday Prep Classic – Prep Division. Also, for the second consecutive year Patil Yaacoubian averaged 20 points per game and was selected the Tournament MVP. During the first half of the first game of the […]
By GAMAL SMALLEY
For the second consecutive year the Lady Minutemen of Maranatha High captured the Championship of the SoCal Holiday Prep Classic – Prep Division. Also, for the second consecutive year Patil Yaacoubian averaged 20 points per game and was selected the Tournament MVP. During the first half of the first game of the tournament, Patil also scored her 1000th career point and was celebrated by her teammates who responded with a passion group effort throughout the tournament. Sophomore guard, Emily Jordan averaged 10 points and six assists per game during the tournament as well.
The Lady Minutemen had impressive performances from their powerful front court of Mikayla Murphy, Mia Chang, Merci Turner and Erica De Guzman while their back court performers Mireille Minassian and Naomi Turner sizzled with their hot outside shooting. When it came to hustle the Lady Minutemen could count on Hope Hayashida, Macy Asaoka, and Kamryn Asaoka for spirited play that contributed to the total team's success. The Lady Minutemen are off to a great start with a 12-3 record as they get ready for Olympic League play which starts January 5th at Village Christian.
Maranatha High School, 169 S. St. John Avenue, Pasadena, (626) 817-4000 or visit www.maranatha-hs.org.