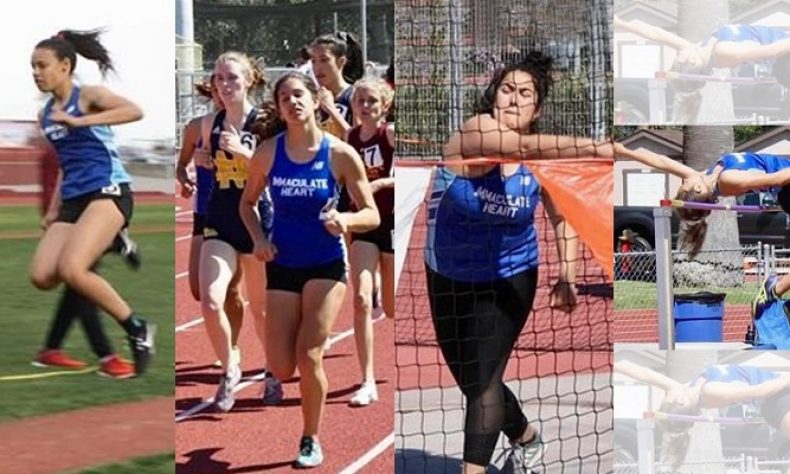 Article and Photo courtesy of IMMACULATE HEART HIGH SCHOOL & MIDDLE SCHOOL Four Immaculate Heart High School (IHHS) Track and Field athletes advanced to the California Interscholastic Federation's Southern Section preliminary competition, and senior Lola Salinas will represent IHHS at the finals! At prelims, junior Cynara Fox competed in the triple jump; junior Daisy Salinas […]
Article and Photo courtesy of IMMACULATE HEART HIGH SCHOOL & MIDDLE SCHOOL
Four Immaculate Heart High School (IHHS) Track and Field athletes advanced to the California Interscholastic Federation's Southern Section preliminary competition, and senior Lola Salinas will represent IHHS at the finals!
At prelims, junior Cynara Fox competed in the triple jump; junior Daisy Salinas competed in the mile; senior Andrea Contreras competed in discus; and senior Lola Salinas competed in high jump. Now, Lola Salinas will move on to CIF-SS finals, where Immaculate Heart looks forward to rooting her on.
About Immaculate Heart
Founded in 1906, Immaculate Heart High School & Middle School educates young women in grades sixth through 12th from its central location in the Los Feliz foothills near Griffith Park in Hollywood. The school has a long and distinguished history, with more than 10,000 graduates. Today's student body of more than 700 young women is both geographically and ethnically diverse, drawing on students from throughout Los Angeles County. Last year, virtually 100 percent of Immaculate Heart graduates matriculated to colleges, including the most prestigious schools in the country.
Immaculate Heart High School & Middle School, 5515 Franklin Ave., Los Angeles, (323) 461-3651 or visit www.immaculateheart.org.