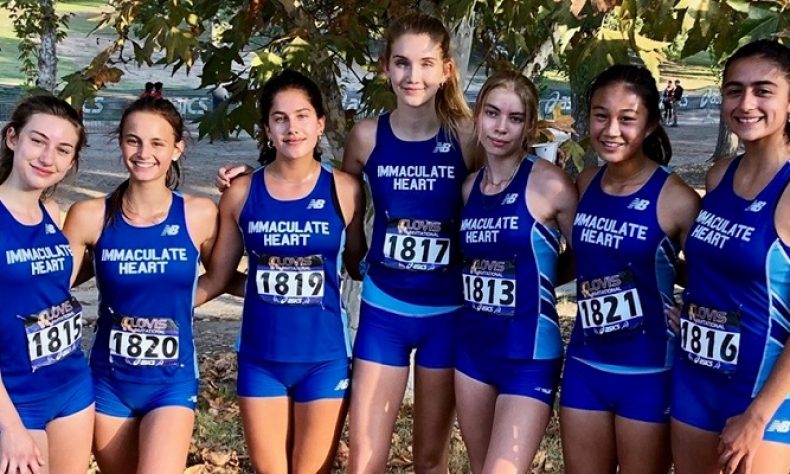 Article and Photos courtesy of IMMACULATE HEART HIGH SCHOOL & MIDDLE SCHOOL Immaculate Heart High School congratulates its Varsity and Junior Varsity cross country teams on their strong start to the season. Both lead the Sunshine League in first place, with 8-0 records! At the Sunshine League's second meet of the season Wednesday, both teams […]
Article and Photos courtesy of IMMACULATE HEART HIGH SCHOOL & MIDDLE SCHOOL
Immaculate Heart High School congratulates its Varsity and Junior Varsity cross country teams on their strong start to the season. Both lead the Sunshine League in first place, with 8-0 records!
At the Sunshine League's second meet of the season Wednesday, both teams continued to dominate their races, with each securing the top spot among the competition at Crescenta Valley Park.
The JV team delivered a complete sweep for Immaculate Heart with runners finishing in the first five positions! Seniors Maddie Creasey and Emily Alonso claimed first and second, followed by juniors Jonna Riley, Isabelle Newson and Julianna Deras.
In the Varsity race, seniors Daisy Salinas and Violet Marko placed second and third, followed by the team's other top runners, sophomore Victoria Leahy, junior Nico Kachikis, and sophomore Sophia Tang.
Both cross country teams were equally impressive last month at the Sunshine League's first meet where Immaculate Heart beat out other schools to claim first place. A shout-out to all members of both IH teams for their ongoing success.
In addition to their perfect sweep in the Sunshine League, the Pandas have also performed well at cross country invitationals around California. In the Cool Breeze Invitational at the Rose Bowl on September 9, the IH Varsity Team placed fourth out of 25 teams, thanks in part to seniors Daisy Salinas and Violet Marko finishing 12th and 23rd out of 219 runners. The Frosh/Soph Team also competed, and sophomore Sophia Tang placed tenth out of 243 runners.
At the Ojai Invitational, held September 21 at Lake Casitas, the Varsity team placed fourth out of 19 teams in the three-mile race. Seniors Daisy Salinas and Violet Marko and sophomore Victoria Leahy placed second, 14th and 31st out of 166 runners. The JV Team placed second out of seven teams in the 1.9-mile race, where Junior Lilah Sitkevich placed fourth, sophomore Sophia Tang placed fifth, junior Isabelle Newson placed eighth, senior Emily Alonso placed ninth and sophomore Jonna Riley placed tenth.
Most recently, at the Clovis Invitational near Fresno on October 12, the Varsity team placed 9th out of 26 teams. Seniors Violet Marko and Daisy Salinas finished 12th and 13th out of 196 runners.
Immaculate Heart High School & Middle School, 5515 Franklin Ave., Los Angeles, (323) 461-3651 or visit www.immaculateheart.org.