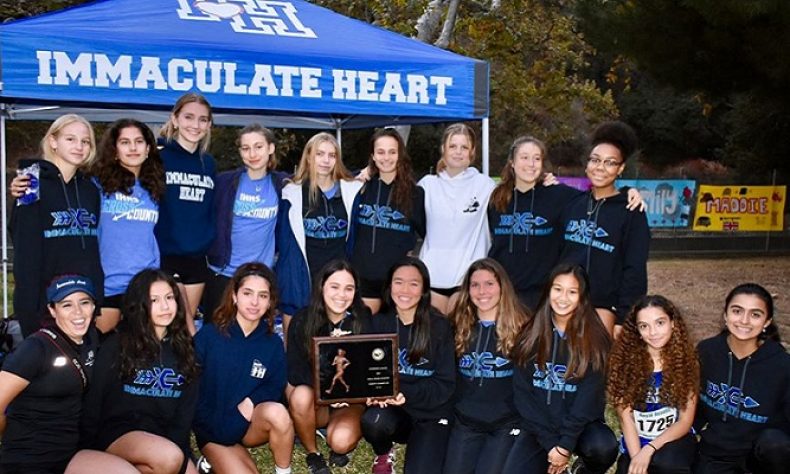 Article and Photo courtesy of IMMACULATE HEART HIGH SCHOOL & MIDDLE SCHOOL Immaculate Heart High School (IHHS) Varsity and Junior Varsity Cross Country Teams each clinched the Sunshine League title after an undefeated season with a 12-0 record for both teams! All seven runners on Immaculate Heart's Varsity Cross Country Team will now advance to […]
Article and Photo courtesy of IMMACULATE HEART HIGH SCHOOL & MIDDLE SCHOOL
Immaculate Heart High School (IHHS) Varsity and Junior Varsity Cross Country Teams each clinched the Sunshine League title after an undefeated season with a 12-0 record for both teams!
All seven runners on Immaculate Heart's Varsity Cross Country Team will now advance to CIF Southern-Section playoffs on Saturday, Nov. 16, in Riverside after earning the Sunshine League's top spot at league finals.
Following the Sunshine League's final races at Crescenta Valley Park Wednesday, both IH Varsity and JV teams were recognized for their first place finishes. On the Varsity team, seniors Violet Marko and Daisy Salinas finished second and third, followed by sophomore Victoria Leahy in 5th, and junior Nicolas Kachikis, 12th. All four were named to 1st Team All Sunshine League!
Senior Maddie Creasey led the JV team to victory, maintaining the lead throughout the race. Following Creasey in quick succession were junior Isabelle Newson, 2nd, sophomore Jonna Riley, 3rd, junior Julie Deras, 4th, sophomore Alice Lee, 5th, and sophomore Zeljka Culina, 6th. Congratulations to both teams on their amazing seasons!
Immaculate Heart's cross country teams dominated races throughout the fall competition following weeks of conditioning and practice — all under the guidance of Coach Vivian Monroy.
In addition to their winning performance in the Sunshine League, the Pandas have also performed well at cross country invitationals around California. In the Cool Breeze Invitational at the Rose Bowl on September 9, the IH Varsity Team placed fourth out of 25 teams, thanks in part to seniors Daisy Salinas and Violet Marko finishing 12th and 23rd out of 219 runners. The Frosh/Soph Team also competed, and sophomore Sophia Tang placed tenth out of 243 runners.
At the Ojai Invitational, held September 21 at Lake Casitas, the Varsity team placed fourth out of 19 teams in the three-mile race. Seniors Daisy Salinas and Violet Marko and sophomore Victoria Leahy placed second, 14th and 31st out of 166 runners. The JV Team placed second out of seven teams in the 1.9-mile race, where junior Lilah Sitkevich placed fourth, sophomore Sophia Tang placed fifth, junior Isabelle Newson placed eighth, senior Emily Alonso placed ninth and sophomore Jonna Riley placed tenth.
At the Clovis Invitational near Fresno on October 12, the Varsity team placed 9th out of 26 teams. Seniors Violet Marko and Daisy Salinas finished 12th and 13th out of 196 runners.
At Mount San Angelo College, Immaculate Heart finished fourth in the Division 4 race on October 25. Out of 123 runners, seniors Daisy Salinas placed eighth and Violet Marko placed 14th, with juniors Nico Kachikis finishing 32nd, Laura Gulbinas finishing 44th, and Lilah Sitkevich finishing 45th.
Immaculate Heart High School & Middle School, 5515 Franklin Ave., Los Angeles, (323) 461-3651 or visit www.immaculateheart.org.