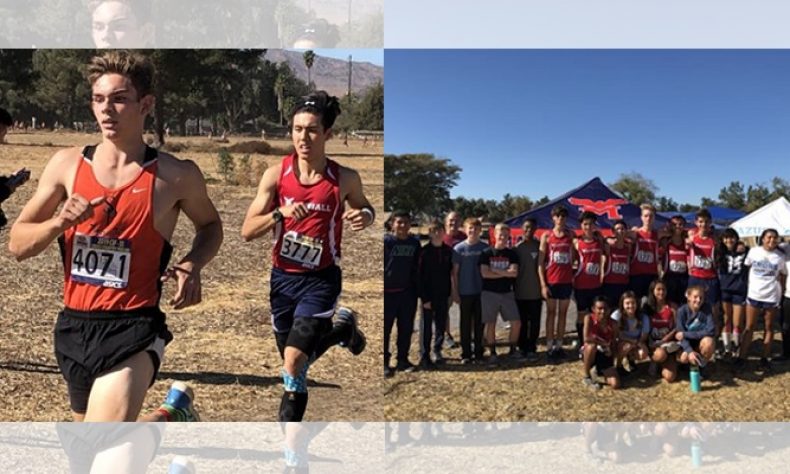 By MARSHALL COACH GUTHRIE & COACH WATSON For the first time since 2013, and the first since Marshall Fundamental joined the Mission Valley League, both the girls and boys teams competed in the CIF Prelims. Both teams ran well. The boys became the first ever Marshall cross country team to advance to CIF Finals. The […]
By MARSHALL COACH GUTHRIE & COACH WATSON
For the first time since 2013, and the first since Marshall Fundamental joined the Mission Valley League, both the girls and boys teams competed in the CIF Prelims.
Both teams ran well.
The boys became the first ever Marshall cross country team to advance to CIF Finals.
The girls (Bailey Becker, Charlotte Bradley-McKinnon, Cadence Fisher, Piper Guthrie, Samantha Reynoso, Pamela Trujillo, and Sofia Vasquez) came in 18th out of 23 teams.
Piper (3rd), Cadence (6th), Sofia (7th), and Bailey (8th) joined the top-10 all-time Marshall list for the Riverside XC course. This team consists of one 11th-grader, two 10th-graders, and four 9th-graders.
They ran great races this year.
The boys (Sam Bliss, Jason Cabrales-Carcano, Trey Davis, Claudio Reynoso, David Scott, Prince Takano, Adrian Villaneda) came in 11th out of 19 teams.
Prince came in 17th out of 136 runners.
Prince (1st), Sam (2nd), Jason (4th), Adrian (5th), David (7th), and Trey (9th) joined the top-10, all-time Marshall list for the Riverside cross country course.
It was a fun day at a somewhat suspect course. While it is true all runners share the same conditions, the Riverside course presents some unique challenges.
The day was made better by the alternates and team members that joined us in Riverside: Steven Amador, Alyssa Bruna, Ben Karish, Devan Kelly, Ryan Martinez, Alex Neuenburg, and Kai Repella.
Marshall Fundamental School, 990 N. Allen Ave., Pasadena, (626) 396-5810 or visit www.pusd.us/site/Default.aspx?PageID=53.