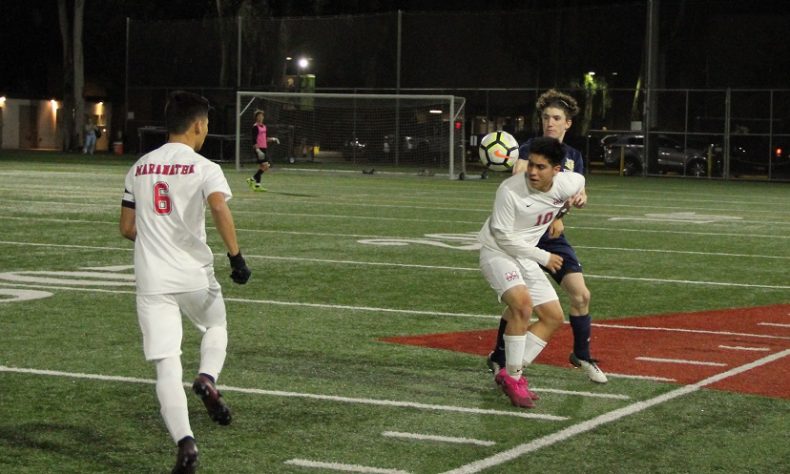 By WALKER HAYNES In their opening preseason match of the 2020-2021 season, Maranatha faced off against a tough side from Campbell Hall. The two teams have history, and the Tuesday night matchup was an example of the high-energy game both teams possess. Maranatha struck first, halfway into the first period, when senior forward Eric Chang […]
By WALKER HAYNES
In their opening preseason match of the 2020-2021 season, Maranatha faced off against a tough side from Campbell Hall. The two teams have history, and the Tuesday night matchup was an example of the high-energy game both teams possess. Maranatha struck first, halfway into the first period, when senior forward Eric Chang broke free of the Vikings back line and touched the ball around the sliding keeper, to slot the ball into the side netting. That score would stand at the break, with both team's defenses only allowing one shot on goal each. After the restart, Campbell Hall looked to equalize, but the Minutemen's back line anchored by senior Caleb Whyley repelled attack after attack. A counter attack from Maranatha midway through the second period led to Matthew Morales getting dragged down just outside the box.
Matthew Malhotra took the free kick, and clinically bent the ball around the wall, just past the fingertips of the diving Vikings goalkeeper. Campbell Hall answered less than ten minutes later when a back post runner beat Minuteman keeper Nicky Burrows to a cross in from the left side. The equalizer came with less than five minutes left to play, off a free kick outside the box, which Burrows got a hand on, but could not direct out of the net. At the closing whistle, the score was 2-2. Maranatha is competing in the San Gabriel Valley Cup, and will face Palmdale Aerospace Academy on Friday at home. Kickoff is set for 6:20pm.
Maranatha High School, 169 S. St. John Avenue, Pasadena, (626) 817-4000 or visit www.maranatha-hs.org.