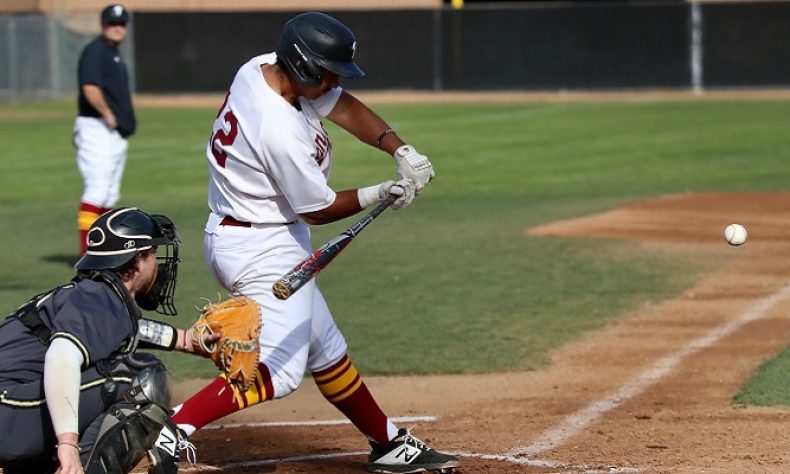 By PCC | Photo by Michael Watkins An All-American as a freshman, corner infielder Marco Martinez is well on his way to another banner season in 2020. On Tuesday, Martinez batted 4-for-5 with a triple, a sacrifice fly, and four RBI to lead the Pasadena City College baseball team over College of the Desert, 15-1, […]
By PCC | Photo by Michael Watkins
An All-American as a freshman, corner infielder Marco Martinez is well on his way to another banner season in 2020. On Tuesday, Martinez batted 4-for-5 with a triple, a sacrifice fly, and four RBI to lead the Pasadena City College baseball team over College of the Desert, 15-1, at Brookside Park's Jackie Robinson Field.
PCC improved to 4-5 with season highs in runs and hits (17). The beneficiary of the hitting attack was winning pitcher Ryan Graves, who easily twirled the best start by any Lancers hurler this season as he allowed just four hits, a first-inning run, two walks and struck out four over six innings of work. Relievers Andrew Fernadez (two shutout innings, one hit) and Andrew Nowack (a hitless ninth) combined with Graves for a team 5-hitter.
At the plate, Martinez has simply been an offensive machine as he leads the state in on-base percentage (.643), is tied for second in RBI (15), and tied for second in walks drawn (13) in just eight games played (missed one due to injury). His .458 batting average leads the team as well as his .833 slugging percentage (five extra-base hits).
Another hot batter is freshman designated hitter Thomas Kolling, who batted 3-for-5 with three runs scored and two RBI. The lefty-hitting Kolling is batting .385 with a team-high 15 hits, two home runs and 12 RBI. Sophomore centerfielder Gabe Arellano is also starting to heat up as he was 3-for-5 with three runs scored. Arellano raised his average to .306 while he leads the team in runs scored from the leadoff spot with 14. He also has walked 10 times after walking only 13 trips his entire All-American freshman season when he led the state in hits with 75.
Tranfer shortstop Jacob Ogle picked up his fifth multiple-hit game in the last six contests as he is 11-for-28 in the streak (.393) and .333 overall. Transfer first baseman Dino Miranda was 2-for-5 with a double while leftfielder Aryonis Harrison was 1-for-3 and scored three runs.
"We have the potential on offense to really put up big numbers but we have to get better at hitting for average (at .280)," PCC head coach Pat McGee said about the team's overall performance thus far this year. "We have a long way to go because we are leaving way too many players on base. We're a patient team and have done a good job of drawing free passes (second in the state in walks with 61). Once we can get some more clutch hitting with men in scoring position, the wins will come more frequently. Our pitching is also starting to come around of late. The staff is a work in progress, but only will get better as we move closer to conference play."
On Martinez, McGee said, "He's a hitter that doesn't come along too often at this level. He can drive the ball, but it's his plate awareness and patience to get the right to pitch to hit that places him above others. He's off to a tremendous start to his sophomore season."
On Wednesday, Feb. 12, the Lancers travel to face Palomar in a 2 p.m. non-conference game.