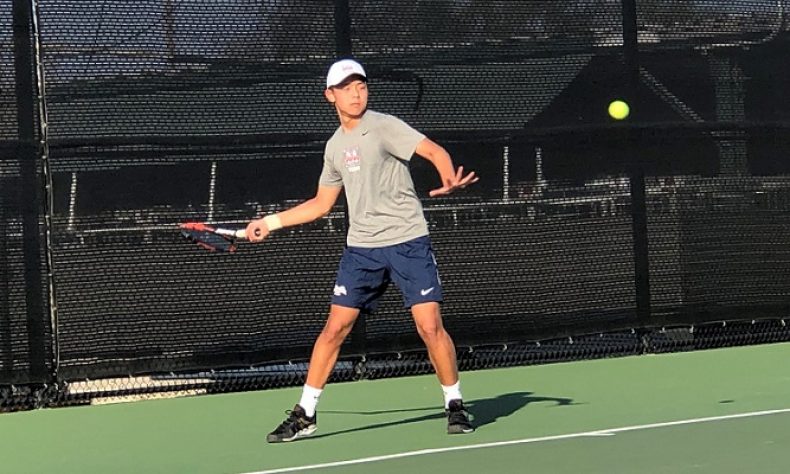 By ARTHUR HSIEH In their home opener, the Minutemen played their 3rd match in 3 days with their 3rd lineup in 3 days as well, without the services of captain Michael Mathews, who was injured in yesterday's win over Buena Park. MHS looked fatigued at the outset, trailing in 4 of the first 6 sets, […]
By ARTHUR HSIEH
In their home opener, the Minutemen played their 3rd match in 3 days with their 3rd lineup in 3 days as well, without the services of captain Michael Mathews, who was injured in yesterday's win over Buena Park. MHS looked fatigued at the outset, trailing in 4 of the first 6 sets, before rallying to take a 4-2 lead after the 1st round. The round's biggest set came from #3 Jordan Miao, who rallied from a 2-5 deficit for a 7-5 victory.
Round 2 was again won 4-2, giving Maranatha an 8-4 lead. The 2nd round win was won again at the #3 slot, but this time in doubles as the first-time pairing of freshmen Shahe Yerevanian and Zack Vanneman saw them play inspired and energetic tennis (in contrast to their 1st set) to notch the first victory of their high school tennis careers.
The 3rd round was halted for darkness, with MHS ahead 4-1 for an overall 12-5 score. Alex Forsyth was ahead 4-1 when play stopped. Yerevanian/Vanneman continued their improved play by defeating the Falcons' #1 doubles team 7-6(5).
#1 Jake Scott/Tim Huang (6-1, 6-1, 6-0) and #2 doubles Nico Engling/Joshua Im (6-2, 6-0, 6-0) anchored the victory with clean sweeps of their opponents
Miao led singles with 2 wins (2-6, 6-2, 7-5), while Kenny Cho (4-6, 6-3, 3-6) and Forsyth (3-6, 6-3, 4-1) each contributed 1 win.
The Minutemen improve to 3-0 and host Fairmont Prep at 3 p.m. on Monday, 2/24/20 at Pasadena High School in their only match next week.
Maranatha High School, 169 S. St. John Avenue, Pasadena, (626) 817-4000 or visit www.maranatha-hs.org.