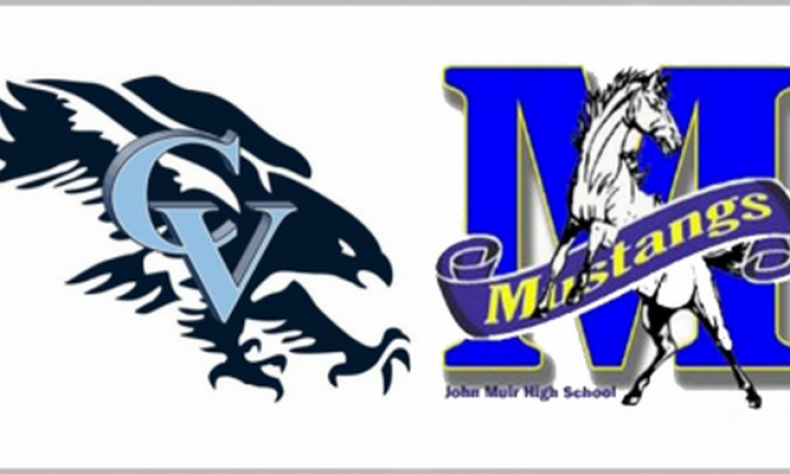 Crescenta Valley (4-1) at Muir (2-3) Just two games into the Pacific League schedule, Muir finds itself in fifth (last) place with Pasadena, Hoover and Glendale, all at 0-2. After winning its first two games, the Mustangs (2-3, 0-2) have hit a snag and it won't get easier Friday night. Crescenta Valley is 4-1 overall […]
Crescenta Valley (4-1) at Muir (2-3)
Just two games into the Pacific League schedule, Muir finds itself in fifth (last) place with Pasadena, Hoover and Glendale, all at 0-2.
After winning its first two games, the Mustangs (2-3, 0-2) have hit a snag and it won't get easier Friday night.
Crescenta Valley is 4-1 overall and 2-0 in league, which includes scoring an average of 48 points in its last three games.
Despite being on a 3-game losing streak, the Mustangs held unbeaten Arcadia to 19 points last week and lost by just a score.
As always, will Jason Edwards have the time under center to get the ball to Elijah Blades?
If the answer is no, it will likely be another long night for Muir, and a path to the playoffs would be an incredibly steep and uphill climb.
Cole Doyle has 9 TD passes and has rushed for almost 400 yards and 3 rushing touchdowns for Crescenta Valley.
Will Rees (11 catches. 213 yards) and Brandon Beardt (12 catches, 134 yards) have been Doyle's favorite targets.
Pacific League Standings:
Arcadia (5-0 overall, 2-0 in league)
Crescenta Valley (4-1, 2-0)
Burbank (3-2, 2-0)
Burroughs (3-2, 2-0)
Hoover (3-2, 0-2)
Muir (2-3, 0-2)
Glendale (1-4, 0-2)
Pasadena (0-5, 0-2)