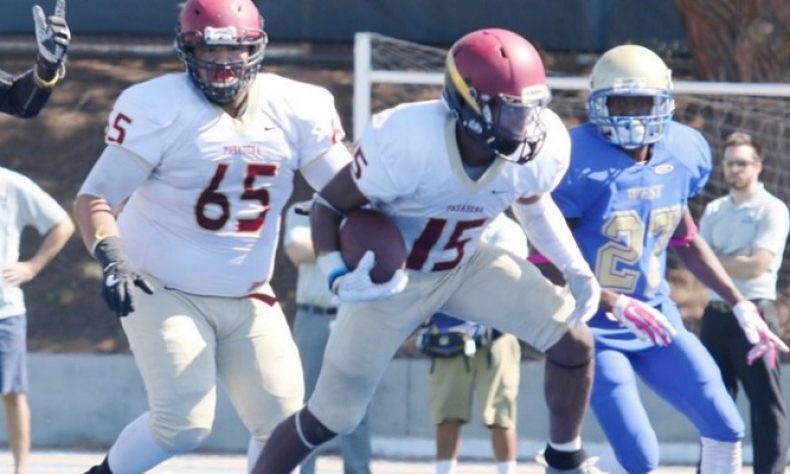 JC Football: West Los Angeles 34, PCC 27 PCC wasted a huge effort from running back James Shaw on Saturday. Shaw ran for a game-high 162 yards and a pair of touchdowns. Shaw scored on runs of 2 and 53 yards, respectively. His second score gave PCC (3-3) at 17-7 lead in the second quarter. […]
JC Football: West Los Angeles 34, PCC 27
PCC wasted a huge effort from running back James Shaw on Saturday.
Shaw ran for a game-high 162 yards and a pair of touchdowns.
Shaw scored on runs of 2 and 53 yards, respectively.
His second score gave PCC (3-3) at 17-7 lead in the second quarter.
But West LA had all they needed in quarterback Jorge Reyna.
Reyna threw for four TDs and ran for another, as the Wildcats accumulated some 511 yards of total offense.
Reyna completed 42 of 63 pases for 387 yards, and rushed for 64 more, to lead West LA (3-3)
Michaels Evans (35 yard TD), Rasheed Cox (25 yards), Kejuante Austin (3 yards) and Daniel Bell (6 yards) all caught TD passes from Reyna.
PCC's Jesse Hanckel did not fare as well.
The Lancers quarterback completed 16 of 33 passes, had no TD passes and was intercepted twice.
Yusef Muhammad, the PCC playmaker had a team-best 68 yards receiving on 5 catches.
Muhammad also had two kickoff returns for 62 yards, including a long of 58 yards.
Drevontae Armstrong had 5 catches as well, and 28 yards. Jordan Bruner caught four passes for 27 yards.
In all, Shaw had 21 carries for the 162 yards, which gave the Lancers tailback a remarkable 7.7 yards per carry.
Matt Terlizzi continues to pile up the tackles.
Terlizzi had 11, Ty Apana-Purcell had 10 and Daeqwan Bailey had 9.
Michael Candler and Vincent Haynes intercepted Reyna.
PCC will take the week off for its bye and then will next play at Glendale on Oct. 22 at 1 p.m