By BRIAN REED-BAIOTTO, Sports Editor In the last month at St. Francis High School, the Golden Knights have won football games that many on the opposing sidelines and in their opponents' stands thought they would not. Whether it's the trash talk from the visitors side, to the openly mocking of St. Francis for not having […]
By BRIAN REED-BAIOTTO, Sports Editor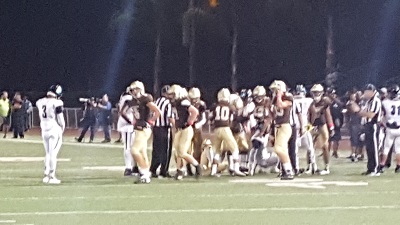 In the last month at St. Francis High School, the Golden Knights have won football games that many on the opposing sidelines and in their opponents' stands thought they would not.
Whether it's the trash talk from the visitors side, to the openly mocking of St. Francis for not having the "athletes" to keep up with their own.
Now, some of that might be a way or an attempt to get in the Golden Knights players' heads.
The opposing sides really do perceive and makes it verbally known at the games that St. Francis is a bunch of private school kids who can't play football at a level the Golden Knights record might indicate.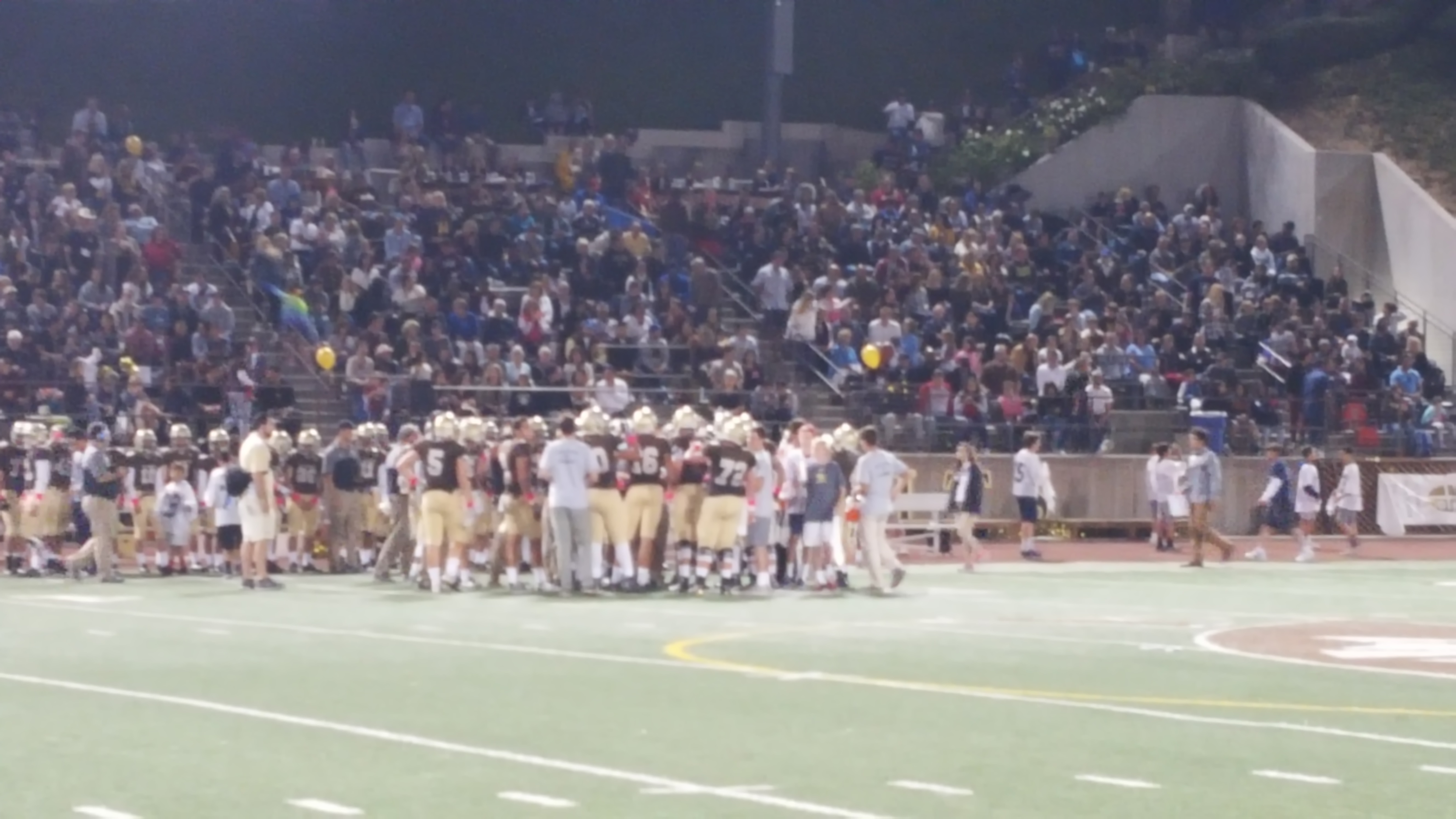 But from coach Jim Bonds on down, the Golden Knights will proudly and humbly take their 7-0 record into the weekend.
A record of beating teams, which in some cases do have more talent than St. Francis.
The bottom line is: Scoreboard.
St. Francis did so many things right Saturday night to win yet another game that we need to delve into the particulars.
** Robbie Blosser, the Salesian quarterback came in with 24 touchdown passes and only three interceptions through six games.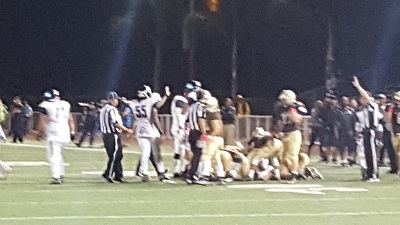 Bobby Gazmarian, Andrew Monarrez and Daniel Scott doubled his season total in just four quarters, as all three picked off Blosser.
Monarrez and Scott both intercepted him in the end zone, and Gazmarian's came late in the fourth quarter that allowed the Golden Knights to add 3 more points on the board.
Monarrez sealed the victory with a pick in the end zone as time expired.
** On special teams, after a Salesian TD run, Bobby Gazmarian blocked an extra-point attempt.
St. Francis' own kicker, Dulles Hanula, made field goals of 47 and 34 yards, made both extra-point attempts, and booted every kick off into the back of the end zone, which made it impossible for speedy Salesian players to attempt a return.
That feat, to the football novice, meant Salesian started each drive at their own 20-yard line.
Punter Matt Bazarevitsch angled every ball out of bounds so there was no chance at a Salesian special-teams play.
** On defense, whether it was Gabriel Grbavac's multiple sacks, Gavin Cambell's sack, Elijah Washington's tackling, or bend-but-don't break mentality, the Golden Knights make plays when they most need to be made, and did again on Saturday.
Zach Kejmar picked up a Salesian fumble at the Golden Knights 5-yard line to end a Mustangs' threat.
The St. Francis 'D' shined most on the final two drives of the game. With four minute to play and down 3 points, they stopped the Mustangs, and Bonds hit Mathews for the 80-yard score. On the final possession, the Golden Knights forced Blosser into a 'Hail Mary' pass which they intercepted and ended the game.
Oh, and they held a Salesian offense, averaging 47 points per game to just 13.
All this and without its leading tackler in Maxx Jakeway, who they hope to get back next week.
** On offense, Michael Bonds' steady and smart leadership has been remarkable.
The newly turned 18-year old as of Saturday, continues to make big plays when needed, and yet, as important, he's smart enough not to take chances when they can't afford a mistake.
Bonds can also get you a couple first downs per game with his legs.
His running backs, Jace Harrick and Elijah Washington do so much. Their 150 combined yards don't do justice to how valuable they are, and the way they keep opposing offense's on the sidelines.
Gabriel Mathews had his breakout game with 110 yards on 3 catches, and of course, it was his 80-yard reception in the fourth quarter that ended up being the game winner.
But Daniel Scott and Greg Dulcich and others did their part as well.
** Late in games, when other teams are nervous and grinding, you can sense that calm and cool St. Francis demeanor, and it's because their coaches have them so well prepared that they're ready for any in-game scenario an opponent can throw at them.
Just when you think you have St. Francis figured out, or you think maybe they're getting too conservative, they call a fake punt or fake field goal to keep an opponent honest.
We interviewed several players after the win. Some on video, some not.
To a man, they all spoke about the preparation all week.
But Jim Bonds wanted to deflect all the credit to his players.
Jim Bonds: "I'm really excited for our team being 7-0 and 2-0 in league against a very good Salesian team. It was a 48-minute game that we've had several of this year. We were able to get two touchdowns and two field goals that got us 20 points and the win. The touchbacks on the kickoffs and making them go 80 made them frustrated. Our punter kicked it out of bounds so they didn't have a chance to run them back. Dulles had a great night. I'm proud of our will, and that we keep fighting. We've had teams in the past where we'd lose close games and it says a lot about the character of these young men to find a way to win these games."
"Finding a way to win."
That's exactly what they're doing. In wins over La Serna, Dorsey and now Salesian, the Golden Knights had to make a play on the game's final play.
But perhaps it was Gabriel Mathews who said it best:
"We play as a team for 48 minutes, and what I'm most proud of is the way my team excels over teams with better athletes."
That character will be tested as the Golden Knights play their final three games of the regular season on the road.
But so far, so good.
Angelus League Standings:
St. Francis (7-0 overall, 2-0 in league)
Cathedral (7-0, 2-0)
Salesian (5-2, 1-1)
St. Paul (4-3, 1-1)
La Salle (4-3, 0-2)
Harvard-Westlake (3-4, 0-2)
St. Francis' remaining schedule:
Oct. 21 at Harvard-Westlake at 7
Oct. 28 at Cathedral at 7
Nov. 3 at St. Paul at 3