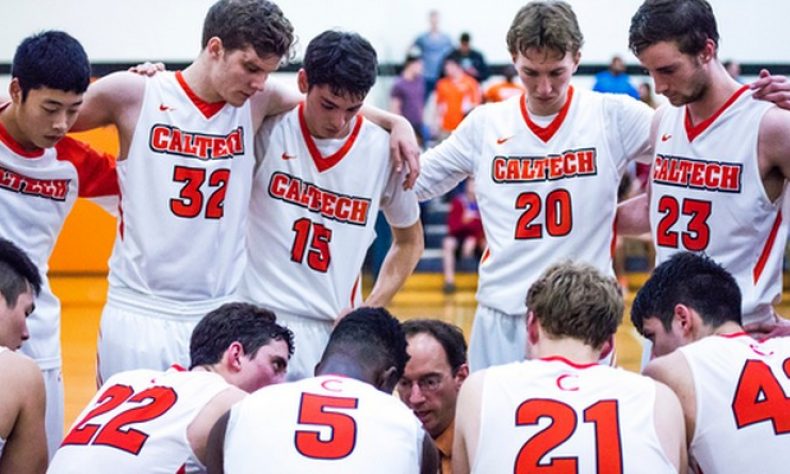 While setting a program record for wins would be the highlight of the decade for many teams, 2015-16 may only have been the beginning for Caltech men's basketball.  After a year in which Head Coach Dr. Oliver Eslinger's squad spent 22 days atop the SCIAC standings, won a program-record seven SCIAC games and set new […]
While setting a program record for wins would be the highlight of the decade for many teams, 2015-16 may only have been the beginning for Caltech men's basketball.  After a year in which Head Coach Dr. Oliver Eslinger's squad spent 22 days atop the SCIAC standings, won a program-record seven SCIAC games and set new records for points, rebounds and blocks in a season, there is no telling how far this team can go in continuing to make history.
The Beavers may have lost the eighth-highest scorer in program history and last year's second-leading scorer in Kc Emezie, but with eight returners and seven freshman recruits arriving are in position to continue their ascent up the conference ladder, with an eye on Caltech's first SCIAC Post-Season Tournament berth in any sport.
"At this point, we're trying to get organized and integrate seven new guys into our system," Eslinger said.  "This team has probably the highest basketball IQ we've ever had, and with good, deep guard play and a number of lineups we can use, we should be able to dictate the tempo better than in years past.  There will be growing pains, but our goal is still to prepare to win every game we play and keep moving forward."
Although this should be one of the deepest teams in program history, its fortune will be heavily reliant on one player in particular.   Standing 6-10 and having ranked among the top 25 in the nation in blocks each of the last two season, senior Nasser Al-Rayes (Doha, Qatar / American School of Doha) is blessed with physical gifts that few players in the entire country, let alone Division III, can boast.  The Second Team All-SCIAC selection unveiled an extended shooting range last year while taking another minutes bump in stride as he improved all five counting stat averages while hitting 75 percent of his free throws.  With the sky truly the limit for Al-Rayes, Caltech and college basketball fans in general will be watching with fascination to see where his talent takes this team.
"Nasser became more of a threat to score while being the anchor of our defense last year," Eslinger said.  "We still want him to become more forceful in the paint, be more dangerous off the dribble – things he wants as well in order to pursue a professional career after this year.  He had the chance to learn how to be a leader last year and now we're asking him to fulfill that role.  His last hurdle to take his and our game to a championship-caliber level is mental – staying calm, confident and resilient under all circumstances."
Joining Al-Rayes in the frontcourt are classmates Matthew Edwards (Canyon Country, Calif. / Canyon) and David LeBaron (San Diego, Calif. / Francis Parker), as well as a pair of freshmen in Ross Carter (Sudbury, Mass. / The Rivers School) and Calvin Huh (Fort Lee, N.J. / Bergen Tech).  Not unlike his brother Mike, the program's all-time leading scorer, Edwards is one of the best shooters with arguably the deepest range on the squad.  The versatile LeBaron stepped into the starting lineup to take over point guard duties last season, upping his career averages significantly as he showcased an enviable all-around game evidenced by a line of 7.8 points, 5.4 rebounds, 2.4 assists and 1.2 steals in fewer than 30 minutes per game.  After filling a Swiss Army Knife role coming off the bench his first two years, he finally appears primed to be featured in his best-suited slasher/post-up capacity.
"Our added depth at guard gives us the option to move David to his more effective wing role," Eslinger said.  "Matt is a legitimate stretch four who can pull the defense out on the offensive end and play good positional defense against thicker guys."
The rookie duo of Carter and Huh, each standing 6-7 and weighing in at roughly 230 pounds, injects much-needed size into the Beavers rotation.  A remarkably similar pair, both have multifaceted games that are equally effective in back-to-the-basket and face-up situations that are sure to earn them considerable minutes at both the 4 and 5 spots.
"Calvin and Ross are so fundamentally sound and have such high basketball IQs – not just for freshmen," Eslinger said.  "Ross carries that over to defense too and his game is well suited for the team offensively.  Calvin is more of an aggressive, attacking player, which fits our versatile system; he is able to play on all three levels – block, mid-range and perimeter."
On the wing, senior Ricky Galliani (Menlo Park, Calif. / Sacred Heart Prep) has also shown steady growth as he has been tasked with more responsibility.  Although his efficiency took a slight hit last season, he too improved his scoring, assist and steal averages while more than doubling his production on the glass as the team's only player to start all 25 games in 2015-16.
"Ricky is just so focused on having a great senior year, for himself and the team," Eslinger said.  "The growth he has shown from year to year has been tremendous.  We asked him to guard other teams' best perimeter guys a lot last year, and he'll be the go-to again this season.  He and David have 'Senior' written all over them – they learned a great deal from guys like Bryan Joel and Andrew Hogue two years ago and have been taking that to another level."
Sophomore Brent Cahill (Laguna Beach, Calif. / St. Margaret's) also returns after a stellar rookie year in which he improved various facets of his game each month, culminating in an average of 14.9 points, 3.0 rebounds and 1.4 steals in fewer than 25 minutes per game in February while shooting 46 percent from the field and 36 percent from three.  Adding depth on the wing are 6-3 All-League Honorable Mention rookies Aaron Ayres (Tucson, Ariz. / Catalina Foothills) and Roshan Bal (Saratoga, Calif. / Pinewood School), who each bring a specific skill set which may not overwhelm at first, but will undoubtedly be called upon at points during the year.
"Brent is coming into the year more confident, and we certainly know what he can do," Eslinger said.  "He is such an explosive scorer and heady defensive player, we're just trying to maximize his athleticism and make him even more productive.  Roshan can plain knock down shots – even better than we thought coming in – and there's no harder worker than Aaron.  His response time is instantaneous, he can guard any position, has extended his jumper – he has a very high ceiling."
Sophomores Steven Brotz (Santa Clarita, Calif. / Canyon) and Andrew Wang (Germantown, Md. / Poolesville) will see the majority of time as off-ball guards, but ones who can handle it more than capably when needed.  Neither saw much court time last season due to various knocks and a steep learning curve, but both are well ahead of where they were at this point in their freshman year.
"We didn't really get a fair look at Steven or Andrew last year," Eslinger said.  "Both have been impressive in practice, but were still navigating college basketball, understanding expectations and learning to play more maturely.  Steven is a combo guard reads the game really well and will get us a lot of steals and run-outs on defense, while Andrew is a more traditional 2-guard with an ability to score but is just as willing to take charges."
Junior David Kawashima (Studio City, Calif. / North Hollywood) fronts a four-man group vying for time in the backcourt, with the other three all yet to play their first minute of collegiate basketball.  As unorthodox as his on-court approach appears, Kawashima was incredibly effective when given the time to make a real impact – he averaged 8.3 points, 5.2 rebounds, 2.7 assists and 1.7 steals while shooting 53 percent from the field over the six games in which he saw more than 25 minutes on the court.
"Again, our other playmaking guards are going to allow DK to work more off the ball, where he can be just devastating," Eslinger said.  "He's a guy you just can't game plan against; he's such a problem to guard."
Kawashima will share time with the freshman trio of Alec Andrews (Folsom, Calif. / Folsom), Bret Johnson (Carlsbad, Calif. / Santa Fe Christian) and Michael Li (Bryn Mawr, Pa. / Radnor).  An All-League selection, Andrews is a confident scorer who played for one of the top high school teams in the country and has few, if any, holes in his game.  Johnson is equally adept at getting into the paint and finishing at the rim as he is stepping back for a three-pointer, while Li is a more prototypical, defensive-minded point guard whose primary focus is on orchestrating the offense and creating shots for teammates.
"These guys don't look like typical freshmen," Eslinger said.  "They're not shy about getting after it in practice, and I expect that to carry into games sooner rather than later.  Alec is a terrific playmaker, Mike will be key when we need to settle and organize on the offensive end and Bret is a gritty defender, has a knack for getting into the paint on offense and can really shoot it – there's a reason he wears number three on his jersey."
With so many moveable parts, the Beavers' schedule is constructed perfectly to shake off the rookie nerves and identify the most effective lineups well in advance of conference play beginning in January.  Two high-profile exhibition games and the season opener are followed by several mid-level regional opponents, including a three-game trip to Oregon in mid-December.  The team will be buoyed further by the addition of two new assistant coaches in Steven Hodge and Spencer Levy, as well as the retention of second-year coach Jordan Mast.
"We have the pieces to keep doing incredible things this year," Eslinger said.  "Our coaching staff is so positive, energetic and play off each other very well, whether suggesting tweaks or running drills.  We have constructed the schedule primarily to prepare for SCIAC play, but our goal is to win each one, which should all come under different circumstances.  The conference should be an even tighter race than it was last year, and I definitely feel that we improved."
Eslinger and the Beavers head to Walter Pyramid to take on Division I Long Beach State in an exhibition game on Saturday, Nov. 5 at 4 p.m., followed by another exhibition at CSU Fullerton on Friday, Nov. 11.  Caltech hosts Occidental College in the annual 110 Freeway Rivalry to open the season on Tuesday, Nov. 15 at 7 p.m.