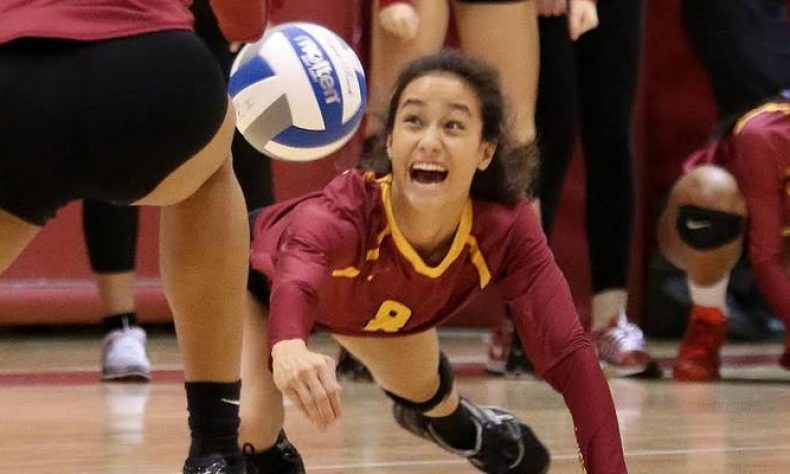 [Photo–Lancer Shawn Ogata makes the defensive play during PCC's 4-set loss to Mt. SAC Wednesday night at the HP Gym, image by Richard Quinton.] The Pasadena City College women's volleyball team settled for second place in the South Coast Conference North Division after losing to champion Mt. San Antonio, 25-22, 22-25, 25-22, 25-21, Wednesday night […]
[Photo–Lancer Shawn Ogata makes the defensive play during PCC's 4-set loss to Mt. SAC Wednesday night at the HP Gym, image by Richard Quinton.]
The Pasadena City College women's volleyball team settled for second place in the South Coast Conference North Division after losing to champion Mt. San Antonio, 25-22, 22-25, 25-22, 25-21, Wednesday night in the regular season finale for both teams. The Lancers lost for the first time this year at Hutto-Patterson Gymnasium, an 8-match home win streak snapped.
PCC is 16-9 and finished 6-2 in division play as it awaits if it will advance to the Field of 18 in the Southern California Regional Playoffs. Mt. SAC is an automatic qualifier at 19-3 as it went undefeated at 8-0 in winning a SCC title for the first time in its 40-year volleyball history in the conference.
The Lancers led 6-0 and then 17-11 in the opening set but the Mounties rallied to lead 1-0 in games. PCC would battle back with two sophomore reserves making a difference in opposite Shawn Ogata and setter Hannah Clarke. Ogata sparked the team with four kills and Clarke had 13 assists in set 2 as PCC tied it 1-1 in sets.
Mt. SAC though used the heavy hitting of Makenzie Thieme and Haley English to grab control in the final two sets. Thieme compiled a match-high 17 kills (and 12 digs) and English 15 kills as they carried the Mounties offense.
For PCC, starting opposite Rayleen Rivera scored 12 kills, led the team with 14 digs and added four blocks. Outside hitter Paige Clingaman came off the bench to slam 10 kills (.333 attack percentage) while Clarke finished with 23 assists and eight digs. Defensive specialist Monica Hernandez added three aces and 13 digs. Libero Michelle Boyd tallied 10 digs and set five assists. Ogata contributed six kills, eight digs and an ace.
PCC had to play most of the match without starting setter Emily Leung, who left with an undetermined injury at the end of the first set.
"We had to make adjustments throughout the match, but I really felt we played with heart and battled Mt. SAC," said PCC first-year head coach Mike Terrill. "Hats off to our opponent because we thought we had them in that first set and they caught us. We responded with a great second set and really the last two sets were close. The effort was there and that's all you ask."
On Nov. 11, the Lancers swept host East Los Angeles, 25-19, 25-22, 26-24. Rivera ripped 13 kills, hitting .423 while Vanessa Lopez had seven kills, four aces and five digs.