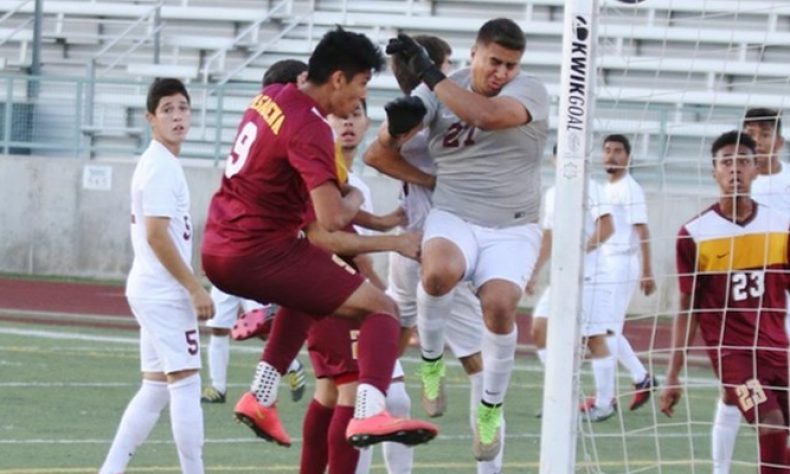 [Photo–Lancer Jesus Garcia heads in a goal during a home win earlier this season, image by Richard Quinton.] For the first time in three years, the Pasadena City College men's soccer team has advanced to the Southern California Regional Playoffs. The Lancers earned the No. 7 seed and will host a first round game against […]
[Photo–Lancer Jesus Garcia heads in a goal during a home win earlier this season, image by Richard Quinton.]
For the first time in three years, the Pasadena City College men's soccer team has advanced to the Southern California Regional Playoffs. The Lancers earned the No. 7 seed and will host a first round game against No. 10 seed Chaffey on Saturday, Nov. 19. The game will be played at Azusa Pacific University at 1 p.m.
Because of FIFA rules on postseason games played on regulation sized fields, PCC cannot play at its regular home of Robinson Stadium as the Sprinturf football field is deemed too narrow for soccer. The school received a waiver from the CCCAA to play games during the regular season on campus.
The Lancers (10-4-6 overall) finished in second place in the South Coast Conference North Division while Chaffey (9-7-5) was the fourth place team from that mega conference. Both No. 1 seed and SCC North champion Mt. San Antonio and No. 5 Rio Hondo (second place) also are part of the Field of 15 for the SoCal playoffs.
First-year Lancers head coach Henry Cabral saw his squad defeat Chaffey twice in conference play, incuding a 5-3 win at PCC on Sept. 30 and a 1-0 victory on Nov. 1 at Chaffey.
PCC's last playoff experience also was a home playoff at APU when the then also seeded No. 7 Lancers lost a tough one to Oxnard, 1-0, in 2013.
PCC is led by frosh defender Jesus Garcia, who also has five goals and three assists, and rookie forward and top playmaker Manuel Chavez (five goals, four assists). Freshman forward Yader Rodriguez has been an offensive weapon off the bench as he leads PCC with eight goals. Freshman Kristopher Guerra won the team's starting goalie job mid-season over incumbent, 2015 All-SCC First Teamer Yusuf Elmasri.
Chaffey is paced by top scorer Johnathan Umana (11 goals, 4 assists), midfielders Arturo Garcia and Jonathan Mendiola, and top defender Brandon Setahaian-Sangbarani. The Panthers are on a mini hot streak with a 2-2 tie earned v. Mt. SAC and a 3-2 win over Rio Hondo.
"It's never easy to play a team three times in a season," Cabral said. "I expect Chaffey to play a tight defense like it did in our second matchup. We have to work hard and find a way to put a goal or two past them. We're excited to be in the playoffs and now we need to seize this opportunity."