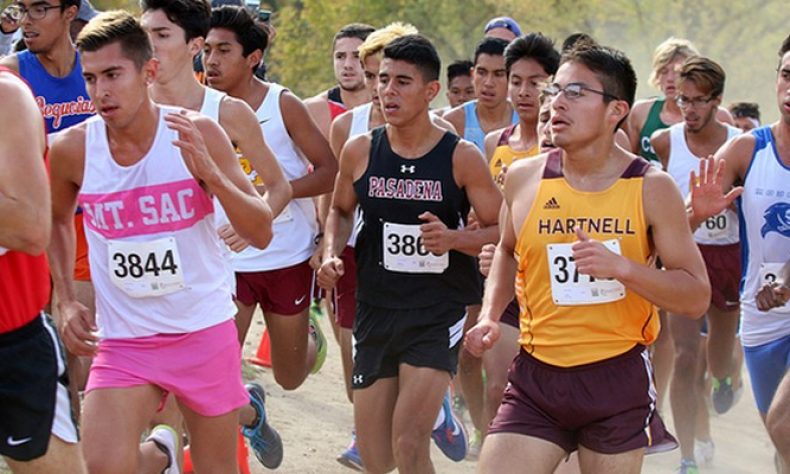 [Photo–Christian Alcala (middle, black jersey) in action for the Lancers at the state cross country meet held in Fresno, image by Richard Quinton.] The Pasadena City College men's cross country team didn't make a big splash at the CCCAA State Championship meet on Saturday in Fresno, but the Lancers did accomplish a goal to advance […]
[Photo–Christian Alcala (middle, black jersey) in action for the Lancers at the state cross country meet held in Fresno, image by Richard Quinton.]
The Pasadena City College men's cross country team didn't make a big splash at the CCCAA State Championship meet on Saturday in Fresno, but the Lancers did accomplish a goal to advance to the final race as a team. The Lancers placed 27th out of 28 scoring teams, but it was PCC's first time it had qualified as a team since the 2012 season.
Nathan-Michael Guzman, who had placed 50th as a freshman two years ago on the 4-mile Woodward Park course, could not match his 2014 performance although he was the fastest Lancer over the weekend in 78th place overall (21:45.6).
The rest of the Lancers placed as follows: Eduardo Urbina (111th, 22:06.7), Eric Bravo (171st, 23:00.4), Armando Solis (191st, 23:49.1), Christian Alcala (201st, 24:26.7), and Jacob Reyes (204th, 25:23.9). A field of 206 harriers raced overall.
PCC raced for first-year head coach Innocent Egbunike and assistant Tyrus DeMinter.
Riverside won the state team title and Cuesta's Sean McDermott (20:06) was the individual champion.