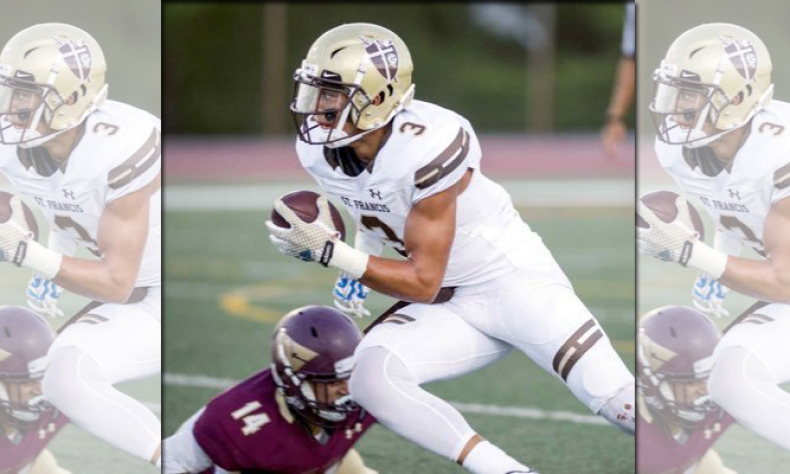 By BRIAN REED-BAIOTTO, Sports Editor 2016 Pasadena Sports Now Football Honors Most Valuable Player: Amon Milliner, La Salle Offensive Player of Year: Michael Bonds, St. Francis Defensive Player of Year: Myles Cecil, La Salle All-Purpose Player of Year: Daniel Scott, St. Francis Coach of the Year: Jim Bonds, St. Francis St. Francis senior Daniel Scott […]
By BRIAN REED-BAIOTTO, Sports Editor
2016 Pasadena Sports Now Football Honors
Most Valuable Player: Amon Milliner, La Salle
Offensive Player of Year: Michael Bonds, St. Francis
Defensive Player of Year: Myles Cecil, La Salle
All-Purpose Player of Year: Daniel Scott, St. Francis
Coach of the Year: Jim Bonds, St. Francis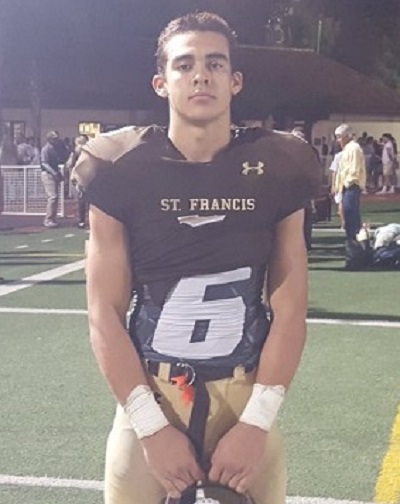 St. Francis senior Daniel Scott was considered by most, including opposing coaches as the area's best all-around athlete this football season.
The Golden Knights senior did everything in a season his school went 9-2.
Scott was as dominant as a wide receiver as he was a defensive back and sometimes even made his presence felt on special teams.
He was not only the Golden Knights "go-to guy," he was also a team captain, which at St. Francis is the highest and most sought after honor.
Scott had team-highs with 41 catches for 688 yards and 10 receiving touchdowns.
He led the defense with 5 interceptions.
Scott was tied with Will Mudie for second in tackles with 70, which was just 8 shy of linebacker Maxx Jakeway's 78.
He rushed for a 6-yard touchdown and took a punt back 25 yards for a score on special teams.
Scott, for all he did, has been named the Pasadena Sports Now All-Purpose Player of the Year.
There wasn't a facet of the St. Francis scheme that Scott didn't play a large role in, and why it succeeded.
Of all players I covered this year, none wanted to talk about himself less than Daniel Scott, so we got his coaches and teammates to do him justice.
"The season Daniel Scott had was one for the ages, St. Francis coach Jim Bonds said. "He did everything we asked him to do and so much more. As a free safety, he made all of our coverage calls and made sure the secondary was lined up properly. The interceptions he made this year all came at critical times in games, with two of them in our own end zone, and preventing the other team from scoring. On offense, he was such a threat with the ball in his hands. He was our leading receiver and point scorer. His route running and understanding of pass coverage enabled him to find open spaces and make things happen once he had the ball."
This is what Scott thought of his senior season.
"I think we had a very successful season this year," he said. "It obviously didn't end the way we wanted, but finishing 9-2 isn't too bad. Most importantly, I think we all had fun as a team. For myself, I thought I did everything I needed to and could do for the team this year, and I got closer with all of my teammates."
Quotable:
Senior Gabriel Mathews: "Daniel was the standout players on offense, defense and even special teams. On offense, he was the player every team knew they had to double cover so he wasn't the one that beat them. But even with that, he continued to ball out and proved to be almost impossible to guard. Defensively, he kept everyone together with his calls and solid tackling."
Senior Jace Harrick: "Daniel is an all-out baller. He kept us in so many games and when he was thrown the ball, you knew he was going to catch it and make a play. He would always get a pick when we needed it the most.
Coach Jim Bonds: "The most important role Daniel played on our team this season was that of captain. He was such a great leader for our team, and was a coach on the field."
La Salle coach Russell Gordon: "There is anything that kid can't do. He is a very special player that presents problems for any opposing coach."