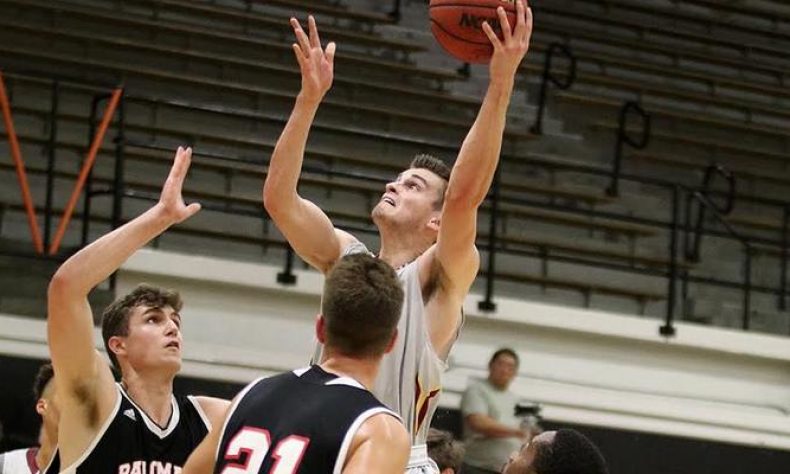 [Photo-McKay Anderson is averaging 19 points and nine rebounds a game thus far for the Lancers, image by Richard Quinton.] Just 10 days after losing to Glendale by 14 points, the Pasadena City College men's basketball team turned it around against the Vaqueros, beating them soundly, 83-59, in the consolation semifinals of the West LA […]
[Photo-McKay Anderson is averaging 19 points and nine rebounds a game thus far for the Lancers, image by Richard Quinton.]
Just 10 days after losing to Glendale by 14 points, the Pasadena City College men's basketball team turned it around against the Vaqueros, beating them soundly, 83-59, in the consolation semifinals of the West LA Tournament held Friday afternoon.
Sophomore guard Todd Barnes scored a game-high 24 points with eight rebounds and four assists as PCC stopped a 3-game losing streak. Freshman forward McKay Anderson added 18 points, eight rebounds and three steals. Reserve transfer point guard Eris Winder picked up 14 points with four assists and three steals while sophomore guard Dejon Williams came off the bench for 13 points and four assists.
PCC led early at 30-20, had it cut to 37-32 by halftime. In the second half, the Lancers opened with an 8-0 run, including two baskets by Barnes, and they went on to post the win.
On Thursday in the tourney opener, the Lancers lost to Pierce, 88-80. PCC trailed 36-28 at halftime as the Brahmas built their lead to 14 in the second half. PCC made a huge comback and cut it two on a Williams' basket-and-one, 64-62, with seven minutes left. However, Pierce controlled things the rest of the way.
Anderson scored 20 points with nine rebounds while Williams added 14 points, Barnes 13, and Winder 11. PCC shot an outstanding 82.4 percent from the free throw line (28-for-34). In the tourney, the Lancers are making 80.7 percent (46 of 57 attempts).
PCC (2-4 overall) plays the winner of the Long Beach-Santa Barbara game in the consolation final on Saturday at 11 a.m.