By BRIAN REED-BAIOTTO, Sports Editor It's early in the basketball season, but Poly looks good and balanced. The Panthers had five players in double figures Tuesday night in its own tournament, and easily defeated Nogales, 72-34. John Genske had a banner year at quarterback for the football team, and he's picking up right where he […]
By BRIAN REED-BAIOTTO, Sports Editor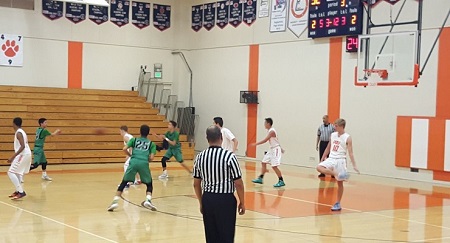 It's early in the basketball season, but Poly looks good and balanced.
The Panthers had five players in double figures Tuesday night in its own tournament, and easily defeated Nogales, 72-34.
John Genske had a banner year at quarterback for the football team, and he's picking up right where he left off.
Genske had 14 points, 7 rebounds and 4 assists.
"I got the ball down the court well, especially in the first half," Genske said. "Our transition offense was really good. We were able to run on the fast break with them. I think I'll get a lot of minutes. It's my senior year and in close games, I expect to be in there. As a senior leader, my role is to set the tone for the team."
Another star from the football team, which finished 11-1, is point guard Jackson Hayes.
Hayes ran the point and finished with 10 points and four assists, and did so in limited minutes because of the blowout.
"I think we passed really well and got out in transition," Hayes said. "I am feeling pretty good (coming in from football). We have to space the floor better. We're communicating really well."
Ryan Bowen's 10 points helped pace a Panthers (4-0) offense that will next host Bosco Tech on Thursday night at 6.
"We were pretty good in offense and transition," Bowen said. "I was able to drive to the basket efficiently. We need to move the ball faster in the half-court offense, we're crowding the paint too much."
Brendan Fong and Mateo Taylor each chipped in with 14 points for the Panthers.
"We got a little better tonight and that's what we're looking to do each day," Poly coach Brad Hall said.
Jordan Frazier led Nogales (1-2) with 10 points.