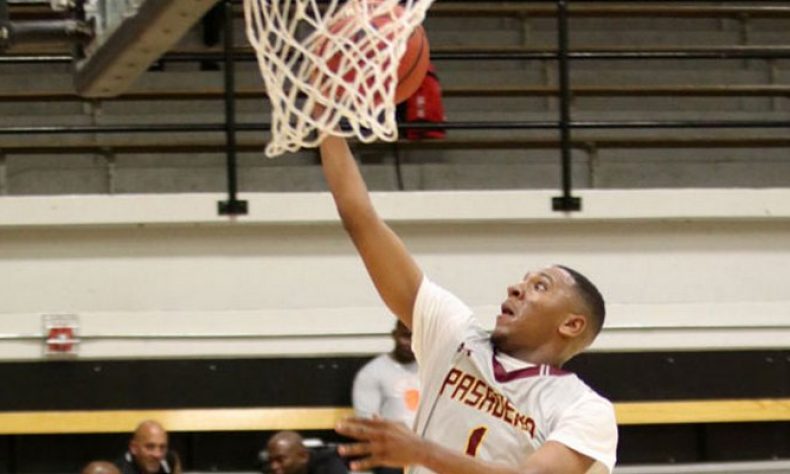 [Photo–Dejon Williams is a returning All-SCC player from two seasons ago, image by Richard Quinton.] Eris Winder sank two free throws with three seconds left to give the Pasadena City College men's basketball team a 78-76 win in the consolation final of the West LA Wild West Shootout Tournament on Saturday. Winder, a sophomore transfer […]
[Photo–Dejon Williams is a returning All-SCC player from two seasons ago, image by Richard Quinton.]
Eris Winder sank two free throws with three seconds left to give the Pasadena City College men's basketball team a 78-76 win in the consolation final of the West LA Wild West Shootout Tournament on Saturday. Winder, a sophomore transfer from Las Vegas, came off the bench to score 23 points, including 16 in the second half.
Winder, a backup point guard, added a team-high six assists with five rebounds. He made three 3-point bombs in a 1:40 span late in the second half. The Lancers improved to 3-4 and picked up the fifth place consolation prize at the tournament.
Long Beach had the largest lead by either team at 43-35 early in the second half, but the game was mostly close throughout. Letterman guard Dejon Williams, who also came off the bench, matched Winder with 23 points plus five assists. Williams hit a series of layups in the second half that allowed PCC and LBCC to trade baskets over the final 20 minutes.
Freshman forward McKay Anderson was the team's most efffective starter with 17 points (8-for-11 from the field) and seven rebounds. Breamon Richard led the Vikings (2-7) on 22 points (14-of-15 from the free throw line).
Coach Michael Swanegan's Lancers open the 45th Riverside Holiday Tournament on Wednesday, Dec. 7 when PCC faces the tourney host in a 5 p.m. game.