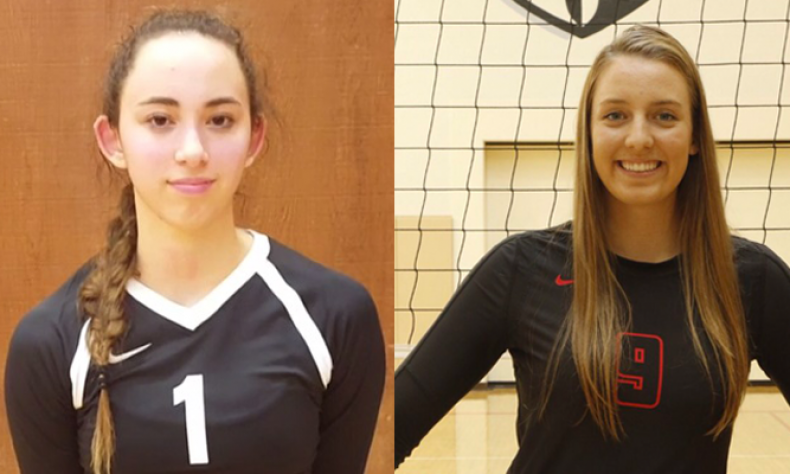 Allison Martinez (l) and Kayla Lund (r) By BRIAN REED-BAIOTTO, Sports Editor It would be difficult to find two players with more pressure and responsibility leapt upon their shoulders than Flintridge Sacred Heart senior Kayla Lund or Westridge junior Allison Martinez. Lund had 555 kills and 81 aces to help lead the Tologs to a […]
Allison Martinez (l) and Kayla Lund (r)
By BRIAN REED-BAIOTTO, Sports Editor
It would be difficult to find two players with more pressure and responsibility leapt upon their shoulders than Flintridge Sacred Heart senior Kayla Lund or Westridge junior Allison Martinez.
Lund had 555 kills and 81 aces to help lead the Tologs to a 24-10 season, which included a second-place finish in the Mission League, and a first-round victory over San Marcos in the CIF-SS Division 1 playoffs.
Lund formally signed to play at the University of Pittsburgh about a month ago.
Martinez missed a couple matches while playing for United States, but she still finished with a remarkable 520 kills and 35 aces en route to Westridge's first Prep League title in 10 years, and the Tigers won three matches in the CIF-SS Division 4 playoffs, and another victory in the CIF State bracket.
Martinez has one more year at Westridge for coach Otto Lacayo, but she too committed to play her collegiate volleyball at Cal State Long Beach.
For their brilliant stats, leadership, executing in the clutch and living up to such high standards, Lund and Martinez have been named the Pasadena Sports Now Girls Volleyball Players of the Year.
Lund's senior season also saw her rack up 38 blocks, 348 digs and 251 assists.
Lund became the area's only four-time All American, and she set a school record for career kills with 2,023
Lakewood coach Mike Wadley, who led the Lancers over the Tologs in the second round of the playoffs, called Lund a "once in a lifetime player," and an "even better person than even a player."
"Kayla will always put the team first and I believe that she could care less about the individual accomplishments, but cares all about the team accomplishments, the FSHA volleyball program put out in a statement. "That is just the type of person that she is. She is the type of player that will win a lot of individual accolades, but it's her ability to make everyone around her better, that sets her apart. Kayla has helped elevate FSHA's program to new heights and she has left a lasting mark that girls who come to FSHA will feel. We want to say 'thank you' for everything that she has done for our program, and wish her nothing but the best as she continues her career at Pittsburgh next year."
While the season was a roller coaster with ups and downs, Lund couldn't be more grateful, thankful or humble for all her success over the last four seasons, including her senior year.
"I am very thankful to everyone who helped me and I'm very humbled for all the awards I have received," Lund said. "I hope my younger teammates remember me as a leader and an inspiration. I hope I showed them that it's OK to make mistakes, but continue to play with heart. I hope my legacy is that I never quit, always fought and always loved what I was doing and that no matter how young you are, you can still impact the game and your teammates."
Martinez had a lot of help in Makana Meyer, Eryn Boken and Angelica Raymundo, but when a point had to be won, the Tigers went to the junior outside hitter, and she was nothing short of clutch.
Martinez had 178 digs, and did a little of everything to help lead Westridge to the area's most wins (26), best winning percentage (78%) and more playoff wins (4) than anyone in the area.
Her stats and presence are felt throughout a match in terms of her physical play, but to many, it's her quiet and yet assuring leadership in the toughest of times that has earned Martinez unanimous respect among her peers and area coaches.
She also has a high volleyball IQ and is always looking for ways to improve.
"Allison is a very special player. Watching her grow up into what she is now has been spectacular," Westridge coach Otto Lacayo said. "As a freshman, she finished her season with 439 kills and began making waves in the Prep League. She is a terminal outside hitter that scores in bulk. Allison is a well-rounded, one-of-a-kind player that's put in a ton of work and deserves all the accolades she's receiving now. She has the experience of playing in tight matches and has helped her team reach a certain level of calm when we found ourselves in those situations. Her offense is so versatile that she could put a ball away from anywhere on the court. She will only continue getting better and I'm truly excited to see where her volleyball career takes her."
Despite being so young (16), Martinez has an old-school (in a good way) mentality, and said her proudest moment thus far has been representing the United States for the Youth National team.
"I think my junior year went very successfully," Martinez said. "We had a goal to be one of the best Westridge volleyball teams, and I know we definitely accomplished that goal. As a player, my main goal was to become a smarter player and place balls in the open areas. I was able to further advance my court vision and become more successful in that aspect of my game."
One of Martinez's most impressive and selfless goals is to do her part in making Westridge as well known for winning in athletics as they are for its rigorous academics.
"I am looking forward to another successful season and hopefully making it further in state playoffs," she said. "I want to be able to leave behind a legacy of great volleyball for future generations at Westridge."