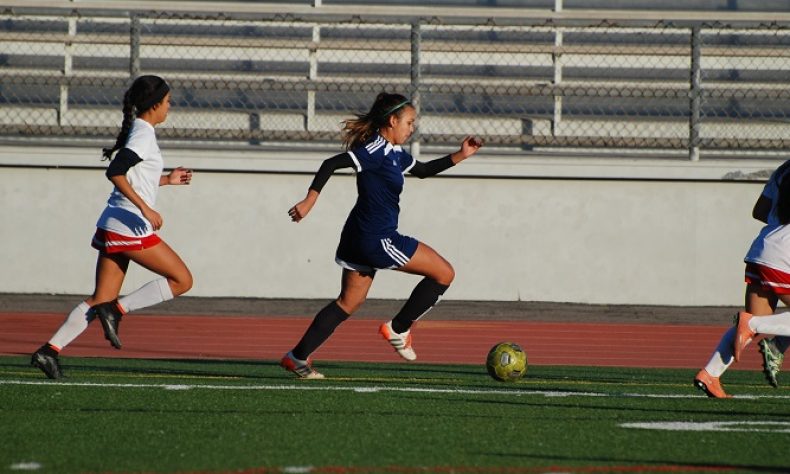 Junior midfielder Jazmin Rebollo (19) heads upfield along the sideline Story and Photography by MYLENE DELA ROSA P'15 & '19 Coming off a loss to Hoover High School in the season opener, the Alverno Heights Academy Jaguars faced the Glendale High School Nitros in a non-league game. Junior midfielder Jazmin Rebollo '18 (19) scored her […]
Junior midfielder Jazmin Rebollo (19) heads upfield along the sideline
Story and Photography by MYLENE DELA ROSA P'15 & '19
Coming off a loss to Hoover High School in the season opener, the Alverno Heights Academy Jaguars faced the Glendale High School Nitros in a non-league game. Junior midfielder Jazmin Rebollo '18 (19) scored her second goal in as many games to give the Jaguars a 1-0 victory.
Team co-captain junior midfielder Subrina Hamdan '18 (4), sophomore midfielder Beatriz Rivas '19 (16), and sophomore forward Megan Cavender '19 (22) had shots on goal that were saved by the Nitros goalkeeper. Co-captain senior midfielder Larissa Hernandez '17 (21) had a free kick that was also saved by the Nitros goalkeeper.
It wasn't until the second half when Rebollo '18 scored the game-winning goal in the 64th minute. A pass to Cavender '19 ricocheted back to Rebollo '18 who then shot it past the goalkeeper to the far, low corner of the goal.
Junior goalkeeper Ayanna Melin '18 (1) had 9 saves, 4 saves in the first half and 5 in the second half, to earn her first clean slate of the season.
The Jaguars will play in the Ganesha High School Tournament facing the host team and St. Mary's Academy in back-to- back games on Saturday, December 10, 2016.
About Alverno Heights Academy
Alverno Heights Academy is an all-girls, independent, progressive Catholic, college preparatory school dedicated to its mission of empowering each young woman to be exactly the person she wants to be. Located on the property of the former Barlow Estate in Sierra Madre, California, Alverno Heights Academy was founded in 1960 by the Sisters of St. Francis who sought to create an environment in the San Gabriel Valley where young women could become informed and knowledgeable persons. Later renamed Alverno High School and sponsored by the Immaculate Heart Community, Alverno's program—academic, spiritual, aesthetic, social, and physical—has been shaped by the staff, trustees, and students. As Alverno Heights Academy once again, the school remains committed to its mission by encouraging each of their young women to be who they imagine. For more information about Alverno Heights Academy, please visit www.alvernoheightsacademy.org.