From STAFF REPORTS Calling all unsigned High School Seniors! Northstar Sports will be conducting its Southern California High School Seniors Unsigned Players Combine 9:00 a.m. to 1:00 p.m. on Saturday December 17, 2016 at Citrus College in Glendora. Cost is $55 and you can sign-up at http://www.eventbrite.com/e/southern-california-high-school-showcase-tickets-28783638638. This is a must if you haven't yet […]
From STAFF REPORTS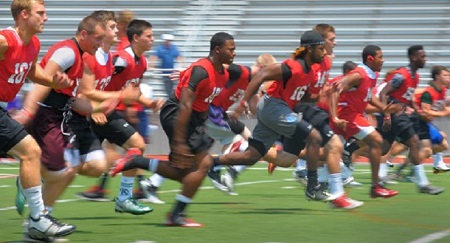 Calling all unsigned High School Seniors! Northstar Sports will be conducting its Southern California High School Seniors Unsigned Players Combine 9:00 a.m. to 1:00 p.m. on Saturday December 17, 2016 at Citrus College in Glendora. Cost is $55 and you can sign-up at http://www.eventbrite.com/e/southern-california-high-school-showcase-tickets-28783638638.
This is a must if you haven't yet received any looks or offers from Colleges across the country. Keith Johnson and his award winning staff will be running the combine to collect the data that has already been requested by hundreds of college coaches across the country.
Athletes will be tested in the following categories:
Linear Speed Testing
• 10 yard sprint test starting speed from a stationery position
• 10 yard acceleration with a 5 yards running head start
• 20 yard top end speed with a 10 yards running head start
• 40 yd. dash
Lateral Speed Testing
• Pro agility Drill 5-10-5
• 505 agility drill Sprint
• 3 Cone Drill
Agility Speed Testing
• Open field running test
• Zig zag sprint test running for 20 yds. around cones and 20 yds. sprint
• Illinois agility drill 60 yds.
• Long jump testing
• Vertical jumping test
Position Skill Just like the pros for the college
• WR Drills
• LB Drills
• QB Drills
• OL Drills
• DB Drills
• One on One
• Drill for the skill position WR-DB LB-RB
Northstar Sport Performance and Scholarships R Us work exclusively with high school athletes to fulfill their goals of securing a college scholarship. Scholarships R Us will be on hand to put together free profiles for participating athletes and discuss scholarship literacy with the athletes and their families.
About NorthStar Sports
Northstar Sports assists in all phases of training and guidance, for all sports, to achieve the goal of getting the athlete to the next level. For more information, visit www.northstarsport.org or call (626) 639-4044.
About Scholarships R Us
Scholarships R Us is a complete scholarship recruiting solution to qualify our talented youth for exposure and access to all their college options. We quickly match students with colleges through our proprietary, cutting-edge technology and a personalized management experience focusing on scholarship literacy. For more information, visit www.scholarshipsrus.com.