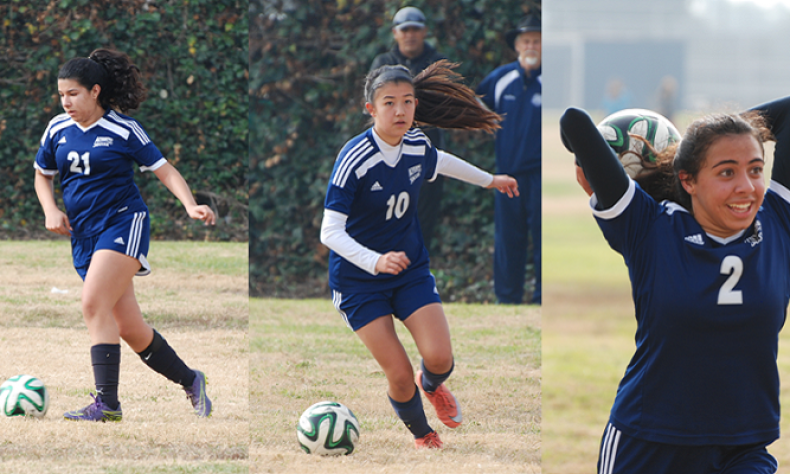 Stories and Photos provided by Mylene dela Rosa P'15 & '19" Last weekend, the Alverno Heights Academy Varsity Soccer team played in the annual Ganesha Tournament in Pomona. After finishing the first game in a 1-1 draw against the tournament host Ganesha High School, the Jaguars came back in their second game of the day […]
Stories and Photos provided by Mylene dela Rosa P'15 & '19"
Last weekend, the Alverno Heights Academy Varsity Soccer team played in the annual Ganesha Tournament in Pomona. After finishing the first game in a 1-1 draw against the tournament host Ganesha High School, the Jaguars came back in their second game of the day to dominate the St. Mary's Academy Belles with a 6-1 victory.
Team co-captain junior midfielder Subrina Hamdan '18 (4) got the Jaguars on the scoreboard in the 15th minute off a throw-in from junior defender Nikki Oberhammer '18 (17). The Belles goalkeeper was able to fend off shots from co-captain senior Larissa Hernandez '17 (22), sophomore midfielder Beatriz Rivas '19 (16), freshman midfielder Nancy Alcala '20 (15), junior forward Natalie Scigliano '18 (5), Hamdan '18, and junior midfielder Jazmin Rebollo '18 (19).
But in the 23rd minute, the Belles goalkeeper could not stop a shot from Rebollo '18 off a pass from Rivas. The Jaguars led 2-0 at half time.
The Jaguars offense did not let up in the second half. In the 33rd minute, Rivas '19 again connected with Rebollo '18 to give the Jaguars a 3-0 lead. The Belles had a scoring drive in the 46th minute to prevent the shut out, but the Jaguars offense was not finished.
Alcala '20 scored in the 57th minute, and Hernandez '17 added two more goals in the 59th minute and in stoppage time.
Junior goalkeeper Ayanna Melin '18 (1) had 2 saves in the first half and 4 saves in the second half.
The Jaguars advance in the Ganesha High School Tournament on Saturday, December 17, 2016 to face Arroyo High School.
About Alverno Heights Academy
Alverno Heights Academy is an all-girls, independent, progressive Catholic, college preparatory school dedicated to its mission of empowering each young woman to be exactly the person she wants to be. Located on the property of the former Barlow Estate in Sierra Madre, California, Alverno Heights Academy was founded in 1960 by the Sisters of St. Francis who sought to create an environment in the San Gabriel Valley where young women could become informed and knowledgeable persons. Later renamed Alverno High School and sponsored by the Immaculate Heart Community, Alverno's program—academic, spiritual, aesthetic, social, and physical—has been shaped by the staff, trustees, and students. As Alverno Heights Academy once again, the school remains committed to its mission by encouraging each of their young women to be who they imagine. For more information about Alverno Heights Academy, please visit www.alvernoheightsacademy.org.