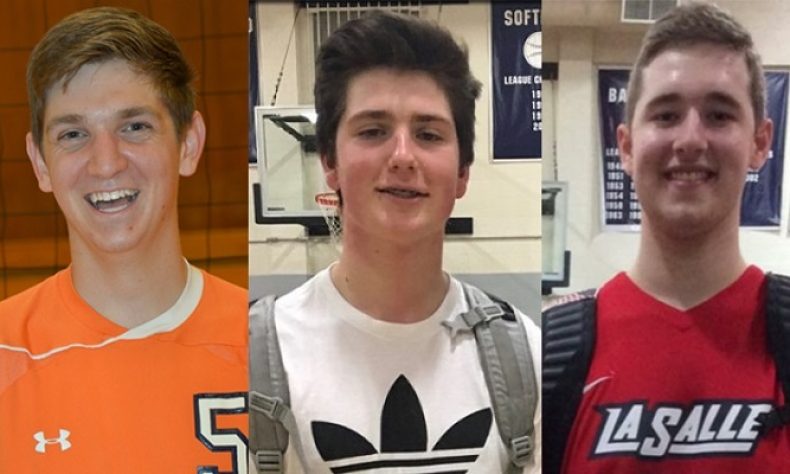 L-R: Matt Alison, AJ Nicassio and Will Dalgarn By Brian Reed-Baiotto, Sports Editor Three Pasadena area schools stood out from the pack in the 2017 boys volleyball season. Flintridge Prep won the Prep League, while rival Poly finished second, but the Panthers did hand the Rebels their lone league loss of the season. And last […]
L-R: Matt Alison, AJ Nicassio and Will Dalgarn
By Brian Reed-Baiotto, Sports Editor
Three Pasadena area schools stood out from the pack in the 2017 boys volleyball season.
Flintridge Prep won the Prep League, while rival Poly finished second, but the Panthers did hand the Rebels their lone league loss of the season.
And last but not least, La Salle finished one-game back of St. Anthony in the Camino Real League standings, but the Lancers handed the Saints their only league loss of the year.
All three schools went to the playoffs, and all finished sooner than they'd have liked, but La Salle did earn a big playoff road victory.
La Salle and Poly both started incredibly slowly, but to their credit, both the Lancers and Panthers played their best volleyball of the season in league and heading into the playoffs.
Flintridge Prep won 17 of their first 19 matches this season and were cruising, but finished the final 10 matches of the year 5-5 and bowed out in the first round of the playoffs.
Each of the three schools got great coaching efforts.
La Salle's Tiare Tuitama, Prep's Sean Beattie and Poly's Jack Prater each guided their programs to the playoffs and got their star players to excel when their best was needed.
And while all three schools have multiple key contributors, each had their 'go-to guy,' when a match was on the line.
Poly senior Matt Alison, Flintridge Prep sophomore AJ Nicassio and La Salle junior Will Dalgarn were those guys who raised their games when their schools needed them most.
For their efforts, and for the role they played in postseason appearances for their school's, Alison, Nicassio and Dalgarn have been named the Pasadena Sports Now Boys Volleyball Players of the Year.
Nicassio, a 6-foot-3 sophomore, was the Rebels leader with nearly 12 kills per match (based on three games played) and finished with 269 kills for a Prep team who's 21 wins were an area best.
His 269 kills would have been much higher had he not missed 14 sets of volleyball while he was battling an illness.
Nicassio did his part in Prep winning their fifth consecutive Prep League title, and averaged 12 digs per match, which were on pace with the Rebels' libero.
He also earned the Prep League's Most Valuable Player award, and his favorite moment of the season was winning that fifth consecutive league championship.
"AJ is a very easy going individual, he always has a smile on his face, and he adds value to every conversation I have with him," Prep coach Sean Beattie said. "He is his own worst critic, which most elite athletes are, but he's able to stay positive out on the court. He stepped into the leadership role on a team with many juniors and seniors, and that's not easy to do. No one looked at him as a sophomore, he was our leader. His growth as an individual and a player were remarkable, and we're all excited to see how he progresses over the next couple years."
Nicassio, despite being young, is respected by his older teammates.
"First off, AJ is an amazing player. He is a natural and has a great feel for the game. He also stepped up as a leader on our team this year, Prep senior Jonny Samuels said. "He taught me a lot and the rest of the guys on our team as well. I was truly proud of what he accomplished this year. This kid has a bright future ahead of him."
Nicassio couldn't have had the kind of success he had without Jonny Samuels, (278 kills), Majeed Ismael (171 kills) and the entire Prep roster.
And he'd be the first to tell you that.
Said Nicassio: "Every one of my teammates played a huge role in our team. From both our setters, to our middles, to our passers, and even our teammates cheering for us from the bench, every single person was largely important for our team's success. All of my coaches were the key to my success this year. I would not have been able to accomplish what I did without Coach Beattie, Coach Freddy, and Coach Reid."
Dalgarn, a junior, was named the Camino Real League's Most Valuable Player.
He finished with 338 kills, 208 digs, 13 aces and 8 solo blocks.
His high point statistically was a 26-kill, 15 dig effort in a victory over San Marino.
But it was his leadership and production when La Salle was at its low point that turned around the Lancers' season.
La Salle started the season a dismal 1-8, but thanks to the leadership of Coach Tuitama, and Dalgarn, and production of CJ Rettig (208 kills 390 digs) and Philip Ibarra (230 kills, 198 digs), the Lancers went on to win 12 of their last 16 matches.
The high point of the season (arguably) was a first-round victory at Morro Bay in three games.
It completed a 400-plus mile bus ride (roundtrip ) on a night the Lancers didn't get back to the school until after 1 a.m.
If his play on the court wasn't impressive enough, Dalgarn is also a 4.0 student as well as a leader on campus.
"Will is a great mentor to our younger programs, he does a great job in representing our school and program in the San Gabriel Valley," Coach Tuitama said. "When he's not busy with travel ball and high school ball, Will takes on the responsibility of being La Salle's senior class President."
His teammates admire him as well.
"Will most definitely puts the team first and is a team player, and also is a very great competitor, La Salle junior CJ Rettig said. "He always pushed us to our limit as a team captain. He was always someone we could go to for that game point or that kill we needed, He is a very strong athlete and could put the ball away anytime we needed it"
There is something about these three leaders, because all, including Dalgarn wanted the credit for his success to go to his teammates and coaches.
Said Dalgarn: "I think Philip Ibarra played a huge role in our team's success, because he was so flexible; he could go into any position and play well no matter what the circumstances were. Another guy was Tyrese Lee, who just gave our entire team energy no matter what the score was. He would get a big block or a big kill and he just brought something that most guys can't bring. I've known Coach Tui since I was in 5th grade going into summer when I went to La Salle's summer camp for volleyball. She has not only helped me develop as a player, but as a better person on and off the court. The way she is able to connect with her players is unlike anything I have seen and I am just so grateful to have her as a coach."
Alison, a senior, saved his best for last.
As did Dalgarn, Alison was part of a program that got off to a very slow start.
Poly began the season 4-9 and for a couple weeks, the Panthers actually paid rent in the Prep League basement.
But as soon as they found their footing, Alison and the Panthers won their final seven Prep League games, including a four-game 'upset' of Flintridge Prep to finish one game back of the Rebels in second place.
Before their 21-25, 25-15, 25-17, 27-25 home victory over the Rebels on April 25, Alison had lost all nine matches (in league and a tournament match up) to his bitter rivals.
But his 13 kills and 2 aces broke that streak in his final appearance against Prep, as the Rebels had won 37 of their previous 38 Prep League matches heading into the second showdown with the Panthers.
Apparently Poly (in some sports) doesn't like to provide stats, but Alison's leadership and production weren't going to be defined by numbers anyway.
"My favorite moment was when we beat Prep on our Senior game," Alison said. "They've smashed us so many times over the past four years that it was exciting to not only compete with them, but also feel like we earned a victory against them. My least favorite moment has to be right after our playoff loss to Santa Ana, that game still stings."
While Alison gives a lot of credit to his teammates, Alison was seen as 'the guy' by Poly's entire roster.
"Matt Allison is a great player and a tremendous teammate. He was a great team leader whose drive and intensity showed during his impressive performances throughout competitive matches," Poly three-sport star and teammate John Genske said. "While Matt was nearly always focused on competing, he never missed a chance to lighten the mood with a bit of comedic relief. He brought forth the type of adhesive personality that truly binds a team together and without Matt, this team would not have come close to what was accomplished this season."
And while losing in the playoffs in a match they led was a sad way to finish off his career, Alison will look back with pride in all that was accomplished the last four years.
He was also selfless when it came to taking credit for the Panthers' success.
Said Alison: "As much as I love the underclassmen on the team, I'm only going to focus on the seniors. Will (McConnell) has been the leader of the team the past two seasons and is an incredible setter. His return to full health midway through the season is what turned our team around. JT (James Tsuchiya) is a really brave defender who stands strong against the hardest attacks our opponents have to offer. We also require him to pick up basically every tip and dump which means he has to cover about half the court. John (Genske) was our biggest and scariest hitter, and other teams had to game-plan around stopping him first and foremost. He also was a key server and passer by the end of the season. Richard (Berry) was the best Middle on the court in possibly every game we played. He was our best blocker and unstoppable offensively during the second half of the season."
Alison also wanted his coach, Jack Prater to know what an impact he had on the senior.
"I can't say enough great things about Coach Prater. I used to be a person who would look for shortcuts as a player and a person, but Coach Prater has ironed that out of me. He only accepts the best we have to offer, but is incredibly rewarding when we give him that. He also is a hilarious and zany person," Alison said.
Getting To Know Matt Alison:
Favorite Athlete: Gareth Bale
Favorite Team: Tottenham Hotspur
Favorite Movie: The Dark Knight
Favorite Musical Artist: Anderson Paak
Musical Artist People Might Be Surprised I Like: Artist: Harry Styles
Famous Person (alive or dead) I'd Want A Conversation With: Shaquille O'Neal
Getting To Know AJ Nicassio:
Favorite Athlete: Kobe Bryant
Favorite Team: Lakers
Favorite Movie: Anchorman
Favorite Musical Artist: Bob Dylan
Musical Artist People Might Be Surprised I Like: Surprise Artist: Selena Gomez
Famous Person (alive or dead) I'd Want A Conversation With: Ronald Reagan
Getting To Know Will Dalgarn:
Favorite Athlete: Kobe Bryant
Favorite Team: New England Patriots
Favorite Movie: School of Rock
Favorite Musical Artist: Maren Morris
Musical Artist People Might Be Surprised I Like: The Wicked Soundtrack
Famous Person (alive or dead) I'd Want A Conversation With: Winston Churchill